In•Joy - by Redd Remedies

Supports Positve Mood and Emotional Strength†
In•Joy™ is a combination of essential nutrients and adaptogenic herbs that help support mood and emotional strength. From time to time we all have feelings of sadness, irritability, fatigue and hopelessness that may be difficult to sort out or brush aside. The blend of natural ingredients formulated in In•Joy™ help uplift mood and balance the stress response on the body.†
In•Joy™ works in three distinct ways to enhance mood and promote emotional strength†:
Supports healthy levels of neurotransmitters.†
Supports a positive mood.†
Supports the body's natural resistance to stress.†
In•Joy™ provides essential nutrients and adaptogen herbs that provide a platform for the mind and body to balance the stress response and uplift mood.†
---
Key Ingredients
The key ingredients for In•Joy are:
Folic Acid and Vitamin B12 support healthy neurotransmitter function.†
Vitamin D supports healthy brain function.†
5-HTP and L-Tyrosine support a positive mood.†
Holy Basil is used in Ayurveda to uplift the spirit and promote relaxation.†
Schisandra and Holy Basil support the body's natural resistance to emotional stress.†
Nutrients for Neurotransmitters
Vitamins B12 and Folic Acid are necessary cofactors in neurotransmitter synthesis in the body. Both of these vitamins support brain function and emotional health.†
Vitamin D
Vitamin D receptors are found in every tissue of the body, including the brain. This fat-soluble vitamin is the only vitamins that is classified as a hormone. It is estimated that one billion people worldwide have a vitamin D deficiency or insufficiency. In the brain, vitamin D supports neurotransmitter release, brain function and a positive mood.
Amino Acids
The carefully balanced amino acid profile of 5-HTP and L-Tyrosine supports healthy neurotransmitter levels and a positive mood.
Adaptogenic Herbs
Adaptogens are an elite class of botanicals that help the brain and body adapt to every day stress. Schisandra is used in Chinese traditions to fight fatigue, support adrenal health, and increase the body's natural resistance to emotional stress. Holy basil, a revered herb in Ayurveda, uplifts the spirit and promotes a sense of inner peace.
---
About Redd Remedies
Redd Remedies carefully chooses herbs, plants, vitamins, and minerals used in Traditional Chinese Medicine, Ayurvedic medicine, and European traditions which are also supported by modern day research and science to deliver natural solutions to health. They use wholesome clean food, targeted high quality supplements, and qualified doctors with expertise in natural medicine to address health from a whole body perspective. Redd Remedies offers:†
Quality, purity, and potency guaranteed through expiration
All-natural ingredients
Superior quality control
Supplement Facts - In•Joy™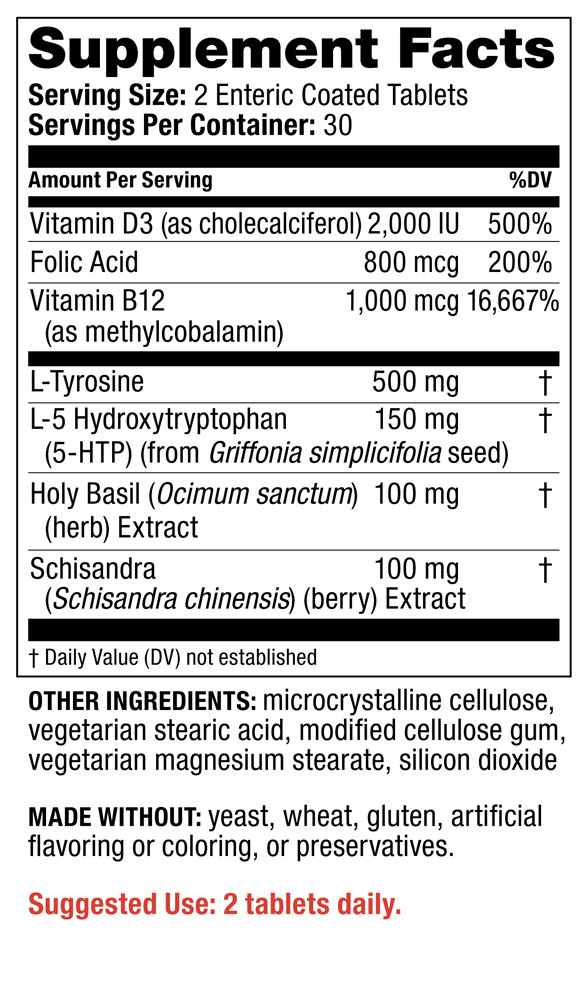 Contains No: sugar, sodium, yeast, wheat, gluten, artificial flavoring or coloring or preservatives.
Warning: Do not use if you are pregnant or nursing. If you have a medical condition, or are taking prescription drugs, consult your physician before using this product. KEEP OUT OF REACH OF CHILDREN.
Store in a cool, dry place.
Manufactured by Redd Remedies.
Suggested Use - In•Joy™
Suggested Use: 2 tablets daily.
† These statements have not been evaluated by the U.S. Food and Drug Administration (FDA) or EnergeticNutrition.com. This product is not intended to diagnose, treat, cure or prevent any disease. The information provided on this site is for informational purposes only and is not intended as a substitute for advice from your physician or other health care professional or any information contained on or in any product label or packaging. You should not use the information on this site for diagnosis or treatment of any health problem or for prescription of any medication or other treatment. You should consult with a health care professional before starting any diet, exercise or supplementation program, before taking any medication, or if you have or suspect you might have a health problem, or are pregnant. When you receive an item, carefully read all labels, warnings, and directions before use. Actual product packaging and materials may contain more and/or different information than shown on this website.