Muscle Ease

Supports Normal Muscle Function†
Muscle Ease™ helps you achieve healthy muscle function with a simple, two-capsules-a-day delivery of natural nutrients.
Healthy muscles matter. Taking care of them will strengthen and support your body, so you can enjoy healthy activity and restorative relaxation. To keep muscles strong, they need a good supply of nutrients that help them contract and relax – nutrients that are not always well supplied in a typical American diet. Sodium and calcium are necessary for muscle contraction, and potassium and magnesium are required for muscle relaxation.
Muscle Ease™ is a magnesium-based formula that includes:
Magnesium rice protein chelate, a uniquely absorbable form of the mineral
Magnesium glycinate, which is chelated or bonded to glycine, a main calming neurotransmitter
Muscle Ease™ also delivers potassium citrate, along with a trace mineral blend supplied by organic alfalfa and organic dulse – whole foods from land and sea. Herbs from Chinese and Eclectic traditions are included to support healthy muscle function and calm and renew the nervous system – which is important, as muscle contractions begin with a signal from the nervous system
---
Key Ingredients
Chromium and Vanadium are essential for proper muscle function and relaxation.†
Angelica (Dong Quai) and White (Chinese) Peony provide help for muscle function.†
American Skullcap helps calm and renew the nervous system.†
Alfalfa and Dulse are nutrient-dense foods rich in minerals essential to muscle function.†
---
Muscles Need Minerals
"Healthy muscles require nourishment as well as exercise. When most people think of improving and strengthening their muscles, they immediately think of getting more exercise, and that is an important factor. But proper nourishment is critical for healthy muscle function, especially related to mineral requirements for muscle contraction and relaxation...
...Magnesium - Contribution to Relaxation The actin sites are blocked when calcium is no longer present. This occurs when acetylcholine is degraded or magnesium is available in sufficient quantity. A good supply of magnesium will compete with calcium, allowing potassium to re-enter cells and the muscles to relax..."
See MUSCLES NEED MINERALS for the complete article by Redd Remedies.
---
---
About Redd Remedies
Redd Remedies carefully chooses herbs, plants, vitamins, and minerals used in Traditional Chinese Medicine, Ayurvedic medicine, and European traditions which are also supported by modern day research and science to deliver natural solutions to health. They use wholesome clean food, targeted high quality supplements, and qualified doctors with expertise in natural medicine to address health from a whole body perspective. Redd Remedies offers:†
Quality, purity, and potency guaranteed through expiration
All-natural ingredients
Superior quality control
Supplement Facts - Muscle Ease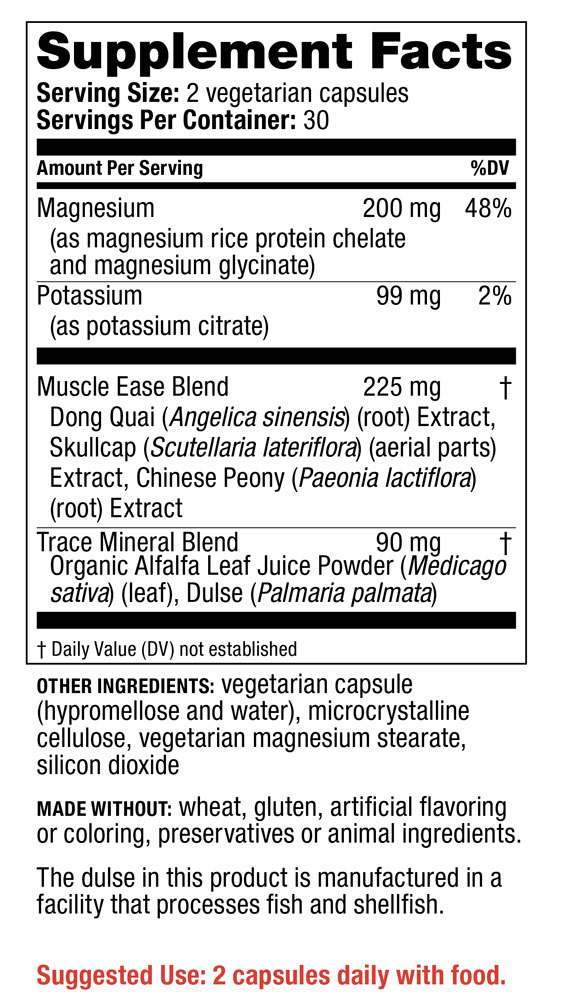 Other Ingredients: Vegetarian capsule (hypromellose and water), microcrystalline cellulose, vegetarian magnesium stearate, silicon dioxide.
Contains No: Sugar, years, wheat, gluten, soy, dairy products, artificial flavoring or coloring, preservatives or animal ingredients.
Warning: The dulse in this product is manufactured in a facility that processes fish and shellfish.
Warning: If you are pregnant, nursing, have a medical condition, or are taking prescription drugs, consult your physician before using this product. KEEP OUT OF REACH OF CHILDREN.
Store in a cool, dry place.
Manufactured by Redd Remedies.
Suggested Use - Muscle Ease
Suggested Use: 2 capsules daily.
† These statements have not been evaluated by the U.S. Food and Drug Administration (FDA) or EnergeticNutrition.com. This product is not intended to diagnose, treat, cure or prevent any disease. The information provided on this site is for informational purposes only and is not intended as a substitute for advice from your physician or other health care professional or any information contained on or in any product label or packaging. You should not use the information on this site for diagnosis or treatment of any health problem or for prescription of any medication or other treatment. You should consult with a health care professional before starting any diet, exercise or supplementation program, before taking any medication, or if you have or suspect you might have a health problem, or are pregnant. When you receive an item, carefully read all labels, warnings, and directions before use. Actual product packaging and materials may contain more and/or different information than shown on this website.