Nerve Shield

Promotes Healthy Nerve Structure†
Nerve Shield™ is a powerful formula that addresses multiple systems to promote healthy nerve function†.
Nerve Shield™ provides nutrients that:
promote a healthy myelin sheath and overall nerve structure†
provide powerful and comprehensive antioxidant protection†
promote a healthy inflammatory response†
promote healthy circulation†
Nerve Shield™ is a powerful, comprehensive combination of herbs, amino acids, vitamins, and other nutrients that target your peripheral nervous system to promote long-lasting health.†
---
Key Ingredients
Your nervous system reacts positively to the correct balance of herbs, amino acids, vitamins, and other nutrients. Taken together as a supplement for your nervous system health, these ingredients promote long-term health and freedom from nerve-related pain.
B-Vitamins - important to the structural integrity of lipids found in the myelin sheath, the plasma membrane wrapped around the nerve axon in a spiral fashion.†
Alpha Lipoic Acid - promotes normal nerve function, specifically studies suggest that it may help autonomic neuropathy, which affects the nerves and internal organs.†
Acetyl L-Carnitine - promotes normal nerve fiber structure functions as an antioxidant and promotes the production of glutathione, a free radical scavenger, in cells. As a nutritional supplement, acetyl-L-carnitine is used to protect the central nervous system.†
Phosphatidyl Choline - contains lipids (compounds) that comprise 76% of the myelin sheath.†
Huang Bai and Cang Zhu - used in traditional Chinese Medicine for over 2,000 years, promote normal circulation and increases the flow of qi, or energy to the extremities. It is also used to treat joint inflammation and jaundice.†
Chinese Skullcap & Turmeric - potent antioxidants that promote healthy inflammation management and promote normal cellular growth.†
---
About Redd Remedies
Redd Remedies carefully chooses herbs, plants, vitamins, and minerals used in Traditional Chinese Medicine, Ayurvedic medicine, and European traditions which are also supported by modern day research and science to deliver natural solutions to health. They use wholesome clean food, targeted high quality supplements, and qualified doctors with expertise in natural medicine to address health from a whole body perspective. Redd Remedies offers:†
Quality, purity, and potency guaranteed through expiration
All-natural ingredients
Superior quality control
Supplement Facts - Nerve Shield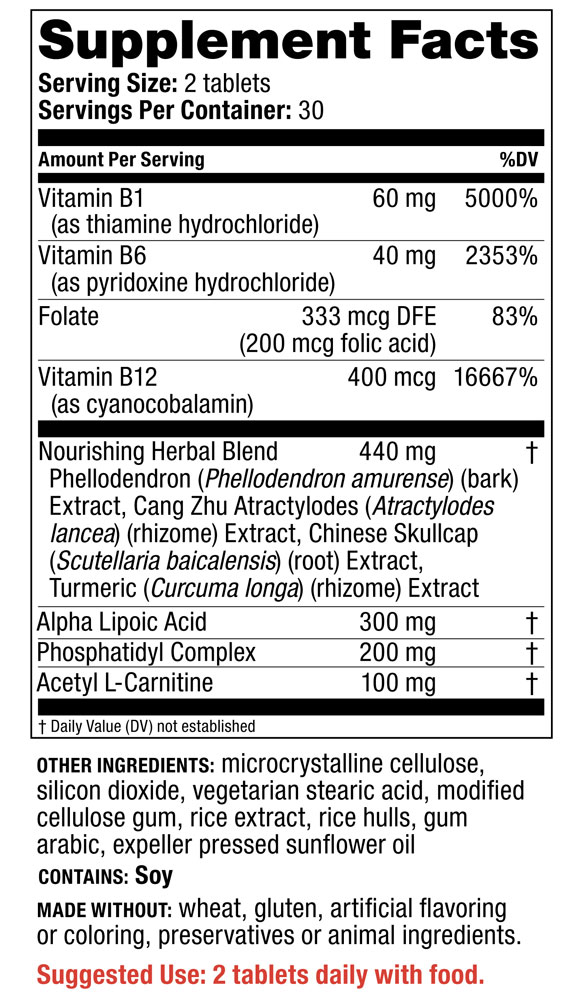 Other Ingredients: Microcrystalline cellulose, stearic acid, silicon dioxide, modified cellulose gum, magnesium stearate, SOY.
Contains No: Sugar, yeast, wheat, gluten, dairy products, artificial flavoring or coloring, preservatives, or animal ingredients.
Warning: If you are pregnant, nursing, have a medical condition, or are taking prescription drugs, consult your physician before using this product. KEEP OUT OF REACH OF CHILDREN.
Store in a cool, dry place.
Manufactured by Redd Remedies.
Suggested Use - Nerve Shield
Suggested Use: 2 tablets daily with meals. Best taken in divided doses.