SinuZyme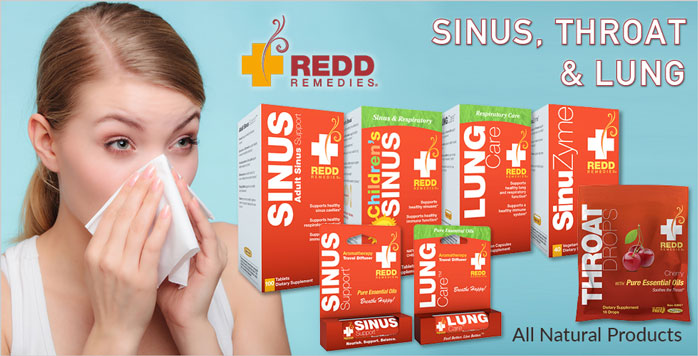 Supports Normal Sinus Drainage†
SinuZyme™ is powerful support for clear, healthy sinuses. Designed to open and clear the sinus passageways, it supports the immune system while directly addressing sinus health.†
4 Key Functions of SinuZyme™:
supports the immune system†
promotes normal sinus drainage†
supports the lymphatic system†
promotes the body's natural detoxification process†
Unlike over the counter medicines that can leave you feeling drowsy and disconnected, SinuZyme™ is all natural, non-drowsy and stimulant free. SinuZyme™ is meant for short-term support when your sinuses are flaring up. Follow up with Adult Sinus Support™ for daily support as needed.
---
Key Ingredients
Many sinus issues can be attributed to an immune response that is not in balance. Maintaining sinus wellness by restoring balance within the immune system is supported with nutrients that work in tandem to help support sinus health holistically.
Bromelain - promotes healthy sinus function and normal sinus drainage by thinning mucus and allowing it to drain and open sinuses†
Protease - supports healthy inflammatory pathways†
Reishi - strengthens and maintains overall immune system function and works as an adaptogen to promote healthy inflammation management†
Elder Flower - promotes normal respiratory secretions with the detoxificationi affects of diaphoretic action (sweating).†
Red Root - supports healthy lymphatic movement and sinus drainage†
---
About Redd Remedies
Redd Remedies carefully chooses herbs, plants, vitamins, and minerals used in Traditional Chinese Medicine, Ayurvedic medicine, and European traditions which are also supported by modern day research and science to deliver natural solutions to health. They use wholesome clean food, targeted high quality supplements, and qualified doctors with expertise in natural medicine to address health from a whole body perspective. Redd Remedies offers:†
Quality, purity, and potency guaranteed through expiration
All-natural ingredients
Superior quality control
Supplement Facts - SinuZyme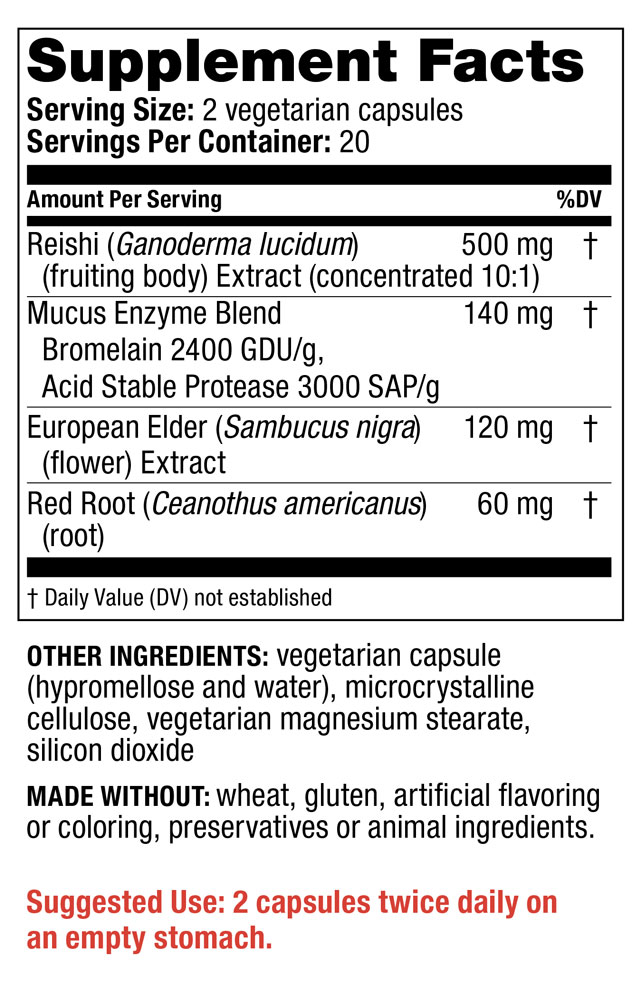 Contains No: Sugar, sodium, yeast, wheat, gluten, dairy products, artificial flavoring or coloring, preservatives, or animal ingredients.
Warning: If you are pregnant, nursing, have a medical condition, or are taking prescription drugs, consult your physician before using this product. KEEP OUT OF REACH OF CHILDREN.
Store in a cool, dry place.
Manufactured by Redd Remedies.
This product contains chemicals known to the State of California to cause birth defects or other reproductive harm.
Suggested Use - SinuZyme
Suggested Use: 2 capsules twice daily on an empty stomach.
† These statements have not been evaluated by the U.S. Food and Drug Administration (FDA) or EnergeticNutrition.com. This product is not intended to diagnose, treat, cure or prevent any disease. The information provided on this site is for informational purposes only and is not intended as a substitute for advice from your physician or other health care professional or any information contained on or in any product label or packaging. You should not use the information on this site for diagnosis or treatment of any health problem or for prescription of any medication or other treatment. You should consult with a health care professional before starting any diet, exercise or supplementation program, before taking any medication, or if you have or suspect you might have a health problem, or are pregnant. When you receive an item, carefully read all labels, warnings, and directions before use. Actual product packaging and materials may contain more and/or different information than shown on this website.