Nättovīta™ - Cardiovascular Support with CoQ10
TO ORDER THIS PRODUCT
Nättovīta™ is a Professional formula, and therefore pricing is not shown online. For PRICE and to ORDER, please do ONE of the following:
REQUEST EMAIL: To have the price and an ordering link emailed to you, click on REQUEST PRICE AND ORDERING LINK shown above under the $0.00 price.


LOGIN: Login to your account and click on My Account or Customer Center, and then the Welcome tab. From there, click on the image of Vitalzym Professional Formulas.


REGISTER: Register to create an account. Once done, click the Welcome tab. From there, click on the image of Vitalzym Professional Formulas.


LIVE CHAT: Live Chat with us during chat hours.


CALL US: Call us at 1-888-501-3344 (see hours)
---
Nättovīta™ is a highly fibrinolytic nutritional supplement with Nattokinase, the enzyme found in the soybean cheese, natto. Natto has been used for thousands of years as a traditional Japanese food supplement, and it is widely believed to help support longevity† and healthy heart function†.
Nattokinase is orally administered, with prolonged activity and a long history of positive results. It has been used safely in Japan for decades with no reports of toxicity. The Nättovīta formula also includes CoQ10, another of Japan's best-selling cardiovascular supplements, with a blend of vitamins and other systemic enzymes known for helping cleanse the blood and arteries†. The powerful proprietary blend also includes Proteinase, Bromelain, Papain, Vitamin E, Vitamin B6, Folic Acid and Vitamin K2.
The natto fermentation and extraction process helps eliminate soy liganens, and the inclusion of isoflavones in our formula eliminates the hormonal impact of estrogen.†
Nättovīta is specially engineered to help support:
Healthy blood sugar levels†
Circulation†
Maintain normal cholesterol levels†
---
System Enzyme Cardiovascular Support with CoQ10†
Nättovīta™ is a doctor recommended product specifically formulated for total cardiovascular well being. The proprietary blend of ingredients include CoQ10, a powerful antioxidant that helps maintain proper heart function and assists the body in fighting the accumulation of free radicals.†
Nättovīta™ utilizes Nattokinase as the main fibrinolytic enzyme which may help support healthy blood viscosity as well as other systemic enzymes which may help maintain desired blood viscosity, modulate the immune system and support healthy vascular tissue.†
---
Nättovīta™ Overview presented by Dr. Donese Worden
---
---
Why Buy Vitalzym from Energetic Nutrition?
We are an Authorized World Nutrition Retailer, and one of their largest worldwide retailers.
We receive a fresh supply of products every week, which is kept under climate control.
We have been in business since 1996, and a trusted website since 1997.
Order by 12pm PST and we'll ship the same day (exceptions may apply).
Our knowledgeable staff is available to answer your questions by phone, email, or live chat.
We are known for our excellent customer service and educational support.
We truly care about your health, and we really appreciate your business!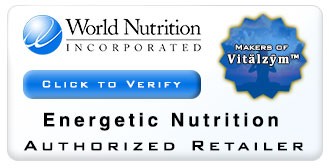 Supplement Facts - Nättovīta™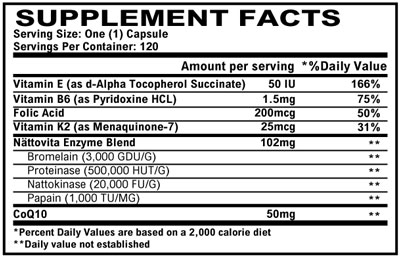 Nattovita Enzyme Blend Contains: Bromelain, proteinase, nattokinase, and papain.
Capsules per container: 120
Serving size: One (1) capsule
Servings per container: 120
Amount per serving: 50 IU Vitamin E, 1.5 mg Vitamin B6, 200mcg Folic Acid, 25mcg Vitamin K2, 102mg Nattovita Enzyme Blend, 50 mg CoQ10**
** Daily Value not established. Mg measures weight, not potency of quantity of ingredients.
Click HERE to see full label.
Other ingredients: rice extract, vegetarian capsules (cellulose, water)
KEEP OUT OF REACH OF CHILDREN AND DIRECT SUNLIGHT, STORE IN A COOL, DRY PLACE
Warning: If you are pregnant, lactating, taking anticoagulants or have a history of thinning blood in your family, do not take this product without direction or supervision from your medical provider. Discontinue use two weeks prior to surgery.
Nättovīta™ is lactose free and contains no animal derivatives, artificial flavors or colors, yeast, gluten, or talc.
---
Manufactured for World Nutrition, Inc.
Suggested Use - Nättovīta™
As a dietary supplement, take one capsule, two times daily. Take capsule at least 1 hour before or after a meal, or as recommended by your healthcare professional.