VitalzymX - Professional Strength Hybrid Formula
TO ORDER THIS PRODUCT
VitalzymX is a Professional formula, and therefore pricing is not shown online. For PRICE and to ORDER, please do ONE of the following:
REQUEST EMAIL: To have the price and an ordering link emailed to you, click on REQUEST PRICE AND ORDERING LINK shown above under the $0.00 price.


LOGIN: Login to your account and click on My Account or Customer Center, and then the Welcome tab. From there, click on the image of Vitalzym Professional Formulas.


REGISTER: Register to create an account. Once done, click the Welcome tab. From there, click on the image of Vitalzym Professional Formulas.


LIVE CHAT: Live Chat with us during chat hours.


CALL US: Call us at 1-888-501-3344 (see hours)
---
VitälzȳmX™ is an extra strength and highly fibrinolytic version of the original powder-based Vitälzȳm hybrid product. Its unique proprietary blend includes even more Serrapeptase, compared to the original, and a highly-active form of protease. VitälzȳmX also contains Papain, Bromelain, Amylase, Lipase, Rutin and Amla.
VitälzȳmX is considered a hybrid enzyme formula because it carries both digestive and systemic characteristics. The powder-filled capsule begins to break down in the stomach providing digestive support, while the buffer enteric-coated Serrapeptase survives the stomach and breaks down in the small intestine, where it absorbed into the bloodstream and distributed throughout the body for systemic support.†
GI System†
Circulatory System†
Immune Function†
Reduced Inflammatory Response†
---
Natural Enzyme Support
As we age, our body's natural production of enzymes decreases.† Enzymes are the biological building blocks that make all functions of life possible. They are responsible for initiating millions of reactions in our body, thus without enzymes, life could not exist.
VitälzȳmX™ is an extra strength version of the Original Hybrid formula. Supplementation with VitälzȳmX™ along with proper diet and exercise may help balance your body's repair mechanisms.†
---
---
Why Buy Vitalzym from Energetic Nutrition?
We are an Authorized World Nutrition Retailer, and one of their largest worldwide retailers.
We receive a fresh supply of products every week, which is kept under climate control.
We have been in business since 1996, and a trusted website since 1997.
Order by 12pm PST and we'll ship the same day (exceptions may apply).
Our knowledgeable staff is available to answer your questions by phone, email, or live chat.
We are known for our excellent customer service and educational support.
We truly care about your health, and we really appreciate your business!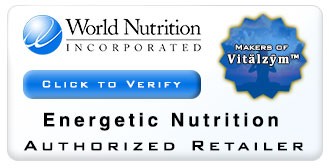 Supplement Facts - VitälzȳmX™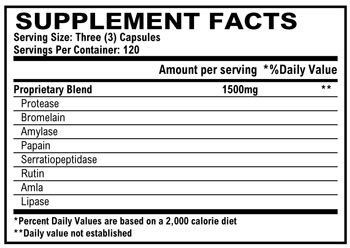 Proprietary blend contains: Protease, bromelain, amylase, papain, serratiopeptidase, rutin, amla, and lipase.
Capsules per container 360
Serving size Three (3) capsules
Servings per container 120 Amount per serving 1500 mg **
** Daily Value not established. Mg measures weight, not potency of quantity of ingredients.
Click HERE to see full label.
Other ingredients: rice extract, vegetarian capsules (cellulose, water)
KEEP OUT OF REACH OF CHILDREN AND DIRECT SUNLIGHT, STORE IN A COOL, DRY PLACE
Warning: If you are pregnant, lactating, taking anticoagulants or have a history of thinning blood in your family, do not take this product without direction or supervision from your medical provider. Discontinue use two weeks prior to surgery.
VitälzȳmX™ is natural and 100% vegetarian. It is lactose free and contains no animal derivatives, artificial flavors or colors, yeast, gluten, or talc.
---
Manufactured for World Nutrition, Inc.
Suggested Use - VitälzȳmX™
As a dietary supplement, take three (3) capsules daily, at least 1 hour before or after meals or as recommended by your health professional.