Travel in Luxury with our Travel Pillow Ensemble
We love the 100% organic Silk Lady pillowcases so much, that we made a travel pillow ensemble for our customers who enjoy our natural beauty products.
This travel pillow ensemble is brought to you by Lorraine, our founder and CEO. She loves the Silk Lady pillowcases so much that she can't sleep without one, even when traveling.
When traveling, even if you bring a silk pillowcase along, you never know the kind or size of pillow you'll encounter on a plane, train, or at a hotel. Lorraine found a high quality down pillow that's the perfect size for traveling. The pillow is big enough for comfort, but small enough to fit in your suitcase. It condenses and packs well in a zip-up bag, or a compressible packing cube. Fold or roll it, put it in a bag or cube, compress it, and you've got a small package of luxury to take with you wherever you go! Purchase the pillow alone, or in an ensemble with the protector. Add a silk pillowcase with the finish of your choice. and you're all set.
---
The Ensemble Includes the Following Items:
European Goose Down Travel Pillow
12" x 16" (30 x 41 cm)
Eastern European Goose Down 700 Power Fill
Encased in 226 Egyptian Cotton Twill fabric from Germany
Edges finished with white woven cotton cording
Compresses for packing and springs back to life
Fits perfectly in the protective cover and in a Silk Lady pillowcase
Machine washable
This high quality down pillow is the perfect size for traveling. Pack it, squish it, roll it up - this pillow always springs back to life to cradle your head in downy softness no matter where you're sleeping. It's small enough to pack easily, yet substantial enough to provide your head with soft support each night. Filled with 4 oz of 700 power fill (considered medium support) and covered with "downproof" fabric so you don't lose a feather!
Damask Stripe Zipped Pillow Protective Cover
100% Cotton Damask Stripe
230 Thread Count
"Downproof"
Quality zipper closure
The perfect weight, not too thin
Sized to accommodate first wash shrinkage
This high-quality pillow cover will give your down pillow the protection it needs. Made with substantial weight 100% cotton, it's down proof and has an end zipper closure that never gets in your way. It's wonderfully soft and the perfect complement to your pillow. Easy care fabric as well.
---
Add a Silk Lady 100% Organic Silk Pillowcase
Finish off your luxury pillow with a Silk Lady pillowcase designed to fit this pillow perfectly. We can't say enough about the silk pillowcases from Silk Lady. Not only does it feel delicious, but it's good for your skin and hair. It prevents facial skin from creasing, maintains hydration, and prevents hair from frizzing. Cover your down pillow with this case and you'll experience pure luxury. It hand washes and quickly air dries, making it easy to take along for traveling.
12" x 16" (30 x 41 cm)
600 Thread count
19 Momme
Naturally hypoallergenic, repels dust mites
No chemicals, softeners, bleaches, or dyes
Envelope end closure
Read more about Silk Lady Silk Pillowcase
---
The Benefits of Sleeping on Silk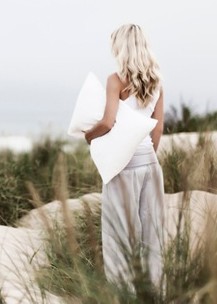 Silk is made up of strings of 18 amino acids which have the same pH level as your skin. These proteins help to prevent hair from frizzing and getting split ends. Silk reduces the loss of natural hair oils and moisture, leaving its natural shine intact.
Prevents facial skin from creasing
Maintains hydration
Keeps your skin-care product on your skin
Eliminates sleep wrinkles
Prevents hair from frizzing and split ends
Reduces the loss of natural hair oils and moisture
Minimizes damage to thinning of hair
Naturally hypoallergenic
Repels dust-mites
Read more about the Silk Lady 100% Organic Silk Pillowcases.
---
Caring for Your Organic Silk Pillowcase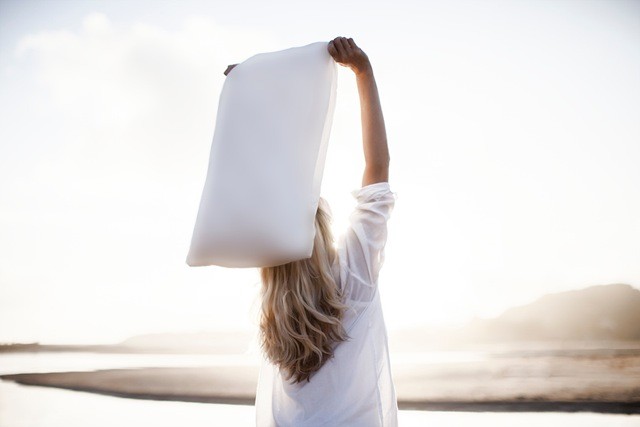 With proper care and maintenance, this luxury pillowcase will provide years of comfort.
Always remove your makeup and mascara before you go to bed. Not only would your skin benefit by being able to breath, rest and recover, but your white silk pillowcase will not stain. Wearing a moisturizer and other skin care products is perfectly fine.
Hand Wash Method - For best results, hand wash your pillowcase inside out.
Machine Wash Method - You can also clean it using the "silk/wool" or the "gentle hand wash" cycle of your washing machine. Use a gentle detergent and cool water around 85°F (30°C). Wash separately from colors. Do not bleach.
Hang Dry - The Silk Lady pillowcases should then be air dried, out of direct sunlight. Avoid tumble drying. Iron inside out using a "low/medium" or "silk" setting.
Washing Tip: Place the Silk Lady pillowcase in a laundry bag or a linen pillowcase when using a washing machine. During the rinse cycle, you may want to add a teaspoon of distilled white vinegar to prevent the silk from stiffening, and to keep it soft and bright.
---
Caring for Your Goose Down Pillow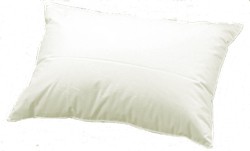 The goose down pillow is machine washable.
Set the washer to the "gentle cycle", and begin filling with water.
Add a small amount of mild laundry detergent made for washing down. Do not use dish soaps or detergents designed to remove grease or oils - this interferes with the natural oils of the down.
Add pillow to washer.
We suggest running pillow through the rinse cycle twice, using warm water.
The goose down pillow is machine dryable.
Punch and shake the pillow to loosen up the down before placing it in the dryer.
Dry pillow thoroughly and completely in the LOW heat setting of your dryer.
Check the pillow frequently during the drying process to avoid overheating. It may take an hour or more to dry the pillow.
When checking on the dryer progress, shake the pillow to work out any clumps.
Once dry, you may set it out in the sun to insure absolute dryness, turning to expose both sides. Do not leave in the direct sun for too long as the sun can damage the oils.
You may also use a professional down washing service. DO NOT use liquid fabric softener or dryer sheets. DO NOT dry clean.
We suggest you never use your pillow without a protective cover. When the pillow won't be in use for a long time, store in a breathable bag. Avoid storing in plastic, which may trap in moisture and cause the filling to mildew or disintegrate.
---
Caring for Your Protective Pillow Cover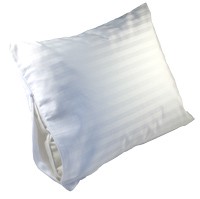 The cotton protective pillow cover is machine washable and dryable. We suggest you wash it before use, as some shrinkage does occur with the first washing. This will ensure that you get a great fit on your pillow the first time you use it.
Wash with cold or lukewarm water on the gentle/delicate cycle.
Use a mild laundry detergent or one that is pH balanced. Do not bleach.
Once the spin cycle is over, remove cover immediately and give it a good shake.
Line dry or use a dryer at low heat. Do not overdry.
If you iron the cover, use a warm, not hot, setting.