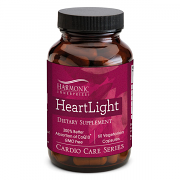 HeartLight

300% Better Absorption of CoQ10 - GMO Free from Harmonic Innerprizes
60 Caps - 450 mg OUT OF STOCK

MANUFACTURER CURRENTLY OUT OF STOCK. UNKNOWN ETA.
HeartLight is a powerful combination of MicroActive®CoQ10, a patented process that improves the bioavailability of CoQ10 up to 300% over conventional CoQ10 and is bioactive in the body for 24 hours.†

$0.00

Retail $41.95

save 100%

Item: 9710
Nattovita [Request Price]

Cardiovascular Support with CoQ10 from World Nutrition
120 Caps

This is a Professional formula, and therefore pricing is not shown online. For

PRICE

and to

ORDER

,

CLICK HERE

for instructions.