20% Vitamin C Serum

Highly Concentrated, UV Protection, Improves Discoloration and Prevents Skin Aging from Cosmetic Skin Solutions
1 fl oz

This powerful antioxidant formula provides preventative benefits, resulting in a highly effective antioxidant shield that protects against free radicals and environmental damage. This exceptional lightweight serum provides a 20% concentration of topical vitamin C to provide advanced protection against harmful reactive oxygen species (ROS), and UV radiation.
7 Serums \ Gels Combo Pak

Advance Formula + from Cosmetic Skin Solutions
1 Package

• Prevent with three topical Vitamin C Serums
• Resurface with alpha hydroxy and glycolic acids
• Hydrate with Hydra B5 Gel with Hyaluronic Acid
• Lighten and hydrate with Phyto Botanical Gel
• Firm eyes with antioxidant gel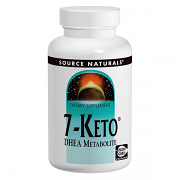 7-Keto DHEA

Effective Anti-Aging Compound from Source Naturals
30 Tablets - 50 mg

Research shows that 7-Keto DHEA has all the benefits of its parent compound (DHEA), but it doesn't metabolize into unwanted testosterone or estrogens.