About the Book
Staying Healthy in the Fast Lane simplifies the causes and effects of modern chronic diseases by outlining the five dietary changes over the last century that have led to excess calorie consumption, along with reduced physical activity, and have resulted in the epidemics of obesity, heart disease, diabetes, and other chronic conditions.
But there is good news! By applying the 9 Simple Steps to Optimal Health TRIAD Wellness Program you can prevent, delay or reverse the course of chronic disease and create real Healthcare Reform.
Within these pages are simple rules for an efficient and effective diet, exercise, and mind-body practices that make this program easy for even the busiest person.
Kirk Hamilton shares the secrets of successfully aging cultures from around the world, and combined with current research and patient-guided experience, leads the reader through the life-changing process of controlling their health journey.
He also discusses the failings of our health care industry's disease care model, which places no emphasis on preventing major chronic diseases.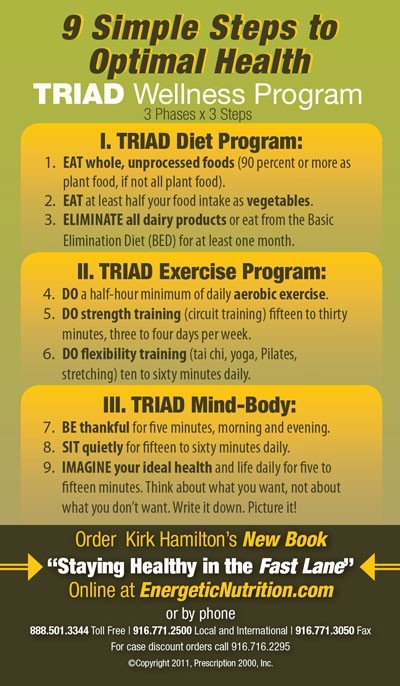 Free with your book:
A handy card with:
9 Simple Steps to Optimal Health
and the
Basic Elimination Diet.
Click image to see larger view.

Card is 3.5" x 6".
The continued emphasis on disease treatment will result in an increase in chronic disease, ultimately escalating healthcare costs and further economic instability as a nation. The simple solutions to a more preventive model are outlined in his book.
Writing as a caring teacher, motivator and friend, Kirk shows how if we take simple steps on a daily basis, very good things will happen. So sit back and enjoy the ride as you begin Staying Healthy in the Fast Lane.
---
Kirk Hamilton provides the answers to these topics and many more in Staying Healthy in the Fast Lane:
Why relying on health insurance makes you sicker.
Why capitalism is the cause and solution to our health care crisis.
Why 90 year-olds should lift weights and climb trees.
Why exercising while watching TV solves America's health crisis.
What One Diet Rule would create lasting health care reform.
Why shopping on the outside of a grocery store is the key to optimal health.
What three rules make fast food healthier.
Proof good health is in your lifestyle, not your genes.
Why YOU are your best health insurance.
Why do we let disease happen, and then pay lots of money to treat it?
Why drugs cannot solve our healthcare crisis! Why they make it worse.
Why being healthy is being patriotic.
Why you should take the "Ain't Got Milk" challenge.
---
Click
HERE
to review the Table of Contents and Chapters 1 & 2 of
Staying Healthy in the Fast Lane
by Kirk Hamilton
---
About the Author - Kirk Hamilton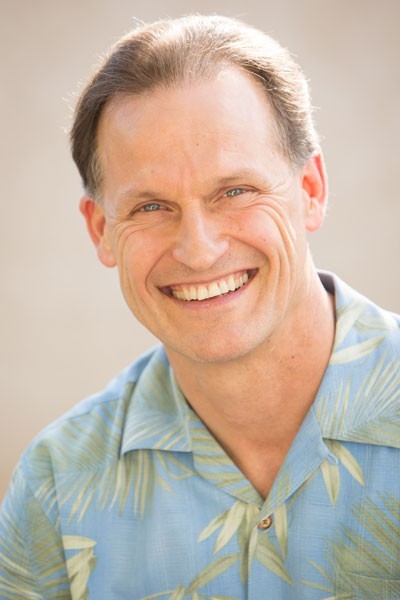 Kirk Hamilton, PA-C (Physicians Assistant Certified) graduated from the University of California, Davis Physicians Assistant Program through their Department of Family Practice in 1983.
Kirk Hamilton has been a practicing physician's assistant working in nutrition, prevention and integrative medicine since 1983. He has been educating health professionals by providing summaries of nutrition and prevention research in the form of newsletters, books, databases and interviews since 1989.
He currently works with patients, teaches, writes, and promotes health and wellness, and conducts both audio (Staying Healthy Today) and print interviews (Experts Speak) featuring expert researchers, physicians and authors.
---
Kirk Hamilton's websites:
---
† These statements have not been evaluated by the U.S. Food and Drug Administration (FDA) or EnergeticNutrition.com. This product is not intended to diagnose, treat, cure or prevent any disease. The information provided on this site is for informational purposes only and is not intended as a substitute for advice from your physician or other health care professional or any information contained on or in any product label or packaging. You should not use the information on this site for diagnosis or treatment of any health problem or for prescription of any medication or other treatment. You should consult with a health care professional before starting any diet, exercise or supplementation program, before taking any medication, or if you have or suspect you might have a health problem, or are pregnant. When you receive an item, carefully read all labels, warnings, and directions before use. Actual product packaging and materials may contain more and/or different information than shown on this website.