Bee Propolis Trio - Healthy Inflammation Response†
It's not a coincidence that propolis means (pro= before) + (polis=city). An amazing substance that is strategically placed by honeybees before their hives to serve as the defender of the hive. As a consequence, the beehive is one of the most sterile environments known by man even at high degrees of temperature and humidity. That's why for millennium civilizations have relied on bee propolis to support their health.†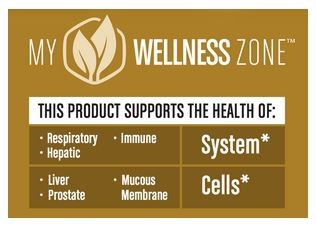 Supports hepatic (liver) cell health†
Supports prostate cell health†
Promotes healthy inflammation response†
Immune modulation properties for daily immune system support†
Contains a blend of premium Brazilian propolis including brown (85%), green (10%) and red (5%)
---
Features of NaturaNectar Premium Blend of Brazilian Bee Propolis
Featuring a unique blend of Premium Brazilian Propolis. Brown (85%), Ultra-Green (10%), and Red (5%), Bee Propolis Trio is a natural source of many important active compounds such as the antioxidant CAPE (caffeic acid phenethyl ester). It has been featured in hundreds of scientific studies due to its many health benefits.†
The highest quality bee propolis in the world comes from Brazil. Brazil is the fifth largest country of the world by territory and is a geographically disperse area. That means broader immune support for you.†
Green Extraction is NaturaNectar's patent protected and exclusive extraction method that assures pure flavonoids from bee propolis while eliminating nearly all the impurities and beeswax. Only water is used for extraction. No chemical solvents are used.
---
A Boost of Protection for Today's Stressful Lifestyle!
Bee Propolis Trio's main ingredient, FLAV™-M, has a high antioxidant effect with Total ORAC score of 1.860 µmol TE/g, about 80% higher than açai berry. Our ingredients, FLAV-M and PWE-FD, have been scientifically studied by numerous universities and reputable organizations and are the first standardized bee propolis extracts ever obtained.
You can count on NaturaNectar Bee Propolis Trio's amazing combination of the most pure organic aromatic acids and flavonoids, all pure and from Brazilian propolis, to support your health and your natural defenses.† Propolis is extensively scientifically studied to show many health benefits. Bee Propolis Trio is a great way for you to experience that!
---
Green Extraction™ Technology
All Natura Nectar propolis products are extracted using exclusive Green Extraction™ technology.
The process is free of harsh chemicals and delivers the highest quality of bee propolis in a standardized extract with flavonoids and phenolic acids while removing non-beneficial elements, such as beeswax.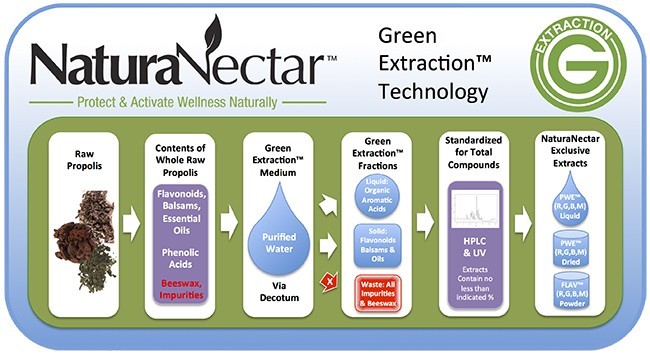 ---
Supplement Facts - Bee Propolis Trio
Quantity per Container: 60 vegetable capsules
Serving Size: 1 capsule
Servings per Container: 60
Other Ingredients: Cellulose (plant origin), magnesium stearate (plant origin), silicon dioxide.
NaturaNectar Bee Propolis Trio does not contains alcohol, sugar, starch, wheat, gluten, yeast, milk (lactose), egg, shellfish, artificial preservatives, flavors, dyes or colors.
Directions: Take one capsule by mouth one or two times daily to support overall health.† May be taken in conjunction with our other unique life solutions daily, or as recommended to help protect and activate your wellness naturally.†
Caution: As with any nutritional supplement, it is advised to consult your physician before taking, especially if pre-existing conditions are present. Do not take if pregnant or breastfeeding. Use with caution if allergic to bee products.
Store in a cool, dry place. Keep out of reach of children.
Developed and distributed in the USA by Natura Nectar LLC.