What is Ketsumeisei?
Originally created to combat the negative effects of blood sugar imbalances, Ketsumeisei is a proprietary blend of Chinese herbs which studies have shown to be effective in supporting healthy metabolic function and micro-circulatory disorders within the body.†
The use of Chinese herbs has enjoyed a long and successful history in eastern medicine. Ketsumeisei™, developed by renowned Chinese medical expert Dr. Xianen Wang, is a proprietary blend of premium Chinese herbs known for their support of healthy circulatory and metabolic functions related to the liver. Restoring liver function and systemic micro-circulation helps support numerous processes throughout the body.†
Liver Support:
Improvement in micro-circulation may have body-wide beneficial effects on organs, including the liver, which may lead to improvement in liver function.†
Helps to maintain normal blood sugar levels†
Promotes general organ health†
May improve fatty liver condition†
Microcirculation Support:
Blood flow and volume†
Extremity circulation support†
Healthy energy levels†
Visual acuity†
May also help support the decrease of harmful free fatty acids in the blood, thus increasing total body health.†
The suggested use is one packet per day.
---
Ingredients Features
Ketsumeisei is a proprietary herbal compound that includes sickle-pod senna, Chinese wild yam, safflower, astragalus root, cape jasmine fruit, kudzu vine root, Chinese licorice, and Chinese ginseng.
Sickle-Pod Senna - May regulate normal blood pressure and blood sugar levels. Supports the liver and a healthy inflammation response.†
Chinese Wild Yam - May help to nourish and strengthen the body, improve vitality, and promote energy.†
Safflower - May help improve blood flow and support healthy inflammation response.†
Astragalus Root - May help boost the immune system, balance digestive pH, and promote energy. It can also help prevent oxidation, promote wound healing, support liver function, and maintain healthy blood pressure.†
Cape Jasmine Fruit - May help maintain body temperature and promote a healthy inflammation response. Also supports healthy liver function.†
Kudzu Vine Root - Helps to relieve thirst, and regulate healthy blood pressure among other benefits.†
Chinese Licorice - Helps promote a healthy inflammation response, and boost immunity during the winter and allergy seasons. It can help support liver function and healthy digestive balance. It may also aid as cleansing tonic.†
Chinese Ginseng - Helps increase energy and reduce the effects of stress. It can also promote a healthy inflammation response, support healthy metabolism, help support healthy circulation, stimulate mental activity, and detoxify and normalizing the entire system.†
---
Improvement of the Constitution
Improvement of the constitution (physical functions of the body) is based on the notion of traditional Chinese medicine. This method uses a collective effect of natural ingredients to improve an abnormal constitution instead of focusing on a single symptom or a single parameter.
These types of constitutions can cause disorders of energy production and circulation, which should be improved by the principle of soothing the liver, clearing away heat, tonifying qi, and activating the blood.† A text book of traditional Chinese medicine describes the indications for Chinese herbal ingredients.
According to these principles, edible herbal ingredients used to devise the supplement Ketsumeisei, may help improve one's constitution.†
---
Traditional Chinese Medicine Theory
The "spleen" of traditional Chinese medicine refers to the functional system that controls digestion, absorption, and metabolism. Certain health conditions have been attributed to the metabolic and circulatory pathologic condition associated with "spleen vacuity", stagnant blood, and liver-kidney yin deficiency. The primary pathology is "spleen vacuity", characterized by metabolic disorder. This leads to microcirculatory disorder (stagnant blood).†
---
Dr. Xianen Wang, MD, PhD
Because genetic and molecular therapies provide only local treatment for certain symptoms, Dr. Wang formulated Ketsumeisei, a proprietary herbal compound that has been widely used in China and Japan for many years.
Dr. Wang's ongoing involvement is practical and solution-oriented, emphasizing studies that address patients' needs, rather than studies for purely academic purposes. Dr. Wang was granted an Associate Professorship at China's Tongji Medical College in 1995, and became a Full Professor there in 2002. In December 2005, he became an Associate Professor in the Department of Gastroenterology, as well as a Japan's very first Foreign Associate Professor at Juntendo University's School of Medicine.
More information about Dr. Wang and his work is available online at: IntegrativeTherapyResearch.org
Ketsumeisei is recommended by the Embassy of the People's Republic of China in Japan and the Japan-China Society, Inc.
---
Why Buy Vitalzym from Energetic Nutrition?
We are an Authorized World Nutrition Retailer, and one of their largest worldwide retailers.
We receive a fresh supply of products every week, which is kept under climate control.
We have been in business since 1996, and a trusted website since 1997.
Order by 12pm PST and we'll ship the same day (exceptions may apply).
Our knowledgeable staff is available to answer your questions by phone, email, or live chat.
We are known for our excellent customer service and educational support.
We truly care about your health, and we really appreciate your business!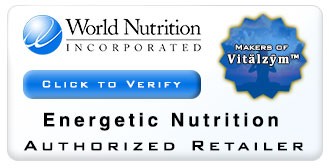 Supplement Facts and Suggested Use - Ketsumeisei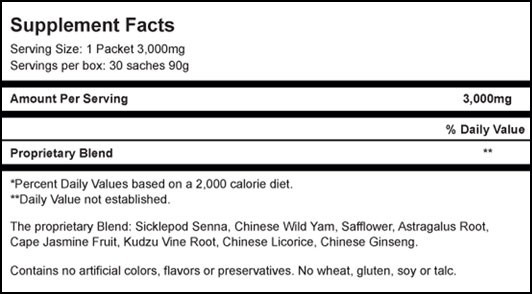 Serving Size: 1 Packet
Servings per Container: 30
Amount per Serving: 3,000 mg
Proprietary blend contains: Sicklepod Senna, Chinese Wild Yam, Safflower, Astragalus Root, Cape Jasmine Fruit, Kudzu Vine Root, Chinese Licorice, Chinese Ginseng.
Ketsumeisei is lactose free and contains no animal derivatives, artificial flavors or colors, yeast, gluten, or talc.
Suggested Use - Adults and children over 12 years: As a dietary supplement, take one packet (3,000 mg) under the tongue or mixed with water, at least one hour before or after meals or as recommended by your healthcare professional.
Suggested Use - Children under 12 years: As a dietary supplement, take one-half packet (1,500 mg) under the tongue or mixed with water, at least one hour before or after meals or as recommended by your healthcare professional.
For severe symptoms, the dosage recommended for adults and children over 12 years is 6,000 mg (2 packets) per day for 4 to 8 weeks. Consult your physician first.
WARNING: If you are pregnant or lactating, consult a healthcare professional before using. Ketsumeisei improves blood circulation, so the intake of blood thinners may need to be reduced or stopped under a doctor's supervision. Ketsumeisei cannot be taken by patients with a history of hypersensitivity to any of its components. Keep out of reach of children. Consult your physician if an allergic reaction occurs. Do not use this product if the safety seal is broken. Store in a cool dry place.
Manufactured for World Nutrition, Inc.