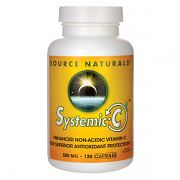 Systemic Vitamin C

Optimized Antioxidant Activity from Source Naturals
120 Capsules - 500 mg

MANUFACTURER CURRENTLY OUT OF STOCK. ETA UNKNOWN .

Systemic C is an enhanced, supercharged vitamin C that provides superior antioxidant protection. The beneficial effects of vitamin C are energized in this unique formula, which is designed to make more vitamin C available for immune support, heart health, healthy aging, and free radical scavenging.