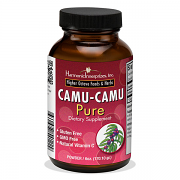 Camu-Camu Pure

Vitamin C Complex Powder from Harmonic Innerprizes
6 oz Powder

OUT OF STOCK MID FEBRUARY. BACK ORDERS WILL SHIP THEN.
The most potent Vitamin C complex found in nature is now available as a supplement powder. Add Camu-Camu Pure powder to your antioxidant regime for superb immune support with the confidence you're getting the purest whole-food quality supplement available.
Systemic Vitamin C

Optimized Antioxidant Activity from Source Naturals
120 Capsules - 500 mg [TEMP OUT OF STOCK]

OUT OF STOCK UNTIL FURTHER NOTICE
Systemic C is an enhanced, supercharged vitamin C that provides superior antioxidant protection. The beneficial effects of vitamin C are energized in this unique formula, which is designed to make more vitamin C available for immune support, heart health, healthy aging, and free radical scavenging.

$0.00

Retail $16.98

save 100%

Item: 5080