Asparagus Extract

An excellent natural source of folic acid from Chi's Enterprise
120 caps - 500 mg

FREE SHIPPING!
Asparagus is an alkaline food and is high in folic acid and selenium.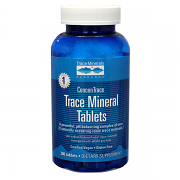 ConcenTrace Trace Mineral Tablets

Americas #1 Selling Trace Mineral Brand from Trace Minerals Research
300 Tablets

ConcenTrace Trace Minerals Tablets from Trace Minerals Research. Health-promoting ionic minerals found in the Great Salt Lake.