Bee Propolis Trio - The Ultimate Brazilian Propolis Formula
Bee Propolis Ultimate is the ultimate Brazilian propolis formula that features therapeutical dosages of flavonoids and organic aromatic acids (OAA) from premium Brazilian Red (33%), Ultra-Green (33%) and Brown propolis (33%). It is a natural source of acclaimed active compounds Artepillin-C (ARC), Caffeic acid phenethyl ester (CAPE), Vestitol, Neo-Vestitol, Formononetin and over 300 other natural compounds beneficial to your health. These exotic and exclusive types of Brazilian propolis are appreciated for their therapeutic properties backed by hundreds of scientific studies.
Once a Day to Activate Wellness
The ultimate and balanced formula contains all you need in a single daily dose to activate wellness of multiple body cells & systems. † FLAV™ and PWE™ extracts provide 150mg of flavonoids and 9mg of Organic Aromatic Acids in one highly concentrated vegetarian capsule.
World's Most Advanced and Complete Exclusive Bee Propolis Possible Benefits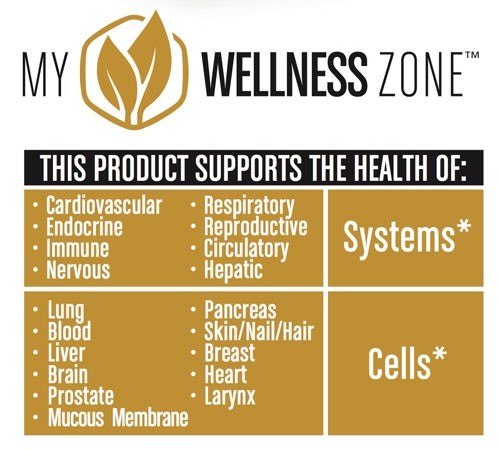 Supports multiple body cells and systems†
Immune modulation properties for optimum health†
Red Bee Propolis promotes longevity and cell health†
Green Bee Propolis contains Artepillan-C
Brown Bee Propolis antioxidant benefits†
No ethanol, no propylene, no harsh chemicals
cGMP US certified manufacturing facility
It's not a coincidence that propolis means (pro= before) + (polis=city). An amazing substance that is strategically placed by honeybees before their hives to serve as the defender of the hive. As a consequence, the beehive is one of the most sterile environments known by man even at high degrees of temperature and humidity. That's why for millennium civilizations have relied on bee propolis to support their health.†
---
Premium Brazilian Bee Propolis
The highest quality bee propolis in the world comes from Brazil. Brazil is the fifth largest country of the world by territory and is a geographically disperse area. That means broader immune support for you.†
---
Green Extraction™ Technology
All Natura Nectar propolis products are extracted using exclusive Green Extraction™ technology.
The process is free of harsh chemicals and delivers the highest quality of bee propolis in a standardized extract with flavonoids and phenolic acids while removing non-beneficial elements, such as beeswax.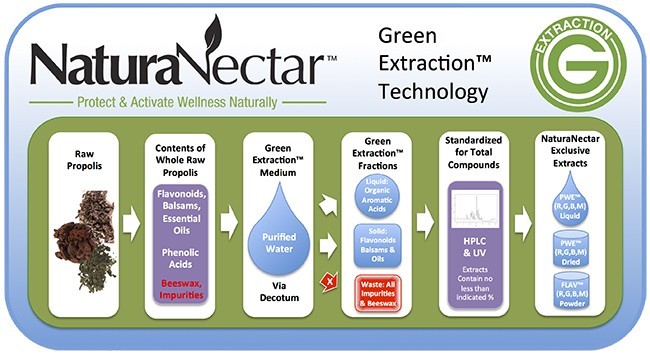 ---
About NaturaNectar
NaturaNectar understands the nature and science behind the beehive and find their inspiration there. With the same focus and dedication of the honeybees to build sustainable and productive hives with their propolis, NaturaNectar is dedicated to bringing you wellness products imbued with the same protective propolis to help you live an active and healthy life. They commit their corporate resources to the vital research needed to ensure that honeybees continue to be nature's true marvels as well as supporting the surrounding communities that help harvest their bee propolis in a sustainable way.
Quality from the Source
NaturaNectar's sister company, ALMAR Apiary, is located in beautiful Brazil, the home of the verdant rain forests where the world's finest and purest bee propolis is harvested. Their ground breaking and effective products are sourced for you directly from the Brazilian honeybees and their bio diverse forests!
30+ Years Perfecting the Most Advanced Standardized Propolis Extracts
Through their partnership with PRC-Propolis Research Center, NaturaNectar's standardized, 100% water-based pure propolis extracts have become the foundation of their extensive product line. The mission of NaturaNectar is to protect and activate wellness naturally through their commitment to developing trusted, science-based, doctor-formulated products while being socially and environmentally responsible.
---
Supplement Facts - Bee Propolis Ultimate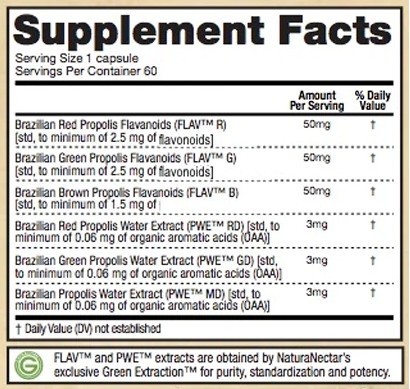 Quantity per Container: 60 vegetable capsules
Serving Size: 1 capsule
Servings per Container: 60
Other Ingredients: Cellulose (plant origin), magnesium stearate (plant origin), silicon dioxide.
NaturaNectar Bee Propolis Trio does not contains alcohol, sugar, starch, wheat, gluten, yeast, milk (lactose), egg, shellfish, artificial preservatives, flavors, dyes or colors.
No ethanol, no propylene glycol, no harsh chemicals.
Directions: Take one capsule by mouth once daily to support overall health.† Consult your practitioner for higher dosages.†
Caution: As with any nutritional supplement, it is advised to consult your physician before taking, especially if pre-existing conditions are present. Do not take if pregnant or breastfeeding. Use with caution if allergic to bee products.
Store in a cool, dry place. Keep out of reach of children.
Developed and distributed in the USA by Natura Nectar LLC.