Acid Soothe Chewable by Enzymedica
The American College of Gastroenterology estimates that 60 million Americans experience a burning sensation in the chest or acid taste in their throats at least once a month.1 Occasional heartburn and acid discomfort after a meal are often symptoms of impaired digestion due to lifestyle, overall health and poor dietary choices.
Enzymes in the digestive system play a vital role in overall health. They ensure proper breakdown, absorption and utilization of nutrients from food. A deficiency in the natural production of digestive enzymes may be an underlying cause of gastrointestinal complaints, including occasional heartburn and acid discomfort. †
Chewable Acid Soothe™ is a delicious and fast acting support for occasional heartburn and indigestion. † It contains:
Zinc Carnosine is included to optimize the mucosal lining of the stomach, acting as a buffer to gastric acid.†


Thera-blend™ advanced enzyme formula blends multiple enzymes with a wide range of pH activity for superior performance: Amylase, lipase and cellulase enzymes work to enhance carbohydrate, fat and plant cell wall digestion. †


All-Natural ingredients, including organic tapioca dextrose, help to form the chewable tablet. No artifical colors, flavors, fillers or binders are used.
---
Thera-blend Enzyme Formula
---
---
About Enzymedica
Enzymedica is a Florida company that was founded in 1998 with the purpose of offering their customers the highest-potency enzyme products possible. Today, as one of the leaders in the industry, they still strive for no less.
All of their products are made from only the highest quality enzymes and contain absolutely no fillers to ensure purity. Every product is 100% vegetarian, and they seek out vegan and Kosher ingredients whenever possible. Each product is specifically formulated to provide targeted support for common digestive discomforts, food intolerances, cardiovascular health, proper immune function or healthy inflammatory responses.
Enzymedica's Quality Pledge
They respect consumers' desire to make healthy dietary choices. Enzymedica routinely tests their products for gluten and other ingredients in accordance with cGMP guidelines.
---
References
American College of Gastroenterology. "Gastroesophageal reflux disease. In Common Gastrointestinal Problems." Retrieved from http://s3.gi.org/patients/pdfs/CommonGIProblems1.pdf


Supplement Facts - Acid Soothe Chewable by Enzymedica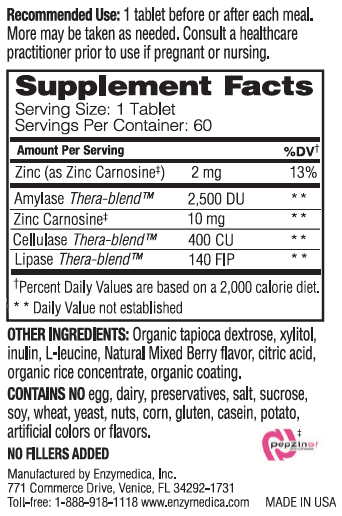 Serving Size: 1 Tablet - Berry flavor
Servings Per Container: 30 or 60
Other Ingredients: Organic tapioca dextrose, xylitol, inulin, Natural Mixed Berry flavor, citric acid, organic rice concentrate, organic plant-based coating (organic tapioca maltodextrin, organic sunflower lecithin, organic palm oil, organic guar gum).
This product does not contain egg, dairy, preservatives, salt, sucrose, soy, wheat, yeast, nuts, corn, gluten, casein, potato, GMOs, artificial colorings or flavorings, and is suitable for vegetarians and vegans.
NON-GMO. VEGAN. NO FILLERS ADDED.
Storage: Keep tightly closed in a dry place; avoid excessive heat.
CAUTION: Please keep all supplements out of children's reach. Consult a physician prior to use if pregnant or nursing, or taking medications.
Manufactured by Enzymedica, Inc., 771 Commerce Drive, Venice, FL 342922-1731
Click Supplement Facts box to see larger image
Suggested Use - Acid Soothe Chewable Berry by Enzymedica
One tablet before or after each meal. More may be taken as needed.
Do not use this product if symptoms of heartburn or indigestion persist.
Consult a physician prior to use if pregnant or nursing, or taking medications.