EyeAstin with Hawaiian Astaxanthin, Lutein, and Zeaxanthin
EyeAstin is a proactive, comprehensive eye health supplement that:
Supports healthy vision
Enhances normal eye function
Reduces eye fatigue and strain
This formula was developed by doctors and nutrition experts to deliver superior natural antioxidant support for eyes. It features these clinically validated ingredients:
BioAstin Hawaiian Astaxanthin to support eye health†
Lutein (FloraGLO) - an antioxidant that promotes healthy eye function†
Zeaxanthin - a carotenoid and powerful antioxidant with specific benefits for eye health†
Bilberry - a close relative to the blueberry, an antioxidant used for a variety of eye disorders including poor night vision, eyestrain and overall eye health†
---
About Astaxanthin and its Anti-Aging Power
As nature's most powerful antioxidant, BioAstin Hawaiian Astaxanthin naturally reduces free radicals in the body. It also significantly reduces the oxidative load in the body by protecting the cells against oxidation. This red-colored pigment is very effective against singlet oxygen. It has a powerful scavenging ability for lipid and free radicals, and effectively breaks peroxide chain reactions. All this adds up to super anti-aging power.
Astaxanthin has been documented to show a wide range of benefits in human clinical studies on several serious health concerns. This super-antioxidant is capable of protecting the central nervous system, the brain, the eyes, the cardiovascular system, and more. BioAstin Hawaiian Astaxanthin supports a healthy oxidative balance which leads to improvements in many health conditions.
Supports cardiovascular health†
Supports brain health†
Protects cells from oxidative damage†
Supports joint and tendon health†
Supports skin health with sun exposure†
Protects the nervous system from oxidative damage†
Supports eye health†
Supports anti-aging through cellular health†
Supports healthy immune function†
Can provide increased strength†
Supports the body in recovery from exercise†
Shown to reduce wrinkles and improve skin moisture levels†
Due to its molecular structure, Astaxanthin is one of the few antioxidants that can move throughout the entire body and provide protection to all of our cells†. Astaxanthin has the unique property of protecting the entire cell – both the water soluble part as well as the fat soluble part. It has polar hydrophilic ends that span across the entire cell membrane. Most other well-known antioxidants cannot do this. It can travel throughout the entire body and protect cells in all our organs, muscles and tissues.†
---
Dr. William Sears Video About Astaxanthin
---
Astaxanthin - The King of the Carotenoids
Anyone with knowledge about the benefits of antioxidants knows that Nutrex Hawaii's BioAstin Hawaiian Astaxanthin gel caps are a must. No other supplement offers the same level of antioxidant benefits as BioAstin Astaxanthin. Often called "the king of the carotenoids," astaxanthin is 10 to 100 times more powerful than other carotenoids like beta-carotene and lycopene. Plus, unlike several other antioxidants, astaxanthin does not become pro-oxidant in the body. This makes it one of the most potent and powerfully effective antioxidants that one can ingest. Add it to your anti-aging regimen.
Potency of Astaxanthin
550 times stronger as an antioxidant than Vitamin E
11 times stronger than beta carotene
800 times stronger as an antioxidant than CoQ10
6000 times stronger as an antioxidant than Vitamin C
Over 200 scientific studies have attested to the power of Astaxanthin and Nutrex Hawaii has compounded it into one daily gel cap. This new formula is ideal for everyone, and especially athletes or individuals with certain health conditions.
---
More About Astaxanthin
Astaxanthin is a carotenoid, which are pigment colors in nature. Astaxanthin is the red pigment color found in salmon, shrimp, crab and even the pink color in flamingos. It is also found in krill, algae, red trout and lobster. BioAstin Hawaiian Astaxanthin is derived from microalgae called Haematococcus pluvialis. It is grown on land in controlled, fresh water ponds and contains no fish or shellfish by products.
There are several different ways to incorporate more astaxanthin into one's diet, such as eating foods that are naturally rich in the antioxidant, like salmon. But even though salmon has the highest concentration of any food, you'd have to eat over three pounds each day of most salmon species to get the equivalent amount of Astaxanthin in one 12 mg capsule!
While astaxanthin is found naturally in the wild in the form of the microalgae Haematococcus pluvialis, the astaxanthin that is used to make Nutrex Hawaii's BioAstin is extracted from hygienically grown microalgae harvested on the pristine Kona Coast of Hawaii's Big Island.
Astaxanthin Side Effects
Though side effects of using astaxanthin are mild, here is a list of those you may want to be aware of. These are generally reported side effects and are not necessarily those directly associated with the Nutrex Hawaii product.
Most common side effects include:
slight change in pigmentation (orange tint on skin)
orange-red stool with very high doses
NO toxic side-effects even with extremely high doses†
Very rare side effects:
hair growth
changes in hormone levels
allergic reactions
decrease in calcium levels
low blood pressure
Warning: As always, consult your doctor for possible drug interactions if you are taking any prescription or OTC medications, especially those intended to lower blood pressure, or treat allergies or asthma.
---
About Nutrex Hawaii and their Astaxanthin
About Nutrex Hawaii
Nutrex Hawaii was founded in Kailua-Kona, Hawaii in 1990 by Dr. Gerald Cysewski, a world-renowned expert in microalgae and carotenoids. Their mission is to utilize the benefits of microalgae to improve health and extend lives in the world wide community. Carved out of land that was once a barren lava flow, Nutrex Hawaii is located on the pristine Kona coast on the Big Island of Hawaii. Their farm draws on the natural resources that surround them - abundant warm sunlight, pure deep ocean water and 100% fresh water drawn from Hawaiian aquifers.
How long has BioAstin been on the market?
In August 1999, BioAstin completed a review by the FDA without objection and was allowed to be sold in the United States as a human dietary supplement. A growing body of scientific literature demonstrates that natural Astaxanthin suprasses many of the antioxidant benefits of Vitamin C, Vitamin E, Beta-Carotene and other carotenoids.
Nutrex Hawaii Location
Sourcing location plays a large role in the quality of astaxanthin, and Hawaii's Kona coast offers optimum growing conditions, thanks to its pristine, nutrient-rich waters, heavenly climate, and 12 months of generous sunlight. This trio of environmental factors enables the astaxanthin that is used in BioAstin Supreme to be of the highest quality and potency possible.
BioSecure Zone
The BioAstin microalgae farm in Hawaii is considered a BioSecure Zone. This means that it is completely free of harmful pesticides, herbicides, and genetically modified organisms, and it does not generate land erosion or water pollution. Their products are safe, pure and guaranteed Non-GMO and BSE-Free. BioAstin has GRAS status (is recognized as safe by the US FDA).
100% Potable Drinking Water
Their products are grown with 100% potable drinking water. This water is collected from the Big Island's pristine aquifer. After being natural filtered through lava rock, this water is as fresh as it gets. To minimize water waste and return essential nutrients back into their growing ponds, the majority of the fresh water is recycled and returned to the pond for the next growing cycle. This process contributes to providing the world's most nutritious Astaxanthin.
Environmental Responsibility & Sustainability
Nutrex Hawaii's corporate philosophy is to leave the land and environment in better condition than when they started. What does this mean for the consumer? You can feel good about purchasing products from a company that does everything possible to protect the environment.
---
The Benefits of Antioxidants
Antioxidants come up frequently in discussions about good health and preventing diseases. These powerful substances, which mostly come from the fresh fruits and vegetables we eat, prohibit (and in some cases even prevent), the oxidation of other molecules in the body. The benefits of antioxidants are very important to good health, because if free radicals are left unchallenged, they can cause a wide range of illnesses and chronic diseases and accelerated aging. Antioxidants are your friend when it comes to anti-aging and longevity.
Antioxidants and Free Radicals
The human body naturally produces free radicals and the antioxidants to counteract their damaging effects. However, in most cases, free radicals far outnumber the naturally occurring antioxidants, accelerating aging. In order to maintain the balance and to promote anti-aging, a continual supply of external sources of antioxidants is necessary in order to obtain the maximum benefits of antioxidants. Antioxidants benefit the body by neutralizing and removing the free radicals from the bloodstream.
Different Antioxidants Benefit Different Parts of the Body
There are a wide range of antioxidants found in nature, and because they are so varied, different antioxidants provide benefits to different parts of the body. For example:
beta-carotene (and other carotenoids) is very beneficial to eye health
lycopene is beneficial for helping maintain prostate health
flavonoids are especially beneficial for heart health
proanthocyanidins are beneficial for urinary tract health
Due to its molecular structure, Astaxanthin is one of the few antioxidants that can move throughout the entire body and provide protection to all of our cells. And Astaxanthin has the unique property of protecting the entire cell. It has polar hydrophilic ends that span across the entire cell membrane. Most other well-known antioxidants cannot do this.
Antioxidants and Skin Health Benefits
When skin is exposed to high levels of ultraviolet light, photo-oxidative damage is induced by the formation of different types of reactive species of oxygen, including singlet oxygen, superoxide radicals, and peroxide radicals. These forms of reactive oxygen damage cellular lipids, proteins, and DNA. They are considered to be the primary contributors to erythema (sunburn), premature aging of the skin, photodermatoses, and skin cancers.
Astaxanthin, followed by beta-carotene combined with Vitamin E has been shown to be one of the most powerful antioxidant combinations for helping protect the skin from reactive species of oxygen.†
Antioxidants and Immune System Support
Singlet oxygen can compromise the immune system, because it has the ability to catalyze production of free radicals. Astaxanthin and Spirulina have been shown to enhance both the nonspecific and specific immune system, and to protect cell membranes and cellular DNA†. Astaxanthin is the single most powerful quencher of singlet oxygen, and is up to ten times stronger than other carotenoids (including beta-carotene), and up to 500 times stronger than alpha tocopherol (Vitamin E), while Spirulina has a variety of antioxidants and other substances that are beneficial in boosting immunity.
Additional Ways Antioxidants Help Benefit One's Health
Increasing one's antioxidant intake is essential for optimum health, especially in today's polluted world. Because the body just can't keep up with antioxidant production, a good amount of these vitamins, minerals, phytochemicals, and enzymes must come from one's daily diet.
Boosting your antioxidant intake can help support:
Heart health†
Eye health†
Memory†
Mood†
Supplement Facts - EyeAstin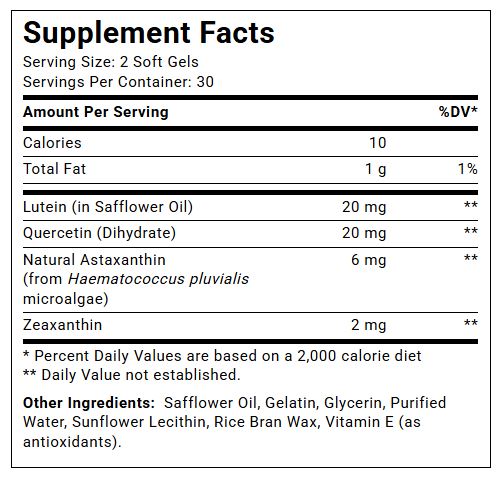 Serving Size: 2 softgels
Servings per Container: 30
Other Ingredients: Flaxseed Oil, Rice Bran Oil (High Oryzanol), Safflower Oil, Sunflower Oil, Gelatin (bovine), Glycerin, Purified Water, Organic Beeswax, Tocopherols as antioxidants.
EyeAstin is formulated and made with Non-GMO Project Verified BioAstin® Natural Astaxanthin.
Free of gluten, lactose, soy, wheat, and artificial colors. Non-GMO.
Guaranteed stable Astaxanthin content over time. Natural Astaxanthin has no known side effects or contraindications.
Distributed by Nutrex Hawaii. Made in USA
Suggested Use - EyeAstin
Take 2 softgel caps daily with food. EyeAstin is safe and natural. It is important to note that since astaxanthin is a fat-soluble carotenoid, it works best when taking it with food, as fat aids in the absorption of the antioxidant.
Consult your healthcare practitioner before use if you are pregnant or nursing.
Keep out of reach of children.