Original Vitalzym Hybrid Formula
Vitalzym Original Hybrid is a unique proprietary blend of potent digestive and systemic enzymes to provide total system support. Serrapeptase, the primary systemic enzyme ingredient, is one of the strongest proteolytic enzymes known for its ability to control inflammation, regulate the immune system, remove excess plaque and fibrous tissues, and support the return of healthy blood flow and volume. Vitalzym Hybrid also contains the additional fruit enzymes papain and bromelain, the digestive enzymes amylase and lipase, and the complementary phytonutrients rutin and amla extract.
Hybrid formulas are designed for those looking for both systemic and digestive benefits to provide total system support.* The Vitalzym Original Hybrid powder-filled capsule begins to break down in the stomach providing digestive support, while the buffer enteric-coated serrapeptase survives the acidic environment of the stomach to be released in the small intestine. From there it is absorbed into the bloodstream and distributed throughout the body for systemic support.* The inclusion of digestive enzymes also provides assistance with digestion and assimilation of important nutrients.
Vitalzym Hybrid is specifically formulated to regulate the inflammatory and immune response to support health in the following systems:
Cognitive/mental †
Upper respiratory †
Cardiovascular †
Gastrointestinal †
Reproductive †
Joint/connective tissue/skin †
---
The Purpose of Enzymes
Enzymes are said to be the "sparks of life." They are considered keys that can unlock the door to a healthier you because they not only help improve digestion and nutrient absorption—they are also responsible for millions of bodily functions.
What exactly are enzymes? They are proteins that are responsible for every chemical reaction that goes on in the body. Enzymes govern all functions related to tissues, muscles, bones, organs, and cells. Every second of our lives, over 3,000 different enzymes are constantly renewing and changing, often at unbelievable speeds.
Our bodies have a variety of functional units, such as a digestive system, an immune system, a cardiovascular system, and a circulatory system, just to name a few. Each system requires energy in order to perform optimally. It just so happens that enzymes provide this much needed energy for the successful completion of each biological function.
Enzymes are responsible for everyday bodily processes, such as:
Metabolism
Digestion
Breathing
Movement
Liver function
Immune regulation
Viscosity of blood
Cellular detoxification
Energy production
Stamina
Ability to utilize vitamins and minerals
---
The History of Enzymes
Enzymes have been studied since the early 1900s. Even though there is over a century's worth of information regarding their use, there is still a lot to learn about them. However, one certainty is that we would not exist without them.
Over the last decade, science has uncovered numerous roles for enzymes than ever thought possible. They initiate millions of reactions within your body. In fact, many health care professionals are now advocating the use of enzymes for various conditions and post-operative healing.
When referring to enzymatic supplements, it's important to distinguish between those used for digestion and those used systemically.
Digestive enzymes are taken orally with food in order to help break down fats, carbohydrates, and proteins for improved digestive function and nutrient absorption. Original Vitalzym can assist with digestion, but are not primarily a digestive enzyme.


Systemic enzymes, such as those in original Vitalzym, are taken orally in between meals on an empty stomach. This way they can be absorbed by the intestines into the bloodstream where the body can utilize them for countless bodily processes.
---
Vitälzȳm Original Hybrid Formula
---
Vitalzym Systemic Enzyme Therapy
During the aging process, the natural production of enzymes begins to slow down. Some health care professionals believe that the natural production of enzymes starts to decrease after the age of 27. It is not too long after this that many people begin to notice symptoms of low enzyme production.
Symptoms of Low Enzymes Production May Include:
Slow wound healing
Increased scarring
Poor digestion
Fibrosis conditions
Internal inflammation
Dr. Anthony Cichoke, enzyme authority, states in his book, Enzymes and Enzyme Therapy that, "Our body's ability to function, to repair when injured, and to ward off disease is directly related to the strength and numbers of our enzymes." 1
Supplemental enzymes like those in Original Vitalzym, Vitalzym Extra Strength and Vitalzym Cardio along with proper diet and exercise, can help to maintain your normal enzyme levels and balance the body's own repair mechanisms.† They can also support a healthy inflammatory response.†
---
Try Extra Strength Vitalzym
Extra Strength Vitalzym offers a technologically advanced systemic enzyme delivery system that allows for reduced dosage and vastly increased effectiveness and includes these features:
Twice a strong as Original Vitalzym
Less cost per dose
Enteric coated for ideal release of active ingredients
Liquid filled for optimal absorption
Half the dose of Original Vitalzym
100% non-GMO
Vegetarian
Smaller and more convenient bottle size, with flip-top lid
Completely recyclable packaging
---
References
1. Cichoke Enzymes and Enzyme Therapy, (Keats Publishing, Chicago, IL, 2000)
---
Why Buy Vitalzym from Energetic Nutrition?
We are an Authorized World Nutrition Retailer, and one of their largest worldwide retailers.
We receive a fresh supply of products every week, which is kept under climate control.
We have been in business since 1996, and a trusted website since 1997.
Order by 12pm PST and we'll ship the same day (exceptions may apply).
Our knowledgeable staff is available to answer your questions by phone, email, or live chat.
We are known for our excellent customer service and educational support.
We truly care about your health, and we really appreciate your business!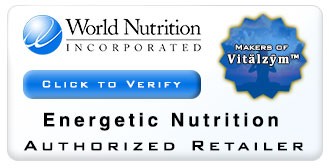 Compare Vitalzym Products
Vitalzym Product Comparison Chart Click for Larger View and to Read More
Vitalzym is a trusted name in systemic enzyme supplementation and they have produced extremely popular enzyme formulas for years. While Original Vitalzym is still available, Read more about the benefits and conveniences of new Vitalzym Extra Strength.
Original Vitalzym Supplement Facts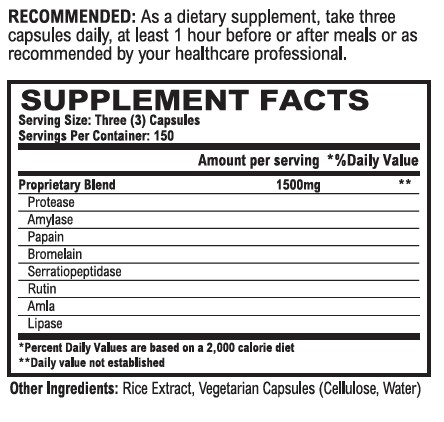 Proprietary blend contains: Protease, serrapeptase, papain, bromelain, amylase, lipase, rutin and amla. For a full description of the ingredients in original Vitalzym, see the Ingredients page.
Vegetarian formula.
See full size 450 Caps label or 90 Caps label.
Vitalzym is natural. It contains no animal derivatives, artificial flavors, artificial colors, yeast or gluten. Vitalzym is also lactose free and contains no harmful talc.
---
Manufactured by World Nutrition, Inc. World Nutrition's products are USP grade (United States Pharmacopeia). USP is a publication established in 1820 that contains legally recognized standards of identity, strength, quality, purity, packaging, and labeling for drug substances, dosage forms, and other therapeutic products, including nutritionals and dietary supplements.
Suggested Use - Original Vitalzym
As a dietary supplement, take 3 capsules daily, at least one hour before or after meals or as recommended by your healthcare professional. Or, take an activation dose as recommended by your healthcare professional.
Read Vitalzym Suggested Use for further guidance. Keep in mind that the suggested dosage of original Vitalzym is twice that of Extra Strength Vitalzym.
WARNING: DO NOT take Vitalzym without the consent of your physician if you are lactating or currently taking prescription anticoagulants (blood thinners). As always, you should consult with a health care professional and/or pharmacist if you are taking prescription medications and would like to include dietary supplements into your regimen.
If you are pregnant, consult with a doctor prior to using.
If you are pregnant AND have uterine fibroids, do not take Vitalzym.
If you have bleeding ulcers, or are a hemophiliac, avoid using Vitalzym.
Discontinue use two weeks prior to surgery.
Note: During the detoxification process, medications that have been stored in the liver may cause one to experience side effects that are related to its use and would not be considered a side effect from Vitalzym. Please talk with a health care professional if you feel you may be having symptoms that are unrelated to detoxing.
Additionally, Vitalzym can increase the effectiveness of certain medications. This is another reason to consult with a doctor or pharmacist prior to using them if taking prescription drugs. Detoxification effects that can occur when taking Vitalzym can include heart palpitations for some individuals. If this occurs, reduce your dose to minimize the cleansing response. If you do experience heart palpitations that you feel may be unrelated to detoxing, please consult with a health care professional.