Acid Soothe by Enzymedica
The American College of Gastroenterology estimates that 60 million Americans experience a burning sensation in the chest or acid taste in their throats at least once a month.1 Occasional heartburn and acid discomfort after a meal are often symptoms of impaired digestion due to lifestyle, overall health and poor dietary choices.
Enzymes in the digestive system play a vital role in overall health. They ensure proper breakdown, absorption and utilization of nutrients from food. A deficiency in the natural production of digestive enzymes may be an underlying cause of gastrointestinal complaints, including occasional heartburn and acid discomfort.†
Winner of the 2017 Vity Awards in the Natural Medicine Category!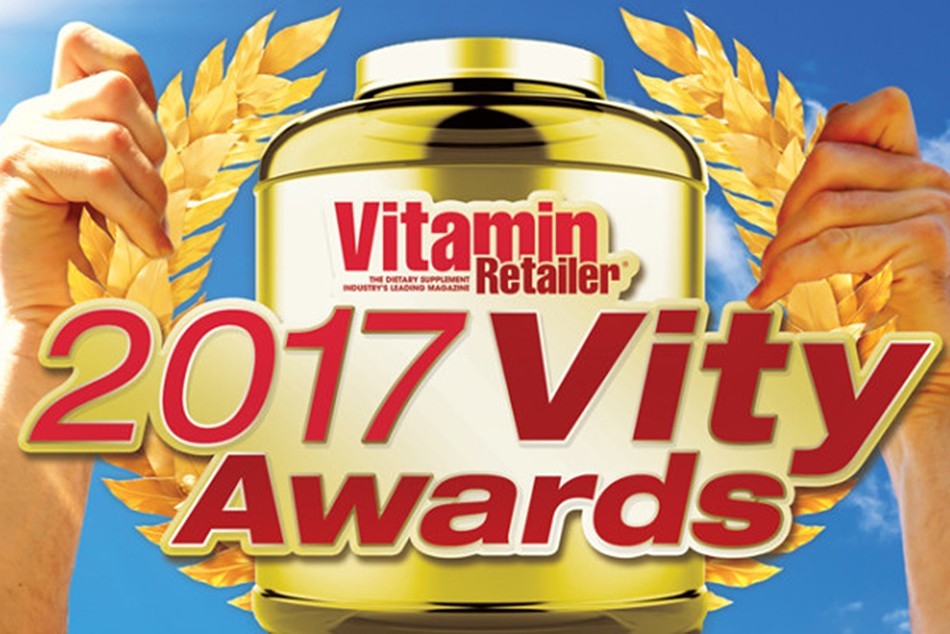 Acid Soothe™ contains enzymes, papaya leaf and other botanicals to support optimal digestion and ease symptoms associated with occasional gastrointestinal (GI) distress.†
Zinc Carnosine is included to optimize the mucosal lining of the stomach, acting as a buffer to gastric acid.† Each capsule of Acid Soothe provides 10 mg of zinc carnosine. According to a clinical trial, researchers reported beneficial effects of zinc carnosine on gut integrity and repair with standard dosages of 37.5 mg daily.2


Amylase, lipase and cellulase enzymes work to enhance carbohydrate, fat and plant cell wall digestion.†


Marshmallow Root is known for its ability to relieve irritation of the mucous membranes in the gastrointestinal tract and to help normalize mucous secretions.† 3


Papaya leaf naturally contains papain, a proteolytic (protein-digesting) enzyme and has been studied for its soothing benefits and cleansing activity within the GI tract. It has a history of supporting the body's natural digestive processes.† 4


Botanical ingredients such as Prickly Ash Bark and Gotu Kola provide additional support for the intestines.* Prickly Ash Bark is known for aiding tissue during gastrointestinal distress, and Gotu Kola is uncommonly rich in B vitamins and potassium and is used as a natural diuretic.†


Acid Soothe contains Thera-blend™ enzymes. Thera-blend is an exclusive process that combines multiple strains of enzymes that work in specific pH levels, resulting in superior performance in the body.†
Also available as a chewable. Chewable Acid Soothe™ is a delicious and fast acting support for occasional heartburn and indigestion.
---
Enzymedica Formulas Offering Therapeutic Support
This chart can be helpful in choosing the right product for you out of Enzymedica's therapeutic support products. Determine your needs, and click on the product name to learn more.
CONSIDER THIS PRODUCT IF:
Acid
Soothe
Candidase
Enzyme
Defense XS
Lypo
Gold
Muco
Stop
Pro-Bio
Stem
XCell
Telomere
Plus
You want occasional heartburn and indigestion support

✔

You want balanced yeast levels support

✔

You want proleolytic enzymes for immune support

✔

You want cardiovascular and gall bladder support

✔

You want seasonal or occasional sinus support

✔

You want probiotics for optimal digestion function support

✔

You want cellular and brain health support

✔

You want to increase your telomerase activity

✔
---
---
About Enzymedica
Enzymedica is a Florida company that was founded in 1998 with the purpose of offering their customers the highest-potency enzyme products possible. Today, as one of the leaders in the industry, they still strive for no less.
All of their products are made from only the highest quality enzymes and contain absolutely no fillers to ensure purity. Every product is 100% vegetarian, and they seek out vegan and Kosher ingredients whenever possible. Each product is specifically formulated to provide targeted support for common digestive discomforts, food intolerances, cardiovascular health, proper immune function or healthy inflammatory responses.
Enzymedica's Quality Pledge
They respect consumers' desire to make healthy dietary choices. Enzymedica routinely tests their products for gluten and other ingredients in accordance with cGMP guidelines.
---
References
American College of Gastroenterology. "Gastroesophageal reflux disease. In Common Gastrointestinal Problems." Retrieved from http://s3.gi.org/patients/pdfs/CommonGIProblems1.pdf


Mahmood, A., et.al. "Zinc carnosine, a health food supplement that stabilizes small bowel integrity and stimulates gut repair processes." Gut. 2007:56.2 168-75.


Balch, P. "Marshmallow Root in Prescription for Herbal Healing, 2nd Edition: An Easy-to-Use A-To-Z Reference to Hundreds of Common Disorders and their Herbal Remedies." 2012 London: Penguin.


Roxas, M. "The Role of Enzyme Supplementation in Digestive Disorders." Alternative Medicine Review, 2008:13(4), 307-314
Supplement Facts - Acid Soothe by Enzymedica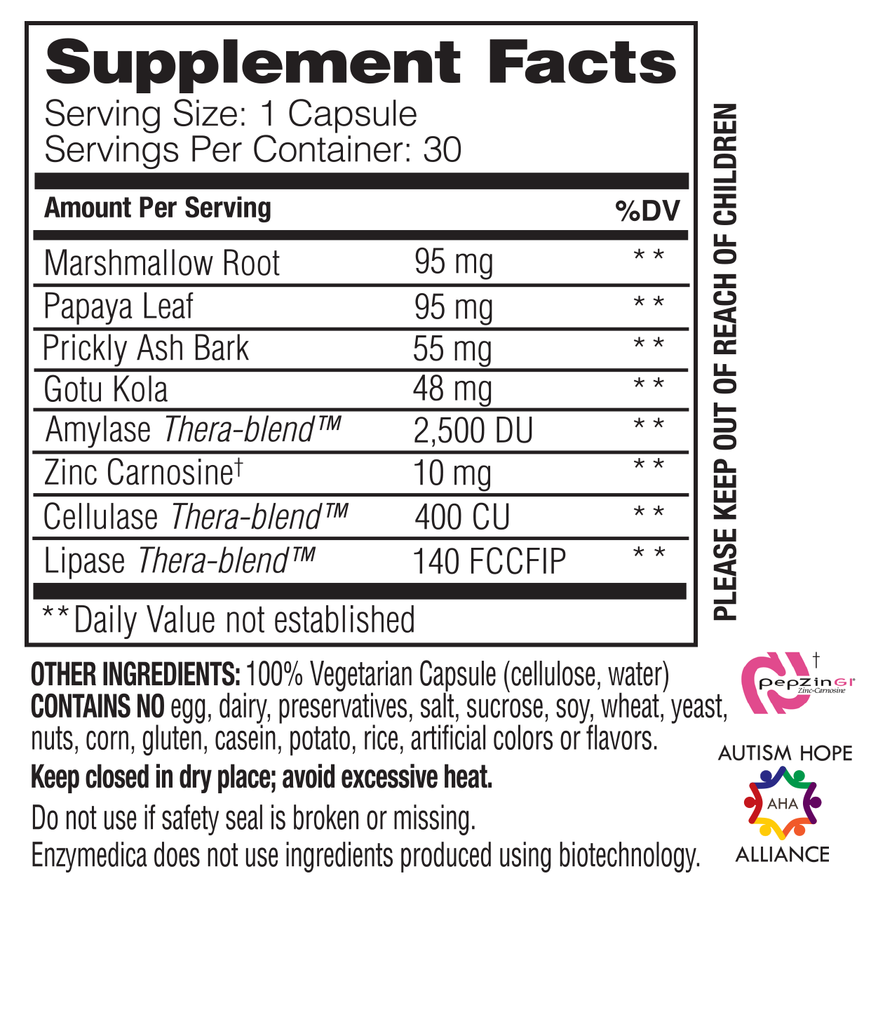 Serving Size: 1 Capsule
Servings Per Container: 30
Other Ingredients: 100% Vegetarian Capsule (cellulose, water)
This product does not contain egg, dairy, preservatives, salt, sucrose, soy, wheat, yeast, nuts, corn, gluten, casein, potato, rice, GMOs, artificial colorings or flavorings, and is suitable for vegetarians and vegans.
NON-GMO. VEGAN. NO FILLERS ADDED.
Storage: Keep tightly closed in a dry place; avoid excessive heat.
CAUTION: Please keep all supplements out of children's reach. Consult a physician prior to use if pregnant or nursing
Manufactured by Enzymedica, Inc., 771 Commerce Drive, Venice, FL 342922-1731
Click Supplement Facts box to see larger image
Suggested Use - Acid Soothe by Enzymedica
One capsule at the end of a meal.
Consult a physician prior to use if pregnant or nursing.