Pro-Bio by Enzymedica
Pro-Bio™ capsules are formulated to survive the acidic environment of the stomach, ensuring active probiotic function in the small intestine. The bacterial strains contained in Pro-Bio have been shown to promote a healthy microflora balance in the intestinal tract, aiding digestion and supporting immune function.†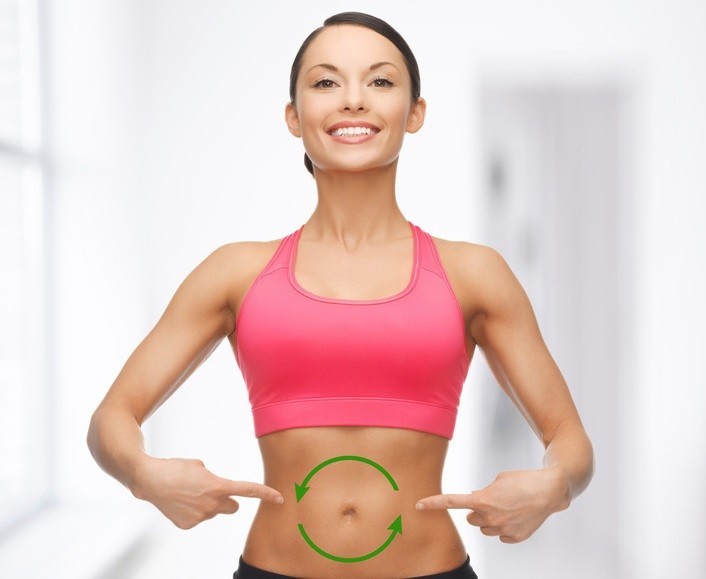 When there is a loss of beneficial bacteria in the gut, digestive issues may occur. Maintaining a balanced environment of intestinal flora in the GI tract is essential to our well-being. Supplementing with probiotics may be the most natural and safe approach to keep the digestive system performing optimally, eliminating discomforts like irregularity and occasional gas and bloating.
The eight non-competitive probiotic strains contained in Pro-Bio have a long history of promoting healthy microflora balance in the intestinal tract. A balanced microbiome aids digestion and has been shown to support immune function.†
Pro-Bio Probiotic Blend - Guaranteed Potency 10 Billion CFU
Bacillas subtilis - one of the most studied probiotic strains in the world and has been shown to normalize intestinal microflora balance.† It adheres to the colon and persists in the GI tract and is well tolerated by infants, adults and the elderly.†
L. paracasei - a key player in digestive function, it also boosts immunity and energy levels† 1
L. acidophilus DDS-1 - assists in breaking down food in the intestine and helps maintain friendly bacteria in the gut†
L. casei - helps to improve digestion, increase immunity, reduce allergic response, and improve cholesterol†2
L. bulgaricus - benefits immune function, improves health of intestinal walls, and supports dairy digestion†1
L. plantarum - found in mucus that lines the colon and helps to support the intestinal wall which functions to control the absorption of nutrients
L. rhamnosus - helps support a healthy mood, immune function, and a healthy balance of beneficial bacteria in the stomach and intestines
L. salivarius - found throughout the body including the colon, small intestines, vagina, and mouth it helps to fight harmful bacteria by producing its own antibiotics†
Digestive Enzymes vs Probiotics
---
Enzymedica Formulas Offering Therapeutic Support
This chart can be helpful in choosing the right product for you out of Enzymedica's therapeutic support products. Determine your needs, and click on the product name to learn more.
CONSIDER THIS PRODUCT IF:
Acid
Soothe
Candidase
Enzyme
Defense XS
Lypo
Gold
Muco
Stop
Pro-Bio
Stem
XCell
Telomere
Plus
You want occasional heartburn and indigestion support

✔

You want balanced yeast levels support

✔

You want proleolytic enzymes for immune support

✔

You want cardiovascular and gall bladder support

✔

You want seasonal or occasional sinus support

✔

You want probiotics for optimal digestion function support

✔

You want cellular and brain health support

✔

You want to increase your telomerase activity

✔
---
---
About Enzymedica
Enzymedica is a Florida company that was founded in 1998 with the purpose of offering their customers the highest-potency enzyme products possible. Today, as one of the leaders in the industry, they still strive for no less.
All of their products are made from only the highest quality enzymes and contain absolutely no fillers to ensure purity. Every product is 100% vegetarian, and they seek out vegan and Kosher ingredients whenever possible. Each product is specifically formulated to provide targeted support for common digestive discomforts, food intolerances, cardiovascular health, proper immune function or healthy inflammatory responses.
Enzymedica's Quality Pledge
They respect consumers' desire to make healthy dietary choices. Enzymedica routinely tests their products for gluten and other ingredients in accordance with cGMP guidelines.
Supplement Facts - Pro-Bio by Enzymedica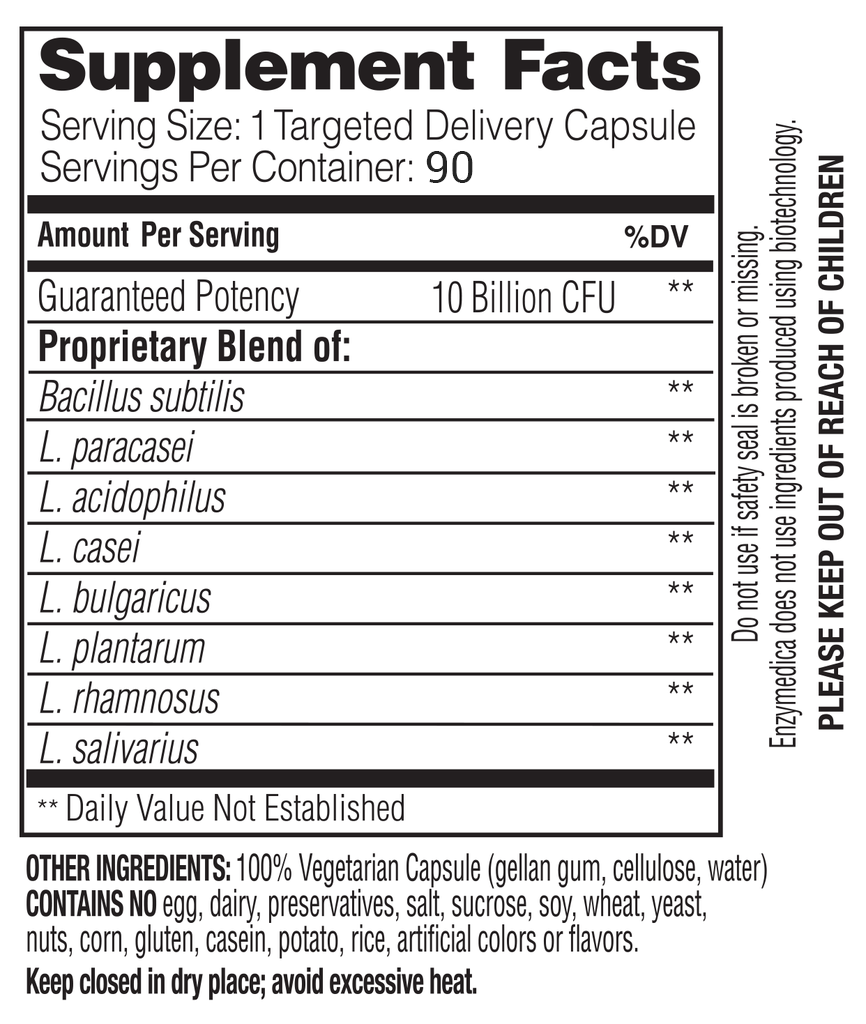 Serving Size: 1 Targeted Delivery Capsule
Servings Per Container: 90
Other Ingredients: 100% Vegetarian Capsule (cellulose, water)
This product does not contain egg, dairy, preservatives, salt, sucrose, soy, wheat, yeast, nuts, corn, gluten, casein, potato, rice, GMOs, artificial colorings or flavorings, and is suitable for vegetarians and vegans.
NON-GMO. VEGETARIAN. NO FILLERS ADDED.
Storage: Keep tightly closed in a dry place; avoid excessive heat.
CAUTION: Please keep all supplements out of children's reach. Consult a physician prior to use if pregnant or nursing
Manufactured by Enzymedica, Inc., 771 Commerce Drive, Venice, FL 342922-1731
Click Supplement Facts box to see larger image
Suggested Use - Pro-Bio by Enzymedica
One capsule daily with water. Best if taken on an empty stomach one hour before or two hours after a meal.
Consult a physician prior to use if pregnant or nursing.