MucoStop by Enzymedica
MucoStop™ contains a blend of enzymes specifically formulated to naturally promote easy breathing during seasonal or occasional congestion. † The high-potency enzyme Mucolase™ assists the body's natural ability to break down and eliminate excess mucus in the sinus and nasal passages. †
Seasonal or occasional congestion may produce excess mucus, hindering upper and lower respiratory function. Encouraging removal of excess mucus may lessen the discomforts commonly associated with seasonal or occasional congestion. †
---
Mucus Balance
The natural mucus our bodies produce serves an important purpose. Made up of water, salts, exfoliated cells and white blood cells, mucus is secreted from mucus membranes and glands. Its function is to protect vital organs and bind to pathogens in an effort to remove them from the body.
When the body is overcome with excess pathogens, it's natural that excess mucus is also produced. Other things that may cause excess mucus include cold temperatures, changes in seasons, allergic reactions, and medications. This can cause discomfort and respiratory issues that can be alleviated by helping the body to remove the excess mucus.
Different enzymes serve specific purposes. Proteolytic enzymes break down proteins but not all proteases break down all proteins. To break down mucus protein, a certain type of proteolytic enzyme that is also mucolytic is needed.
Ingredient Highlights for MucoStop™
Amylase Thera-blend - Breaks down starches (carbs) into smaller sugars, good for gluten or phenol intolerance
Protease Thera-blend - Breaks down protein, good for gluten or dairy intolerance
Glucoamylase - Works with amylase to break down carbohydrates into glucose units
Mucolase™ - A high-potency proteolytic enzyme that has mucolytic properties, meaning it targets and hydrolyzes excess mucus.* Mucolase assists the body's natural ability to break down and eliminate excess mucus in the sinus and nasal passages, which may support immune health.†
Beta Gluconase - Helps break down beta-glucan, a bioproduct of glucose digestion that may irritate the digestive tract when in overabundance
Alpha Galactosidase - Breaks down the carbs in raw vegetables and legumes (beans, peas, and lentils), good for bean or vegetable intolerance
Cellulase Thera-blend - Breaks down cellulose to help free nutrients in fruits and vegetables
Pectinase (w/Phytase) - Breaks down pectin found in fruit. Good for fruit intolerance
Xylanase - Breaks down soluble fiber, good for vegetable or phenol intolerance
Lipase Thera-blend- Breaks down fats from animals, dairy, and vegetables.
Invertase - Breaks down sucrose into simple sugars (glucose and fructose). Good for sugar and dairy intolerance
Hemicellulase - Helps break down hemicellulose (carbohydrates into glucose), good for vegetable intolerance
Protease and amylase are also included to assist in overcoming the challenges often associated with seasonal or occasional congestion.†
---
Thera-Blend for Enzyme Strength and pH Range
MucoStop contains Thera-blend™ enzymes. Thera-blend™ is an exclusive process that combines multiple strains of enzymes that work in specific pH levels, resulting in superior performance in the body.†
"By combining multiple strains of enzymes that have a different optimal pH range, blends achieve greater activity over a broader pH range. Lab tests show Enzymedica Thera-blend enzymes are 3x strong and work 6x faster than leading digestive supplements." - Enzymedica Thera-Blend Page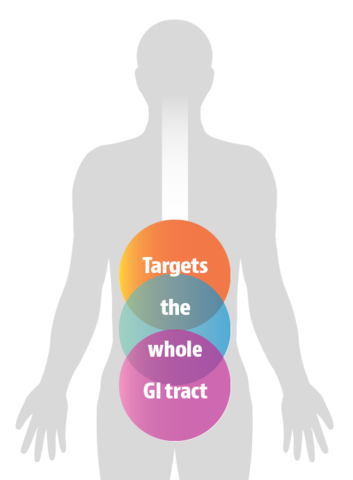 Thera-blend enzymes break down multiple bonds of various food types, targeting the whole GI tract and resulting in better digestion and absorption.
pH levels are different in each step of digestion. For enzymes to pass through or work in each area, they must be able to withstand these variations to be effective in the next stage. From stomach to pancreas to small intestine pH levels vary from 1.0 to 8.0, and each requires different types of enzymes for proper food break-down and nutrient absorption.
Thera-blend™ is an exclusive process that combines multiple strains of enzymes that work in various pH levels. Thera-blend enzymes have been shown to be three times stronger and work more than six times faster than leading digestive supplements. †
---
Enzymedica Formulas Offering Therapeutic Support
This chart can be helpful in choosing the right product for you out of Enzymedica's therapeutic support products. Determine your needs, and click on the product name to learn more.
CONSIDER THIS PRODUCT IF:
Acid
Soothe
Candidase
Enzyme
Defense XS
Lypo
Gold
Muco
Stop
Pro-Bio
Stem
XCell
Telomere
Plus
You want occasional heartburn and indigestion support

✔

You want balanced yeast levels support

✔

You want proleolytic enzymes for immune support

✔

You want cardiovascular and gall bladder support

✔

You want seasonal or occasional sinus support

✔

You want probiotics for optimal digestion function support

✔

You want cellular and brain health support

✔

You want to increase your telomerase activity

✔
---
---
About Enzymedica
Enzymedica is a Florida company that was founded in 1998 with the purpose of offering their customers the highest-potency enzyme products possible. Today, as one of the leaders in the industry, they still strive for no less.
All of their products are made from only the highest quality enzymes and contain absolutely no fillers to ensure purity. Every product is 100% vegetarian, and they seek out vegan and Kosher ingredients whenever possible. Each product is specifically formulated to provide targeted support for common digestive discomforts, food intolerances, cardiovascular health, proper immune function or healthy inflammatory responses.
Enzymedica's Quality Pledge
They respect consumers' desire to make healthy dietary choices. Enzymedica routinely tests their products for gluten and other ingredients in accordance with cGMP guidelines.
Supplement Facts - MucoStop by Enzymedica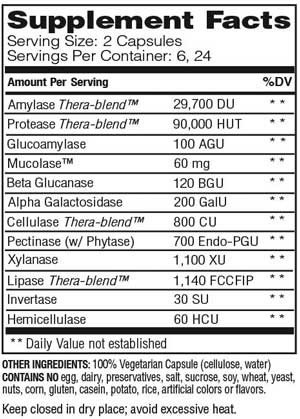 Serving Size: 2 Capsules
Servings Per Container: 24
Other Ingredients: 100% Vegetarian Capsule (cellulose, water)
This product does not contain egg, dairy, preservatives, salt, sucrose, soy, wheat, yeast, nuts, corn, gluten, casein, potato, rice, GMOs, artificial colorings or flavorings, and is suitable for vegetarians and vegans.
NON-GMO. VEGAN & KOSHER. NO FILLERS ADDED.
Storage: Keep tightly closed in a dry place; avoid excessive heat.
CAUTION: Please keep all supplements out of children's reach. Consult a physician prior to use if pregnant or nursing
Manufactured by Enzymedica, Inc., 771 Commerce Drive, Venice, FL 34292-1731
Click Supplement Facts box to see larger image
Suggested Use - MucoStop by Enzymedica
Two capsules three times daily on an empty stomach, one hour before or two hours after a meal. More may be taken as needed.
Consult a physician prior to use if pregnant or nursing.