Telomere Plus by Enzymedica
Telomerase is a naturally occurring enzyme that lengthens telomeres and protects them from shortening. Telomere Plus™ has been shown to increase telomerase activity.†
Why are telomeres so important, especially when it comes to cellular aging? To start, each type of cell has a unique function and purpose. Within the cell, is the nucleus which contains chromosomes. And each chromosome has DNA containing instructions that tell each type of cell when and how to divide.
As cells divide and produce more cells, it's crucial that the original DNA instructions stay in tact. Otherwise, misinformation can lead to less-than-perfect reproduction of cells, or cell death.
To prevent this, chromosomes also have protective tips called telomeres. Telomeres start out long, but shorten each time a cell divides. As a person ages, this process explains why we may see and feel a degradation of cell health over time, as the telomores shorten.
When the telomere becomes too short to sustain cell division, the cell dies. This process of cellular aging can also increase with life stress, lifestyle choices, and environmental toxins.
To support healthy aging, it is essential to maintain telomere length. Supplementing with a telomerase activator may help.
---
Ingredient Highlights for Telomere Plus
Vitamin D3 (as cholecalciferol) is important to cell health and integrity and is required for all tissues to function properly.† It is also known to boost the immune system and has been shown to have a positive correlation with telomere length.†
Telomerin™ Blend
The botanicals in Telomere Plus have been specially formulated to positively influence telomerase.
Astragalus (root) - has been shown to boost energy and provides immune support,1
SGS™ Broccoli seed extract - research shows that broccoli seed extract enhances the body's tolerance to stress.†2
Rhodiola extract (Rholiola rosea P.E.) (root) - often used for cellular protection and to boost enzyme activity.†3
---
Enzymedica Formulas Offering Therapeutic Support
This chart can be helpful in choosing the right product for you out of Enzymedica's therapeutic support products. Determine your needs, and click on the product name to learn more.
CONSIDER THIS PRODUCT IF:
Acid
Soothe
Candidase
Enzyme
Defense XS
Lypo
Gold
Muco
Stop
Pro-Bio
Stem
XCell
Telomere
Plus
You want occasional heartburn and indigestion support

✔

You want balanced yeast levels support

✔

You want proleolytic enzymes for immune support

✔

You want cardiovascular and gall bladder support

✔

You want seasonal or occasional sinus support

✔

You want probiotics for optimal digestion function support

✔

You want cellular and brain health support

✔

You want to increase your telomerase activity

✔
---
---
About Enzymedica
Enzymedica is a Florida company that was founded in 1998 with the purpose of offering their customers the highest-potency enzyme products possible. Today, as one of the leaders in the industry, they still strive for no less.
All of their products are made from only the highest quality enzymes and contain absolutely no fillers to ensure purity. Every product is 100% vegetarian, and they seek out vegan and Kosher ingredients whenever possible. Each product is specifically formulated to provide targeted support for common digestive discomforts, food intolerances, cardiovascular health, proper immune function or healthy inflammatory responses.
Enzymedica's Quality Pledge
They respect consumers' desire to make healthy dietary choices. Enzymedica routinely tests their products for gluten and other ingredients in accordance with cGMP guidelines.
---
References
Harley, C.B., Andrews, W.H., Blasco, M., Briggs, L.A., Liu, W., Raffaele, J.M. and Vera, E. "A natural product telomerase activator as part of a health maintenance program." Rejuvenation Res. 2011 Feb; 14(1): 45-56.


"Emerging Science FAQs." SGS Long-Lasting Antioxidant. Brassica Protection Products. Web. Retrieved 17 Dec 2014.


Darbinyan, V., Kteyan, A., Panossian, A., et al. "Rhodiola rosea in stress induced fatigue—a double blind cross-over study of a standardized extract SHR-5 with a repeated low-dose regimen on the mental performance of healthy physicians during night duty." Phytomedicine. 2000 Oct;7(5):365-71
Supplement Facts - Telomere Plus by Enzymedica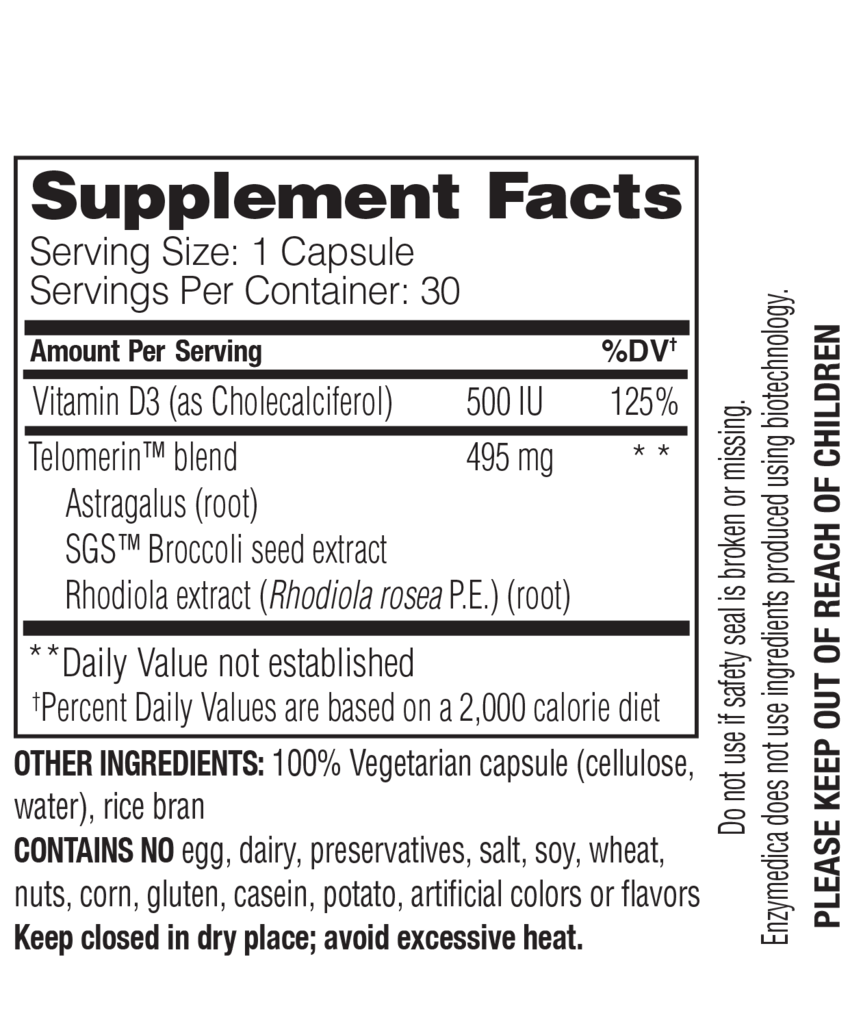 Serving Size: 1 Capsule
Servings Per Container: 30
Other Ingredients: 100% Vegetarian Capsule (cellulose, water)
This product does not contain egg, dairy, preservatives, salt, sucrose, soy, wheat, nuts, corn, gluten, casein, potato, rice, GMOs, artificial colorings or flavorings, and is suitable for vegetarians and vegans.
NON-GMO. VEGETARIAN. NO FILLERS ADDED.
Storage: Keep tightly closed in a dry place; avoid excessive heat.
CAUTION: Please keep all supplements out of children's reach. Consult a physician prior to use if pregnant or nursing
Prop 65 WARNING: This product contains a chemical known to the State of California to cause birth defects or other reproductive harm.
Manufactured by Enzymedica, Inc., 771 Commerce Drive, Venice, FL 34292-1731
Click Supplement Facts box to see larger image
Suggested Use - Telomere Plus by Enzymedica
One capsule daily with or without food.
Consult a physician prior to use if pregnant or nursing.