Silk Lady 100% Organic Pillowcase - A Gift of Nature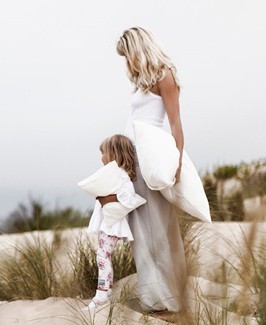 By sleeping on 100% organic Silk Lady pillowcases, your skin benefits and you delay the aging process in a natural and healthy way.
A Silk Lady pillowcase is stunning to look at and blissful to sleep on. It minimizes the signs of aging and helps skin look younger for longer through continuous hydration and crease-free sleeping. It leaves hair looking smooth and glossy. It's a worthy, long-term contribution to any daily skincare regimen.
Mulberry silk contains a natural protein that contributes to skin health by the speeding metabolism of skin cells, decreasing aging of facial skin, as well as calming the nervous system.† Silk is made up of strings of 18 amino acids which have the same pH level as your skin. These proteins help to prevent frizzing and split ends of your hair. Silk reduces the loss of natural hair oils and moisture, leaving its natural shine intact.
Sleeping on the rough fibers of traditional cotton, linen or polyester pillowcases can cause facial creases, which contribute to the formation of lines and wrinkles. These fabrics can also wick away moisture from the skin and hair.
Silk pillowcases prevent facial skin from creasing during the night. The smooth surface allows the skin to glide across the pillow so the face rests comfortably without placing pressure on creased skin and effectively "ironing in" wrinkles.
Sleeping on a Silk Lady pillowcase provides you with a hydrated and rested feeling upon waking. Silk pillowcases keep skin-care products on your skin and assist to make the most of your beauty routine.
---
The Benefits of Silk
Prevents facial skin from creasing
Maintains hydration
Ideal for sensitive skin, skin irritations and break-outs
Keeps your skin-care product on your skin
Eliminates sleep wrinkles
Prevents hair from frizzing and split ends
Reduces the loss of natural hair oils and moisture
Minimizes damage and thinning of hair
---
The Hypoallergenic Silk Pillowcase
Silk Lady pillowcases are naturally hypoallergenic. Since silk is a high molecular form of protein, it has a strong affinity for bio-organisms, and also has the unusual characteristic of preventing the growth of microorganisms and bacteria. Therefore, silk is ideal for sensitive skin, skin irritations and break-outs. The closely woven nature of silk makes it inhospitable for dust mites - properties that have proven to ease conditions such as eczema and asthma.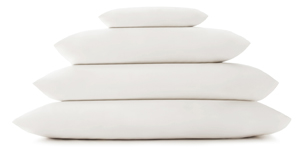 100% organic Mulberry silk
Available in a Matte or Satin finish
Momme weight of 19mm, similar to 600 thread count
A natural soft white color
Envelope end closure
Naturally hypoallergenic
Repels dust mites
No chemicals, softeners, bleaches, or dyes
King, Queen, Standard, and Travel sizes
Silk Lady silk is strictly chemical-free, from the raw material, through the entire production process. The result is an incredibly smooth and soft fabric, which is 100% free of any artificial softeners or bleaches or dyes.
---
Luxury Travel or Child Pillow Ensemble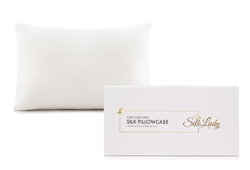 Love your silk pillowcase and want to enjoy the luxury while traveling? We have assembled a Travel Pillow Ensemble for you. Also great for children.
This ensemble includes a 12" x 16" European Goose Down Pillow and a Damask Stripe Pillow Protector. Add a travel size Silk Lady pillowcase to complete your pillow ensemble.
---
Caring for Your Organic Silk Pillowcase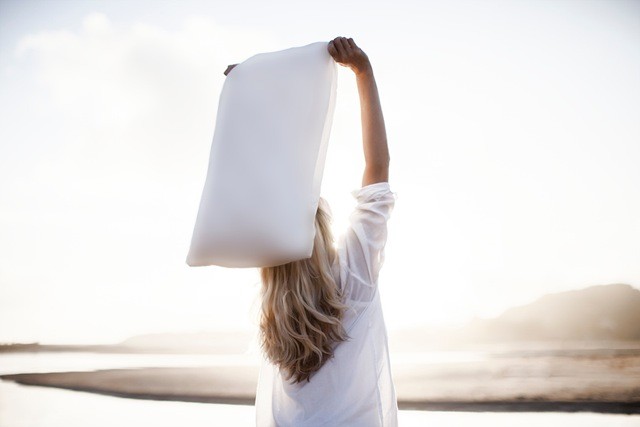 With proper care and maintenance, this luxury pillowcase will provide years of comfort.
Always remove your makeup and mascara before you go to bed. Not only would your skin benefit by being able to breath, rest and recover, but your white silk pillowcase will not stain. Wearing a moisturizer and other skin care products is perfectly fine.
Hand Wash Method - For best results, hand wash your pillowcase inside out.
Machine Wash Method - You can also clean it using the "silk/wool" or the "gentle hand wash" cycle of your washing machine. Use a gentle detergent and cool water around 85°F (30°C). Wash separately from colors. Do not bleach.
Hang Dry - The Silk Lady pillowcases should then be air dried, out of direct sunlight. Avoid tumble drying. Iron inside out using a "low/medium" or "silk" setting.
Washing Tip: Place the Silk Lady pillowcase in a laundry bag or a linen pillowcase when using a washing machine. During the rinse cycle, you may want to add a teaspoon of distilled white vinegar to prevent the silk from stiffening, and to keep it soft and bright.
About Silk Lady Silk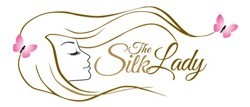 The silk used in Silk Lady pillowcases comes from the moth Bombyx mori, which produces the finest and purest silk. It is fed only chopped mulberry leaves (hence the name "mulberry silk") and lives in an area free of pollution in a 3 kilometer radius.
Thread count is not used for silk fabric, but rather the momme weight. Silk Lady pillowcases are 19mm, which is considered high quality and durable, yet affordable. Clothing tends to be about 8mm in weight, for comparison.
The silk is strictly chemical-free from harvest of the raw material through the entire production process.
To get the best result, many different silks were tested. Eventually, the unique formulation free of harsh chemicals was found. The result is an incredibly smooth and soft fabric, which is 100% free of any artificial softeners or bleaches. Silk Lady is available in a natural silk matte finish, or a silk satin finish. The pillowcases are finished with traditional French seams, and sewn by professional seamstress to ensure the cases do not fray. They have an envelope end closure.
This is a product of South Africa. The silk is exclusively imported and then manufactured and packaged locally in Cape Town, South Africa.