Cholesterol Triple Care

Supports Healthy Cholesterol Levels
There is a lot of confusion around cholesterol. Just like fat, cholesterol is a type of lipid your body produces and needs, but it can't be exercised off, sweated out, or burned for energy. Maintaining cholesterol levels within normal ranges is essential for good cardiovascular health.
Cholesterol is a building block for several hormones including estrogen, progesterone, testosterone, and the stress hormone cortisol. It's also the raw material for Vitamin D that metabolizes in the skin from sunlight.
Cholesterol plays many different roles in the body and can vary with each person. Supporting your body with diet and exercise is important for good cardiovascular health.
The ingredients in Cholesterol Triple Care™ work to maintain cholesterol levels already within normal range† by:
Promoting the healthy metabolism of cholesterol†
Supporting and nourishing healthy liver function†
Providing antioxidant support†
Supporting a healthy stress response†
---
Key Ingredients
Adaptogenic herbs have been shown to improve overall cardiovascular health. They are very effective in improving ratios between HDL and LDL to restore homeostasis. Adaptogenic herbs traditionally used to prolong and preserve life are formulated into Cholesterol Triple Care™.
Red Yeast Rice - a traditional Asian food used for centuries for positive health benefits that may include maintaining healthy cholesterol balance and supporting liver function.†
Cordyceps - a powerful medicinal mushroom that may help lower triglycerides and raise HDL. Known for its ability to enhance blood supply to organs and tissues, this powerful antioxidant promotes a healthy inflammation response and can help increase blood flow to the brain.†
Reishi - may promote healthy liver function and protect the cardiovascular system during times of stress.† Also supports healthy cholesterol metabolism and cardiovascular health.†
Green Tea - may defend the arterial lining against free radical damage.†
---
About Redd Remedies
Redd Remedies carefully chooses herbs, plants, vitamins, and minerals used in Traditional Chinese Medicine, Ayurvedic medicine, and European traditions which are also supported by modern day research and science to deliver natural solutions to health. They use wholesome clean food, targeted high quality supplements, and qualified doctors with expertise in natural medicine to address health from a whole body perspective. Redd Remedies offers:†
Quality, purity, and potency guaranteed through expiration
All-natural ingredients
Superior quality control
Supplement Facts - Cholesterol Triple Care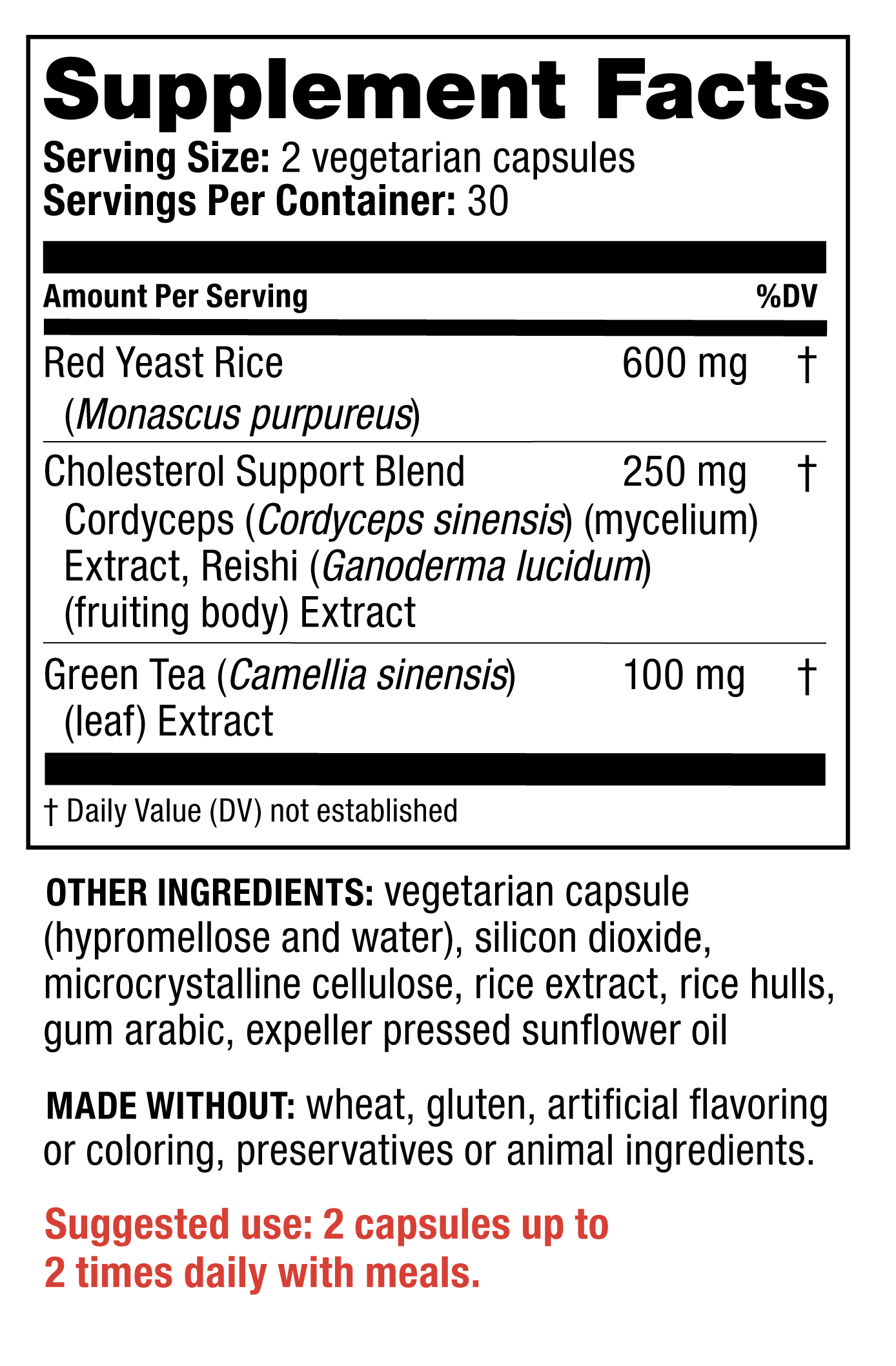 Other Ingredients: Vegetarian capsule (hypromelloser and water), vegetarian magnesium stearate, silicon dioxide, microcrystalline cellulose,.
Contains No: Sugar, wheat, gluten, artificial flavoring or coloring, preservatives or animal ingredients.
Warning: If you are pregnant, nursing, have a medical condition, or are taking prescription drugs, consult your physician before using this product. KEEP OUT OF REACH OF CHILDREN.
Store in a cool, dry place.
Manufactured by Redd Remedies.
Suggested Use - Cholesterol Triple Care
Suggested Use: 2 capsules up to two times daily.