Vitamin C + E Serum with Ferulic Acid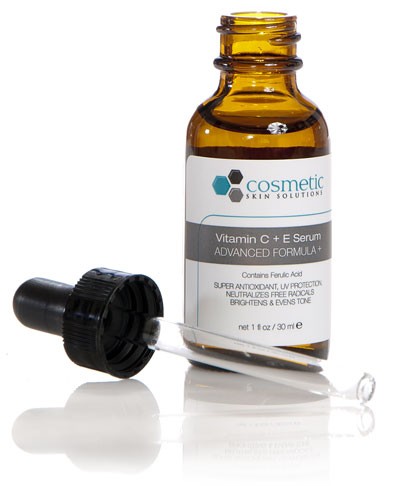 This highly advanced super antioxidant treatment utilizes synergistic interactions of Vitamin C and E with ferulic acid to provide unmatched protection on the skin's surface, helping to prevent damage caused by free radicals, environmental pollutants, and UV radiation. In addition, this exceptional formula enhances beauty by stimulating collagen production and boosting antioxidant performance for a brighter, more radiant, even toned, and youthful looking complexion.
This silky, smooth serum formulated at its finest delivers unsurpassed amounts of vitamins and antioxidants. These synergistically provide a maximum amount of photo protection and neutralization of free radicals and help protect against ultraviolet radiation. With continued use, skin becomes brighter, firmer, more evenly toned, environmentally protected, and healthier.
Vitamin C+ E Serum with Ferulic Acid provides 15% stabilized Vitamin C, Vitamin E, and ferulic acid for powerful antioxidant support that reduces premature skin aging. It also contains hyaluronic acid to help bind moisture to skin and promote hydration.
This serum:
Contains Vitamins C and E to protect against free radicals
Contains ferulic, a powerful antioxidant that reduces premature skin aging
Contains hyaluronic acid which binds moisture to the skin
Promotes photoaging protection
Increases collagen synthesis and cell proliferation
Ingredients - Vitamin C + E Serum with Ferulic Acid
Ingredients: Water/Aqua/Eau, L-Ascorbic Acid (Topical Vitamin C), Propylene Glycol, Ethoxydiglycol, Butylene Glycol, Laureth-23, Zinc Sulfate, Glycerol, Alpha Tocopherol (Vitamin E), Triethanolamine, Ferulic Acid, Phenoxyethanol, D-Panthenol, Hyaluronic Acid.
---
Active Ingredients: 15% Vitamin C, 1% Vitamin E, 0.5% Ferulic Acid, Hyaluronic Acid
For a more in depth description of the active ingredients in these products, please see our Skin Care Glossary.
Not tested on animals. Paraben free.
Manufactured by Cosmetic Skin Solutions
Directions - Vitamin C + E Serum with Ferulic Acid
Directions: Each morning after cleansing, apply 5-6 drops to a dry face, throat, and neck or as directed by a skincare specialist. Follow with Cosmetic Skin Solutions Hydra B5 Gel or Phyto Botanical Gel for hydration, additional firmness, and as added protection from the environment. You may also wish to apply a moisturizer, such as all natural RegenaCell.
Caution: Avoid getting product directly into eyes. If contact occurs, rinse eyes thoroughly with water. Store in a place absent to light.
FAQs - Vitamin C + E Serum with Ferulic Acid
How do I use this product in my daily skin care regimen?
For optimal results, C+E Ferulic serum should be applied twice daily as part of your daily skin care routine. Apply each morning after cleansing, toning, and follow with a daily moisturizer.
How do antioxidants function to penetrate the skins surface?
The antioxidants in C + E Ferulic Serum will undergo selective transport using specific carrier ingredients to allow timed release for facilitated absorption beneath the skin's surface. This timed release will give antioxidant protection throughout the entire day.
What skin types is this product best for?
C + E Ferulic Serum is ideal for all skin types who want to both repair and protect skin from sun damage.
What's the benefit of having 15% Vitamin C concentration?
Vitamin C is an antioxidant which fights free radicals and nourishes collagen fibers to maintain skin firmness. Topical Vitamin C generally comes in 3 different potencies: 10%, 15%, and 20%. 15% concentration provides your skin with an ideal amount of Vitamin C and is generally well tolerated.
Read more questions and answers on our FAQ PAGE.