Etherium Pink - Heart Harmony
Etherium Pink is a naturally occurring trace mineral that can affect the flow of energy into the heart chakra.
Love is the energy that fuels our physical and etheric bodies. When the heart chakra is opened, it allows us to experience deeper contact with others.
The capacities of altruism and compassion are multiplied, bringing a deeper sense of fulfillment and a greater appreciation of the world which each of us creates.
Etherium Pink appears to enhance the union of our physical, mental and emotional states of being. As integration of the physical and etheric bodies takes place, higher energies from the subtle bodies interface through the chakra centers with the physical nervous system. Scientists speculate that —
this energy flow accentuates our telepathic connection with other individuals, and heightens our awareness of the spiritual workings behind physical reality.
Activating the heart chakra opens us to experiences of tranquility and the acceptance of things the way they are. It helps us to accept and understand our challenges as extensions of a Divine plan for our conscious evolution. With regular use, we can experience a much deeper relationship with our higher self, the Source of all within. Combine Etherium Pink with other Etherium powders and Chamae Rose tea to promote enhanced synergy.
---
Enhanced Intimacy with Etherium Pink
Customers indicate that with Etherium Pink they experience definite heart chakra enhancement. It enhances sex at the heart connection level. Recommended for people in relationships to use together to assist in their heart connection and communication with each other.
Supplement Facts - Etherium Pink
Powder and Capsules Contain: Monatrace™, a naturally occurring deposit from an ancient seabed that supplies monatomic and other minerals elements. Approximately 1/3 monatomic elements (gold, silver, iridium, rhodium, chromium, and platinum), 1/3 silica, and 1/3 trace minerals (60+ different trace minerals).
---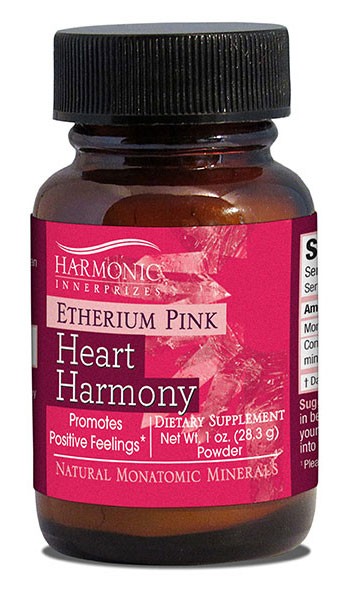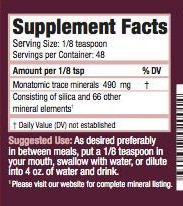 Powder - For body weight 110lbs or more, take one serving daily at least one hour after eating. Place 1/8 tsp powder directly under the tongue. You may desire to take a sip of pure water. An alternative is to dilute 1/8 tsp in pure water and drink slowly, holding in the mouth until absorbed. 36 servings per container. Amount per 1/8 tsp: 800 mg.
Click to see entire label.
Serving size: 1/8 teaspoon
Serving per container: 36
Amount of Monatomic trace minerals per serving: 800 mg
Consisting of silica and 66 other mineral elements
PROP 65 WARNING: This product may contain one or more chemicals known to the State of California to cause cancer, birth defects, or other reproductive harm.
---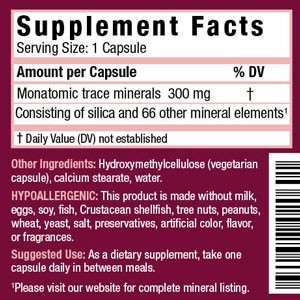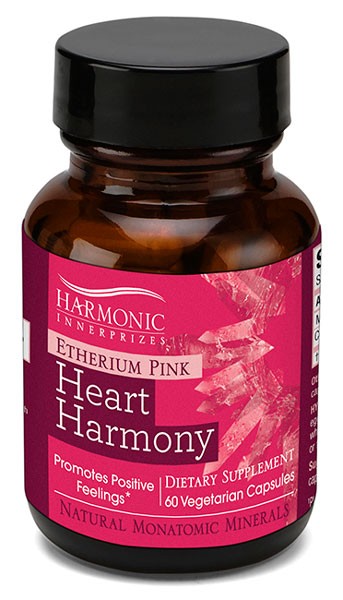 Capsules - Take 1 capsule 1-2 times per day. 60 vegetarian capsules per container. 300 mg per capsule.
Other Ingredients: hydroxypropylmethylcellulose (vegetarian capsule), methylcellulose, calcium stearate, water.
Click to see entire label.
PROP 65 WARNING: This product may contain one or more chemicals known to the State of California to cause cancer, birth defects, or other reproductive harm.
---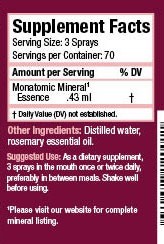 Homeopathic Spray - Deionized water, 1M dilution Etherium Pink trace minerals, rosemary. With conscious intention, 3 sprays directly into mouth, once or twice daily preferably between meals. Or 3 sprays into a glass containing 1 teaspoon of pure water. Hold the water in your mouth until absorbed.
Contains 70 servings
Other Ingredients: Distilled water, rosemary essential oil.
Click to see entire label.
Read about the Etherium Homeopathic Essences.
---
Additional Comments
It is recommended you start with one dose per day until you develop a relationship with Etherium Pink. After that, take it when you are guided to do so. This may be two or three times a day, or you may not take it for a day or two, or weeks at a time.
Etherium Pink is not recommended during pregnancy or lactation.
See How to Use the Etherium Sacred Powders for further instruction.
Manufactured by Harmonic Innerprizes, Inc.