Raw Chlorella / Spirulina Tablets
Spirulina has been found to be one of the most potent whole food nutraceuticals known. It is packed full of vitamins, minerals and amino acids. It contains phycocyanin, delivering antioxidant power to help protect against free radical damage. Spirulina is extremely energizing and is an excellent source of iron.
Chlorella is a single-celled blue green algae that has existed on the planet for billions of years. It was one of the first organisms to appear on Earth and it is still one of the most potent foods in existence. The freshwater green algae that Ultimate Superfoods sources is a higher quality form of chlorella. This broken wall chlorella contains a broad range of vitamins, minerals and phytonutrients, including an abundance of chlorophyll.
This 50/50 blend of Chlorella and Spirulina is a great way to get the benefits of these potent nutrient sources in one serving. Together they provide:
Green algae, promoting oxygenation of blood cells†
High in Vitamin D and K; good source of iron
Over 60% protein with a complete spectrum of amino acids
Essential fatty acids - known for lubrication of the joints, promotion of brain function and enhancement of metabolism†
Phytonutrients and Chlorophyll to help oxygenate and protect cells†
Antioxidant Phycocyanin
Fiber known for stimulating digestion and supporting colon health†
Chlorella has an easily digestible broken cell wall and comes from Taiwan
Bio-chelated spirulina: means that the iron will easily be assimilated into the body†
Supplement Facts - Raw Chlorella and Spirulina Tablets
1000 Tablets - 250 mg each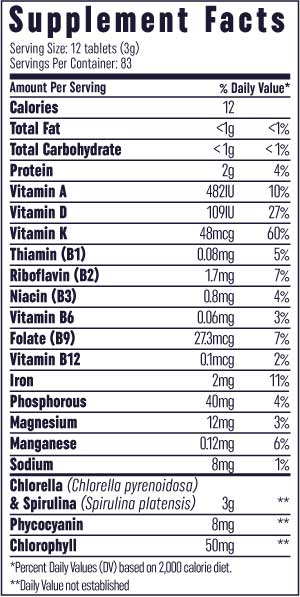 Serving Size: 12 tablets (3g)
Servings per Container: 83
Ingredients: 50% Raw Chlorella, 50% Raw Organic Spirulina
Suggested Use: Take 12 tablets preferably with water.
*Percent Daily Values are based on a 2,000 calorie diet. Your daily values may be higher or lower depending on your calorie needs.
**Daily Value not established.
---
Origin: Taiwan
Manufactured by Ultimate Superfoods
† These statements have not been evaluated by the U.S. Food and Drug Administration (FDA) or EnergeticNutrition.com. This product is not intended to diagnose, treat, cure or prevent any disease. The information provided on this site is for informational purposes only and is not intended as a substitute for advice from your physician or other health care professional or any information contained on or in any product label or packaging. You should not use the information on this site for diagnosis or treatment of any health problem or for prescription of any medication or other treatment. You should consult with a health care professional before starting any diet, exercise or supplementation program, before taking any medication, or if you have or suspect you might have a health problem, or are pregnant. When you receive an item, carefully read all labels, warnings, and directions before use. Actual product packaging and materials may contain more and/or different information than shown on this website.