Antler Velvet - Traditional Tonifier
Antler velvet is the early stage of antler growth and is a rich source of collagen, glycosaminoglycans, and glycoproteins, all of which support the skeletal system. Antler velvet is regenerated every year and harvested with great care in a humane manner by specially trained farmers or veterinarians who conform to the National Velvet Standards Body (NVSB) of New Zealand.
Traditionally, antler velvet has been used to:
Restore, balance, and strengthen the body†
Support joint function†
Cultivate an overall feeling of well being†
Full-Spectrum™ Antler Velvet, from Planetary Herbals includes a combination of velvet from New Zealand elk and deer.
---

Traditional Tonic in China, Korea, Japan, Russia
Antler velvet has been used as one of the primary "herbs" in traditional Chinese medicine, as well as in Korea, Russia and Japan. Used mainly as a vitalizing tonic, its common uses have also included reducing the negative effects of stress, improving mental function and improving circulation.† With many uses overlapping across cultures, it is apparent that they recognized the tonic health benefits associated with the use of antler velvet.
Traditional Chinese Medicine Currently Uses for Antler Velvet Include:
Improve Adrenal Recovery†
Increase Metabolism†
Promote Immune Health†
Support/Improve Cardiovascular Function†
Improve Strength & Reduce Fatigue†
Russian Uses of Antler Velvet Include:
Performance enhancer for athletes
Japanese Medicine Uses of Antler Velvet Include:
Rejuvenating tonic
Energizing tonic
Additional Benefits of Antler Velvet
Some clinical trials and research done on animals by independent labs support these theories, though more research is needed on humans to determine the validity of these uses. Individual results may vary, but include:
Hormone balancing in men and women believed to increase libido†
Support for bone and joint health†
Healthy cell regeneration thought to reduce or slow the signs of aging†
---
Antler Velvet Nutrient Composition
At the time of harvesting, antler velvet contains a rich blend of nutrients believed to provide an array of possible health benefits.
Minerals calcium, nitrogen, magnesium, phosphorous, sulfur, sodium and potassium<
Trace Minerals iron, zinc, copper, manganese and selenium
IGF-1 (Insulin-like Growth Factor 1) promotes increased rate of antler growth
Phospholipids and Glycolipids
Collagen to support cartilage health and production†
Glycosaminoglycans and Glycoproteins in trace amounts
Prostaglandins which control cell growth, regulate blood pressure, smooth muscle activity, and support hormone regulation in deer and elk. It is thought that the prostaglandins in antler velvet may benefit humans in similar ways, though more research is needed.†
---
Antler Velvet Humane Harvesting Practices
The velvet is specially harvested by a veterinarian or a trained and certified farmer, and then frozen within three hours of removal, until ready to be processed into tablets. Full Spectrum™ Antler Velvet is harvested approximately eight weeks after the antlers begin their growth cycle - the time when velvet contains the greatest amount of nutrients to support rapid growth.
Antler removal is regulated under a code developed by the Animal Welfare Advisory Committee of New Zealand's Ministry of Agriculture, in conjunction with specialist veterinarians, animal welfare organizations and animal behavior specialists. The National Velveting Standards Body audits animal welfare standards and ensures that analgesic removal methods are used so that the process is not painful to the animals. Most important, harvesting antler velvet preserves the herds, in contrast to the common practice of killing the animals for meat, hides or trophies.
---
Further Reading
---
Combining Tradition and Modern Science
Like the rest of the Planetary Herbals herbal product line, Full Spectrum™ Antler Velvet combines the wisdom of traditional herbalism with the advances of modern technology. The result equaling supplements you can count on to deliver the benefits you are seeking from an herbal product.
---
References
Supplement Facts - Antler Velvet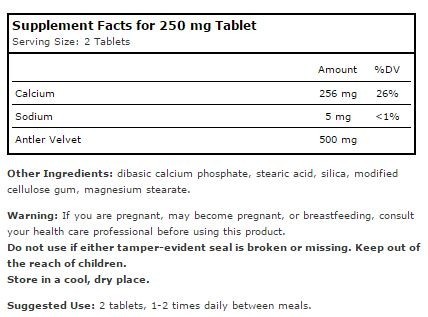 Capsules per Container: 60 Tablets
Serving Size: 2 Tablets
Servings per Container: 30
Suggested Use: 2 tablets, 1-2 times daily between meals
Manufactured for: Planetary Herbals, LLC. Soquel, CA.