Ashwagandha - Rejuvenating Tonifier
Ashwagandha (winter cherry) is one of the world's most powerful adaptogens, used traditionally in Ayurvedic herbalism to help the body adapt to physiological and psychological stress. Planetary Herbals Full Spectrum™ Ashwagandha combines whole root powder with root extract to capture all of the valuable compounds of the plant. The result is a botanical that relaxes the mind, rejuvenates the body, and increases resistance to stress.†
The high stress levels of our society have a profound impact on well-being, and impact our bodies and health in ways that are continually being revealed by new research. You can help address this modern problem with one of the most highly respected botanicals in the 5,000-year-old Ayurvedic herbal tradition. Ashwagandha (Withania somnifera) is often compared to Asian ginseng. It's widely used in modern Western herbalism as an adaptogen - a substance that can help our bodies healthfully adapt to physiological and psychological stress, thus increasing resistance to stressors.

A History of Traditional Use
Ashwagandha has been used throughout India for thousands of years as a rejuvenating tonifier–rasayana in Ayurvedic herbalism–and has been included in the writings of many scholars. It was widely used to support vitality in people of all ages, including children, and to enhance reproductive function in both men and women.
Adaptogenic Effects
In modern times, ashwagandha has been researched for its adaptogenic properties. Adaptogens are defined as substances that enhance general adaptive response. These botanicals are increasingly important in today's society, where high stress levels negatively impact many different body systems. Many health practitioners believe adaptogens are just as important to our health as better-known nutrients and botanicals, such as antioxidants. Research suggests the mechanism of adaptogens may include modulation of the pituitary-hypothalamus-adrenal gland axis. They increase resistance against external stressors, have a balancing effect and stabilize normal body functions.†
Powerful Adaptogen
The key constituents of ashwagandha are alkaloids and a group of steroidal lactones known as withanolides. Ashwagandha has been shown to increase stress resistance, improve memory-related performance, and protect against stress-induced responses such as anxiety, and physiological imbalances, according to numerous animal studies and several human studies. Well-controlled clinical studies are needed to further confirm human benefits from ashwagandha.
---
Clinically Derived Botanical From Michael Tierra
The Planetary Herbals Ashwagandha Full Spectrum™ tablet, formulated to capture all the plant's most valuable compounds, and a liquid extract. Both were selected by licensed acupuncturist and clinical herbalist Michael Tierra, L.AC., OMD, AHG an internationally recognized authority on the world's herbal traditions. Michael was the first to introduce Ayurvedic products to the American health food industry in the early 1970's.
Supplement Facts - Ashwagandha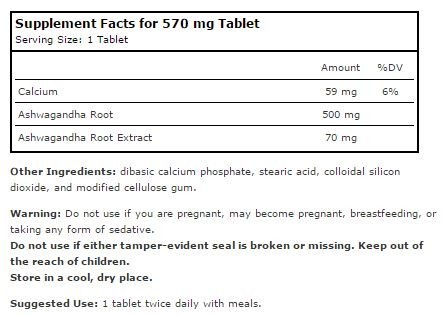 Capsules per Container: 120 Tablets
Serving Size: 1 Tablet
Servings per Container: 120
Suggested Use: 1 tablet twice daily with meals
NOTE: colloidal silicon dioxide has been replaced with silica per Other Ingredients. (Rev 12/15).
Manufactured for: Planetary Herbals, LLC. Soquel, CA.
† These statements have not been evaluated by the U.S. Food and Drug Administration (FDA) or EnergeticNutrition.com. This product is not intended to diagnose, treat, cure or prevent any disease. The information provided on this site is for informational purposes only and is not intended as a substitute for advice from your physician or other health care professional or any information contained on or in any product label or packaging. You should not use the information on this site for diagnosis or treatment of any health problem or for prescription of any medication or other treatment. You should consult with a health care professional before starting any diet, exercise or supplementation program, before taking any medication, or if you have or suspect you might have a health problem, or are pregnant. When you receive an item, carefully read all labels, warnings, and directions before use. Actual product packaging and materials may contain more and/or different information than shown on this website.