Triphala for GI Tract Wellness
Triphala is a potent, yet gentle three-fruit (amla, behada, and harada) herbal complex that uniquely supports GI (gastrointestinal) tract wellness. Supported by emerging science and traditional use, Triphala cleanses, tonifies, and revitalizes the tissues of the entire GI tract, setting the stage for better digestion and regular elimination to help you feel better. Triphala has been the cornerstone herbal formula for GI wellness in the East for more than 1,000 years.
Strengthens and revitalizes GI tract tissues to support the functioning of the entire system
Cleanses the intestines and provides antioxidant support
Primes system for everyday and long-term healthy digestion and elimination
Certified Organic and Verified Non-GMO
All Planetary Herbals Triphala products (also see Triphala Gold) are made from the finest certified organic fruits, wild-harvested in the pristine forests of northeastern Madhya Pradesh in India. The fruits are only picked at the height of the season, and directly dropped onto cloths to prevent bruising and contact with the soil. The fruits are immediately sorted, washed, deseeded, carefully dried to prevent molding, and stored as whole fruits in a cool warehouse under strict quality control conditions. This special care ensures superior quality and purity. Our award-winning supplier supports the long-term sustainability of a symbiotic relationship between the local people and their environment.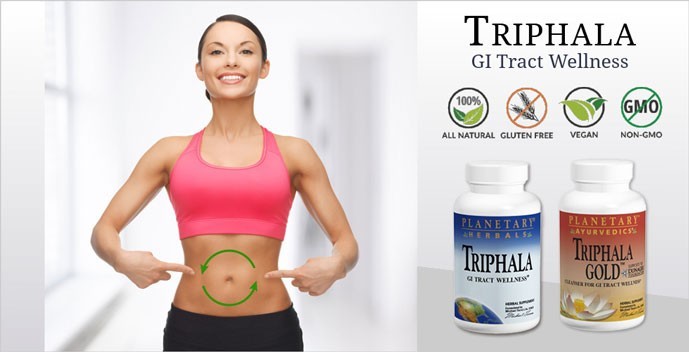 ---
Potent Herbal Complex to Support GI Tract Wellness
Triphala offers a multitude of health benefits that get to the core of GI tract wellness. It revitalizes the mucosal tissues throughout the entire system, supports regular elimination, normalizes peristalsis (how the intestines move waste through the body), and provides nourishing antioxidants to the system.†
Triphala is also widely known as an intestinal cleanser that works by gently stimulating the intestinal tract without irritating the bowels, which allows for long-term use.
How Triphala works in the body exemplifies the underlying principle of traditional medicine, which is to maintain or restore balance in the body. Triphala provides relief from occasional bloating, gas, and elimination issues, while also helping to maintain long-term GI tract health.
---
Meet the Formulator
Dr. Michael Tierra, L. AC. OMD, AHG, Chief Formulator of Planetary Herbals, is one of the world's foremost authorities and clinicians in herbal healthcare. Michael brought Triphala to the U.S. natural market over 40 years ago. Triphala remains our expertise, and we remain the #1 Triphala brand.
---
Supplement Facts - Triphala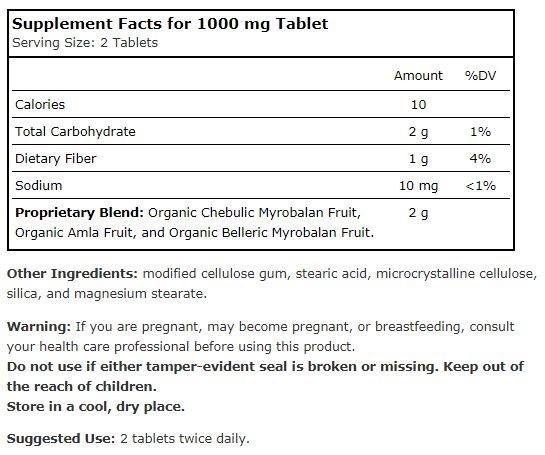 Capsules per Container: 180 Tablets
Serving Size: 2 Tablets
Servings per Container: 90
Suggested Use: 2 tablets twice daily
Manufactured for: Planetary Herbals, LLC. Soquel, CA.
† These statements have not been evaluated by the U.S. Food and Drug Administration (FDA) or EnergeticNutrition.com. This product is not intended to diagnose, treat, cure or prevent any disease. The information provided on this site is for informational purposes only and is not intended as a substitute for advice from your physician or other health care professional or any information contained on or in any product label or packaging. You should not use the information on this site for diagnosis or treatment of any health problem or for prescription of any medication or other treatment. You should consult with a health care professional before starting any diet, exercise or supplementation program, before taking any medication, or if you have or suspect you might have a health problem, or are pregnant. When you receive an item, carefully read all labels, warnings, and directions before use. Actual product packaging and materials may contain more and/or different information than shown on this website.