MANUFACTURER CURRENTLY OUT OF STOCK - ETA APPROX. EARLY DECEMBER.
Red Bee Propolis - Longevity and Cell Health†
It's not a coincidence that propolis means (pro= before) + (polis=city). An amazing substance that is strategically placed by honeybees before their hives to serve as the defender of the hive. As a consequence, the beehive is one of the most sterile environments known by man even at high degrees of temperature and humidity. That's why for millennium civilizations have relied on bee propolis to support their health.†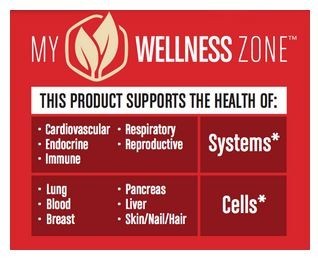 Fights free radicals with stunning Total ORAC of 3,540 μmol TE/g (the highest score when compared to all foods on the USDA Database for ORAC)
Supports pancreatic cell health†
Supports lung cell health†
Supports blood cell health†
Promotes cardiovascular health†
Promotes a healthy metabolism†
Hormonal balance properties† through unique isoflavones and lignans
Immune modulation properties†
Promotes skin, nail and hair health†
---
Features of NaturaNectar Brazilian Premium Exotic Red Bee Propolis
The Brazilian Red Bee Propolis offers the highest diversity of flavonoids among all existing types of world propolis. Key nutrients like pterocarpans, flavanones, isoflavones, chalcones, isoflavones, lignans, and isoflavonoids are all found in this product.
This is the most exotic and premium bee propolis of the world and the only type of bee propolis to offer an exclusive combination of isoflavones and lignans. These special classes of flavonoids promote a natural hormonal balance† in the human body.
Green Extraction is NaturaNectar's patent protected and exclusive extraction method that assures pure flavonoids from bee propolis while eliminating nearly all the impurities and beeswax. Only water is used for extraction. No chemical solvents are used.
---
A Natural Source of Compounds Neo-Vestitol and Vestitol
For the last decade and every year afterwards, new scientific studies uncover the phenomenal health benefits of this exotic ingredient. It is a natural source of compounds such as Neovestitol and Vestitol, and contains the most variety of flavonoids of any world propolis.
You now have access to the first and only Brazilian Red Bee Propolis product ever to be introduced to the USA. Highly appreciated by Asians with a stunning 3,540 μmol TE/g ORAC result, this exotic and pure gift from the beehives of Brazil is one of nature's most powerful antioxidants, even higher than the super-fruits!†
Co-founder Mr. Alessandro Esteves is the pioneer who discovered the Brazilian Red Bee Propolis in its botanical origin (Dalbergia ecastaphyllum L). In today's cutting edge science circles, numerous research papers have been published on the health benefits of this "ruby of the hive."† Many more studies are on the works to continue to unveil more amazing properties of the Brazilian Red Bee Propolis.
---
Green Extraction™ Technology
All Natura Nectar propolis products are extracted using exclusive Green Extraction™ technology.
The process is free of harsh chemicals and delivers the highest quality of bee propolis in a standardized extract with flavonoids and phenolic acids while removing non-beneficial elements, such as beeswax.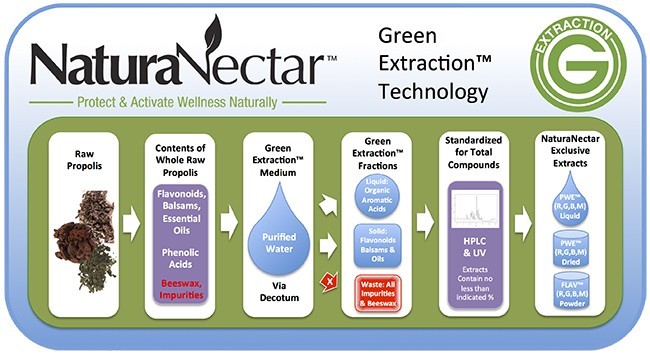 ---
Supplement Facts - Red Bee Propolis
Quantity per Container: 60 vegetable capsules
Serving Size: 1 capsule
Servings per Container: 60
Other Ingredients: Cellulose (plant origin), magnesium stearate (plant origin), silicon dioxide.
NaturaNectar Red Bee Propolis does not contains alcohol, sugar, starch, wheat, gluten, yeast, milk (lactose), egg, shellfish, artificial preservatives, flavors, dyes or colors.
Directions: Take one capsule by mouth one or two times daily to support overall health.† May be taken in conjunction with our other unique life solutions daily, or as recommended to help protect and activate your wellness naturally. †
Caution: As with any nutritional supplement, it is advised to consult your physician before taking, especially if pre-existing conditions are present. Do not take if pregnant or breastfeeding. Use with caution if allergic to bee products.
Store in a cool, dry place. Keep out of reach of children.
Developed and distributed in the USA by Natura Nectar LLC.