Transitions - Herbs for Menopause from Pure Essence
Hot flashes, mood swings, and other normal symptoms of menopause and peri-menopause may be uncomfortable, but that doesn't mean you have to live with them. Transitions™ exclusive formula is supportive for menopausal women, with the added benefit of adrenal gland support.†
As menopause nears, hormone production slows, which can place more demands on the adrenal glands. While ingredients like isoflavones can help support normal hormone levels and calm menopausal symptoms, they do nothing to strengthen the adrenal glands. Hot flashes, mood swings, fatigue and other normal menopausal symptoms are uncomfortable on their own, but related adrenal weakness can cause lack of energy, fatigue, occasional difficulty in sleeping, and decreased libido.†
We all know that hot flashes, mood swings, and other discomforts stem from hormone imbalances. Few know, however, that those hormone imbalances are caused by weaknesses in what Chinese Medicine calls the Kidney System. While hormone balancing herbs (and nutrients like isoflavones) can help calm your symptoms, they do nothing to resolve this weakness in the Kidney System.
Transitions provides the Superior Tonic Herbs to help support the Kidney System during menopause.
HOT FLASH / MOOD SWING PACKAGE. Transitions contains two herbal formulations. The first helps balance hormones, while the second supports the organs and glands whose weaknesses cause hormone imbalances in the first place. Thus, they work at deeper, more holistic levels. Because of this, Pure Essence believes Transitions will very effectively ease menopausal distress.


POTENT ISOFLAVONE MODULE. Isoflavones help calm the symptoms of menopause. Because many women are allergic to soy, the isoflavones in Transitions are derived from kudzu root (Pueraria omeiensis).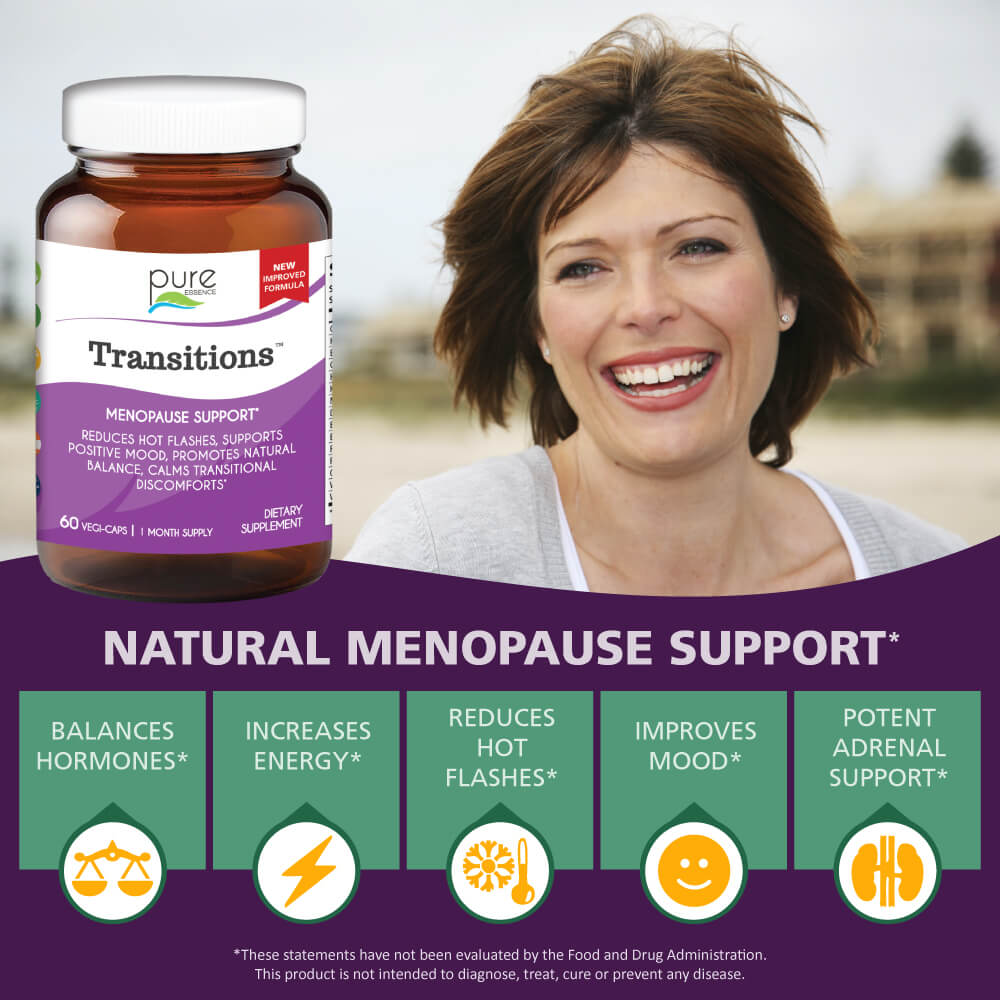 ---
Calming Hot Flashes, Mood Swings, Etc.
While there is little doubt that the "symptoms of menopause" are triggered by hormone imbalances or deficiencies, there is great disagreement as to why these imbalances or deficiencies occur. Modern medicine, of course, holds that they are part of Nature's plan. But, if that were true, every woman, in every culture, throughout all of history, would have suffered more or less equally at this time of life, and medical texts from every era would be stuffed with reports of it. The truth, however, is that menopausal distress was relatively rare before the industrial age. And, in many cultures, it still is.
In South America, for example, while 60% of upper class women experience midlife distress, lower class women (who eat simpler foods) are nearly symptom free. In Japan, hot flashes are so rare that the language doesn't even have a word for them. Yet, when Japanese women move to the United States, and begin eating American foods, they suffer just as we do.
Clearly, then, hormone imbalance does not "just happen." Instead, it is the predictable result of poor diet, extreme stress, and constant exposure to synthetic chemicals. In short, what we call the "symptoms of menopause" are really the "symptoms of modern lifestyle that appear during premenopause, perimenopause, or at menopause."
The world's great holistic traditions, such as Traditional Chinese Medicine, Tibetan Medicine, and Ayurveda, explain that modern diet and lifestyle impair the function of various organs and glands. One of the effects of this is that such organs and glands are prevented from producing and distributing hormones as they should.
For many years, physicians have prescribed powerful hormone drugs to help women overcome hot flashes and other mid-life discomforts. Meanwhile, the health food industry has offered the weaker, but safer variety of estrogenic and progesterone hormones from soy, wild yam, and other plants. From a holistic point of view, neither of these approaches is enough.
If we want to feel our very best, and to insure the best possible health in the future, we must also strengthen the organs and glands whose weaknesses caused the problems in the first place. If we do not, we are inviting more serious health challenges to develop later in life.
P.S. If you do not see the results you desire within 30 days, you may also need a natural progesterone cream. This is because, even with all of the support provided by Transitions, your glandular system may be unable to produce the amount of progesterone you need.
---
Herbal Support for Maximum Personal Comfort
Isoflavones and Black Cohosh
Isoflavones are a class of phytoestrogens whose factors researchers believe protect women against midlife discomforts, as well as more serious disease.† By plugging into estrogen receptors, they serve as gentle estrogen supplements. While occupying these receptors, they may also neutralize the dangers of powerful, synthetic estrogens. Natural estrogen supplementation is generally used along with progesterone precursors (see below).
Black cohosh is an herb that grows throughout most of the world. It has been used for centuries for a wide variety of female complaints. In recent years, isoflavones and black cohosh have been studied extensively. Vast majorities of women engaged in such studies have reported significant relief from hot flashes, mood swings, night sweats, anxiety, depression, and other midlife discomforts, with no significant side effects.
Transitions provides rich levels of isoflavones, all from soy-free sources. This prevents the allergic reactions triggered by isoflavones from soy. These formulations also provide the exact amount of black cohosh recommended by the German "Kommission E" (the worldwide authority on regulating herbal products) for support during perimenopause and menopause, and rich levels of hesperidin and gamma oryzanol. Both of these nutrients have been shown in studies to reduce the frequency and intensity of hot flashes, and also help support metabolism in other ways.†
Progesterone Precursors
Dr. John Lee, author of What Your Doctor May Not Tell You About Menopause, believes estrogen dominance, which occurs when the body's ratio of estrogen to progesterone tilts too far toward estrogen, is more to blame for hot flashes, mood swings, etc., than estrogen deficiency. This may explain why many women experience the "symptoms of menopause" long before menopause itself actually arrives. For, as the ovaries become less active (from five to ten years before menopause), progesterone levels decline, while estrogen levels remain high.
Whether or not this is correct, progesterone remains important after menopause. It may help to maintain bone mineral density, prevent the edemic retention of water in the body, serve as a natural anti-depressant, discourage fibroids in both the breast and uterus, help maintain libido, and serve as a precursor for other hormones made in the adrenal cortex. In short, it serves many purposes beyond reproduction.
Transitions provides rich concentrations of wild yam, which contains factors that may mimic progesterone in the body.† They also provide the equivalent of 960 mg of chaste tree (vitex), which promotes internal progesterone production. Chaste Tree is the most widely recommended herb in Great Britain for menopausal discomforts, and is revered throughout the world for the many women's complaints it helps address. These factors help many Transitions' users to get along with less progesterone cream supplementation, or very possibly no progesterone cream at all.
Support for the Organs and Glands
Most midlife herbals provide isoflavones or phytoestrogens, and some add herbs that may help enhance progesterone levels. Transitions, however, adds deeper support for the body's organs and glands.†
Western medicine, of course, tells us that mid-life discomforts are triggered by hormone deficiencies. Yet, for thousands of years, holistic disciplines have thought they stem from weaknesses in the Kidney System and the blood. Because the Kidney System produces (and the blood distributes) estrogen and progesterone, their weaknesses are seen as the causes of hormone imbalances and deficiencies.
In Traditional Chinese Medicine, the Kidney System includes the kidneys themselves, the adrenal glands, the ovaries, the uterus, etc. In the years preceding menopause, the ovaries produce progressively less progesterone, until finally, they stop producing it completely. At this time, the adrenal glands and fat cells become our primary source of progesterone. If the Kidney System is weakened beyond a certain point, however, the adrenals will be unable to produce all the progesterone we need.
The tonic herbs in Transitions (eleuthero, prepared rehmannia, poria cocos, white peony, dong quai, wild yam, etc.) form a superb balancing tonic for all of the body's major organ systems, with special emphasis on the Kidney System and the blood. These herbs make Transitions one of the finest mid-life support systems ever offered, in addition to ProFema, and helps to calm midlife discomforts more quickly—and completely—than any other supplement.
If you do not already use a good multiple vitamin we suggest using ProFema™ instead. It's the same herbal formula as Transitions™, but with the "multiple component."*
---
About Pure Essence Labs
Pure Essence Labs was founded to offer high quality, safe and effective dietary supplement formulas to benefit human health, while demonstrating a firm commitment to planetary ecology. Pure Essence Labs strives to promote both holistic health and a holistic lifestyle. They create their formulas using an ideal balance of East-meets-West traditions and practices to work in synergy to support all body systems.
Pure Essence Labs Formula Check List
Hand-selected raw materials
Ingredients backed by sound science to serve a solid purpose in a particular formula
Acceptable to holistic health disciplines such as Ayurvedic and Traditional Chinese Medicine
Each ingredient tested 3x for identity, heavy metals, and toxins to ensure purity and safety
---
Supplement Facts - Transitions from Pure Essence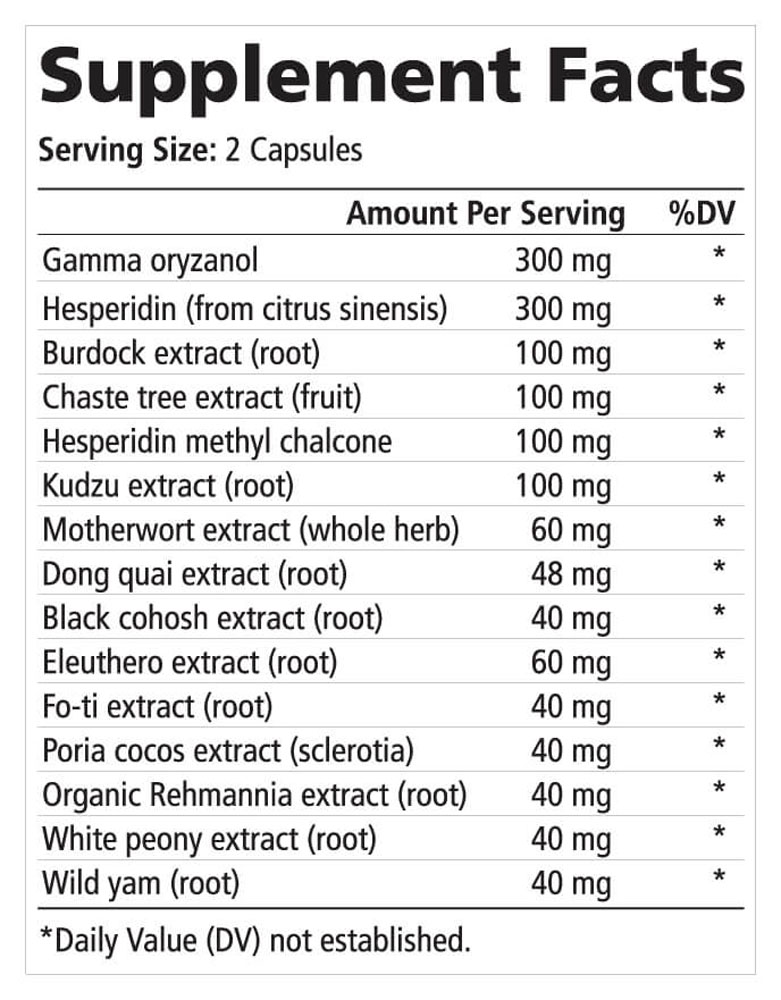 Serving Size: 2 Capsules
Ingredients:
Hesperidin (from citrus sinensis), Burdock extract (root), Chaste tree extract (fruit), Hesperidin methyl chalcone, Kudzu extract (root), Gamma oryzanol, Motherwort extract (whole herb), Dong quai extract (root), Black cohosh extract (root), Eleuthero extract (root), Fo-ti extract (root), Poria cocos extract (sclerotia), Rehmannia extract (root), White peony extract (root), Wild yam (root)
Other Ingredients:
L-lucine, silicon dioxide, cellulose, HPMC (vegetable capsule).
This product does not contain artificial colorings or flavorings, GMOs, sugar, soy, yeast, dairy, gluten, or wheat and is suitable for vegetarians.
Storage: Keep tightly closed at room temperature.
CAUTION: Not intended for use during pregnancy. Please keep all supplements out of children's reach.
Distributed by Pure Essence Labs, Las Vegas, NV