Brain Awakening - Redd Remedies

Supports Healthy Cognitive Function
Brain Awakening™ helps support healthy cognition and brain function with a powerhouse combination of all natural ingredients. Every day you rely on your brain to compute calculations, remember directions and choose precisely the right words (at an instant) to convey exactly what you want to say. You also need your brain to engage in important work tasks and to learn new things. We all struggle with these things, especially as we age.
Brain Awakening™ is a high-potency formula with three scientifically studied powerhouse ingredients — Magtein™, Amla and Lions Mane Fruiting Body. Combined, they help support healthy cognition and brain function — the essentials you need every moment of every day.
Brain Awakening™ supports the following conditions:
Supports short and long-term memory†
Promotes healthy levels of magnesium in the brain†
Supports healthy cognitive function†
Supports concentration and focus†
Supports brain health†
---
Key Ingredients of Brain Awakening
Magtein™ (magnesium L-threonate) is the only magnesium compound that has been shown to effectively support healthy levels of magnesium in the brain, which supports learning abilities, working memory, and short- and long-term memory.† Approximately 50 percent of the U.S. population does not consume the recommended 400mg of magnesium per day. Magtein™, a bioavailable compound of magnesium and L-threonate, has been shown to support healthy levels of magnesium in the brain.
Amla, or Indian Gooseberry, has antioxidant activity to support cell health.† Amla is classified as a "rasayana" herb in the Ayurvedic tradition. Many of these botanicals, including Amla, are used for their tonic properties and for their ability to support brain function.* In Brain Awakening, amla is included for its powerful antioxidant properties and to support health on the cellular level.* Its adaptogen-like properties will contribute to a balanced stress response.†
Lions Mane Fruiting Body supports brain and nervous system health.† Lion's Mane, known as yamabushitake in Japan, has been used in Asian traditional herbalism for thousands of years. Studies on the mushroom have shown its benefits for cognitive health, nervous system function and immune health.†
---
More About Magnesium L-threonate and The Brain
Magnesium -L-threonate is showing exciting results in studies examining its benefits for many aspects of healthy cognition. Involved in over 300 enzyme-catalyzed reactions in the body, including electrochemical activities that control muscles and regulate brain cell communications, magnesium is a life-sustaining mineral. It regulates the ability of our brain cells to make neuro connections that enable us to create memories and to learn. Known as plasticity, magnesium enhances this ability to forge new connections and strengthen those connections, known as long-term potentiation. Plasticity allows us to add, remove or revise connections that support healthy cognitive function, and magnesium levels greatly impact the brain's plasticity.
Our brains contain 100 billion neurons. Each neuron can have thousands of synapses – where information sent through one neuron (sometimes called a nerve cell) passes to a receptor neuron. That means there are trillions of synaptic connections in the brain. Magnesium, which lives in the spaces between the cells, has a significant role in regulating synaptic density and controlling synaptic communications. Insufficient magnesium means that cognitive functions, including memory, are not receiving the support they need for optimal performance. Without adequate magnesium, the brain loses plasticity. Loss of brain plasticity and a related decline in cognitive function have commonly been thought of as inevitable problems related to aging, and we are learning that chronic stress can also negatively impact plasticity.
However, recent studies have shown that increasing the magnesium levels in the brain can reverse deterioration of plasticity and improve cognitive function. The problem is that even with a diet that provides the recommended amounts of magnesium, which few Americans maintain, the ingested magnesium may not make it into the brain where it is so needed.
Magnesium-L-threonate is one form of magnesium that has been shown to effectively cross the blood-brain barrier: magnesium-L-threonate (MgT), developed by scientists at Massachusetts Institute of Technology (MIT). Threonic acid is a sugar acid derived from an ascorbic acid metabolite. Compounding threonate with magnesium increases the uptake of the mineral and makes it more available to the synapses and neurons in our brains. Why? Threonate occurs naturally in the cerebral-spinal fluid, so the body recognizes that it belongs in CSF and moves it there once it's ingested – and the magnesium is carried along with it.
Magnesium-L-threonate is one of three ingredients in Brain Awakening, our simple formula that supports healthy cognitive function and brain and nervous system health. Taking 4 capsules a day delivers all the MgT you need to support brain and body health.
---
About Redd Remedies
Redd Remedies carefully chooses herbs, plants, vitamins, and minerals used in Traditional Chinese Medicine, Ayurvedic medicine, and European traditions which are also supported by modern day research and science to deliver natural solutions to health. They use wholesome clean food, targeted high quality supplements, and qualified doctors with expertise in natural medicine to address health from a whole body perspective. Redd Remedies offers:†
Quality, purity, and potency guaranteed through expiration
All-natural ingredients
Superior quality control
Supplement Facts - Brain Awakening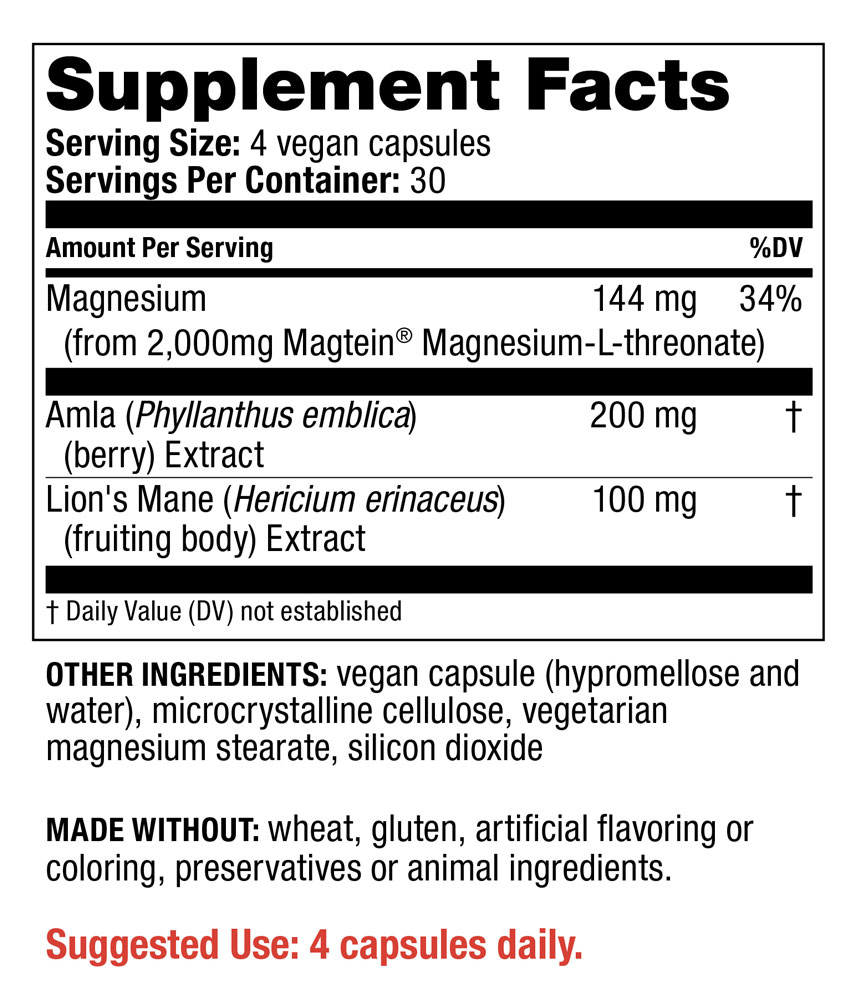 Other Ingredients: Vegetarian capsule (hypromellose and water) microcrystalline cellulose, vegetarian magnesium stearate, silicon dioxide.
Contains No: sugar, sodium, yeast, wheat, gluten, artificial flavoring or coloring, preservatives, or animal ingredients.
Warning: Do not use if you are pregnant or nursing. If you have a medical condition, or are taking prescription drugs, consult your physician before using this product. KEEP OUT OF REACH OF CHILDREN.
Warning: This product can expose you to chemicals including lead, which is known to the State of California to cause cancer and birth defects or other reproductive harm. For more information go to www.P65Warnings.ca.gov.
Store in a cool, dry place.
Manufactured by Redd Remedies.