Progesta-Care® Cream - Natural Progesterone
Notice: Progesta-Care cannot be shipped to Canada due to import restrictions.
Natural progesterone is used to maintain a normal level of progesterone and a balanced ratio of estrogen to progesterone. Natural USP progesterone is biologically identical to the hormone women produce, and offers an alternative to taking synthetic hormones. Additionally, it protects against the undesirable side effects of excess estrogen.
Progesta-Care bioidentical cream or spray is paraben free, and can be used by those who are estrogen dominant and/or suffering from fibroids and other women's fibrosis conditions. They can also be used for general progesterone supplementation.
Progesta-Care is an all natural cream free of synthetics and PARABEN FREE.
---
Hormone Balance
The balance of progesterone and estrogen in a woman's body is very important. Progesterone acts to balance excess estrogen thus preventing estrogen from becoming harmful to health, a condition known as estrogen dominance. At different times in the life of a women, hormonal imbalance can result in symptoms of PMS, perimenopause, and menopause.
Symptoms of progesterone imbalance include:
Moodiness
Hot flashes
Depression
Weight gain
Bloating
Low libido
Breast tenderness
Premenstrual syndrome
In the right amount, bioidentical progesterone can help:
Menopausal symptoms
Have a calming effect
Enhance moods
Normalize sleep
Increase sex drive
Use fat for energy
Regulate fluid balance
Stabilize blood sugar and mineral balance
Self-Care
Self-care, including exercise and a healthy diet, is an important foundation for hormone balance. Natural progesterone is specially formulated to help support a healthy hormone balance. Please have your hormones tested to determine if you need hormone replacement therapy. If you can find a doctor to work with you, that would be helpful.
---
Progesterone Supplementation Options for Women
The Progesta-Care brand of natural bioidentical progesterone creams and spray from Life-Flo are made for hormone imbalances and a variety of women's fibrosis related conditions. They have no synthetic chemicals (xenoestrogens). The chemicals in many progesterone "natural" products are xenoestrogens, which can contribute to estrogen dominance. The amount of progesterone in these products is the amount recommended by Dr. John Lee, author of Hormone Balance Made Simple.
Creams Containing Progesterone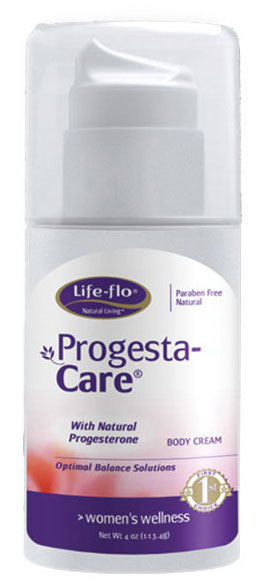 Progesta-Care Cream or Spray
For women working on shrinking fibroids, have other women's fibrosis conditions, AND are still estrogen dominant, choose this Progesta-Care natural progesterone cream or spray with NO phytoestrogens. Paraben free.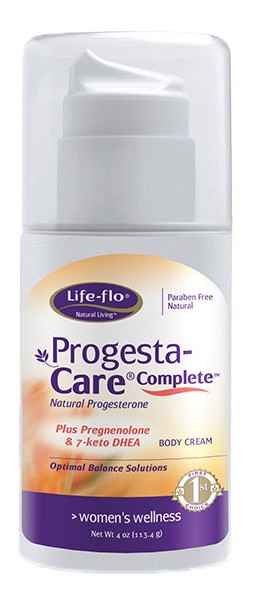 Progesta-Care Complete
Progesta-Care Complete includes Prognenolone and 7-Keto DHEA and can be used by those who are estrogen dominant and/or suffering from fibroid and other women's fibrosis conditions. It can also be used for general progesterone supplementation. Paraben free.
---
Creams Containing Progesterone and Estrogen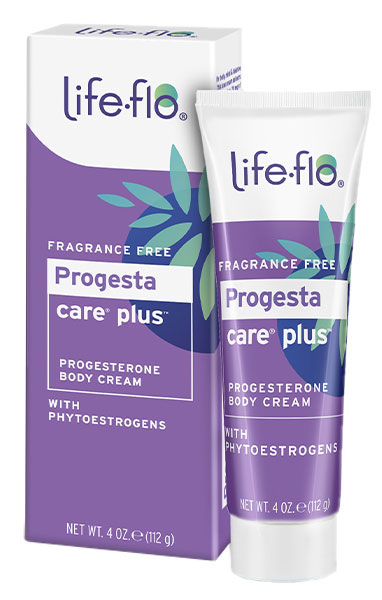 Progesta-Care PLUS
For women who are experiencing menopausal symptoms such as hot flashes and need estrogen supplementation, Progesta-Care PLUS is an excellent cream that contains both natural progesterone and phytoestrogens. Paraben free.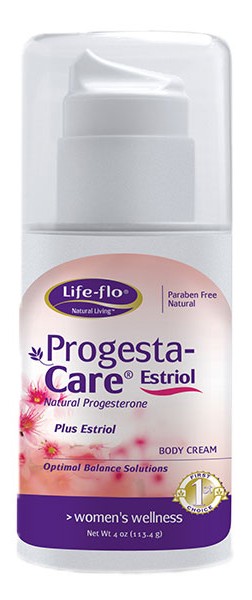 Progesta-Care Estriol
For women looking for both natural progesterone plus estrogen supplementation, Progesta-Care Estriol an optimal balance blend of natural progesterone and estriol. Paraben free.
Progesta-Care PLUS and Estriol are NOT for women with large fibroids, and who DO NOT have their estrogen dominance under control. Choose regular Progesta-Care instead.
Alternatively, those requiring more estrogen, such with menopause, may find that natural estrogen creams such as Estro-Care Cream or BiEstro-Care Cream may help.
---
Additional Hormone Balance Support
Women and men experiencing estrogen dominance can also use DIM and/or Myomin to help metabolize and reduce unhealthy estrogen levels. Additionally, Calcium D-Glucarate can be used in conjunction with the above listed products to help make sure that used hormones are eliminated rather than being reabsorbed and deposited in tissues and organs where they can cause cellular damage.
NOTE: Some research suggests progesterone might stimulate fibroid growth. If a fibroid is large and mature and has not responded to estrogen control, progesterone could be contributing to its growth. This is only a hypothesis . Other health experts feel progesterone acts to mediate estrogen and regulates its effects during the menstrual cycle, and believe that it does not contribute to fibroid growth.† If your fibroid is large and mature, you may consider NOT using a progesterone cream just to be safe. Please speak with your healthcare provider to determine what is best for your individual needs.
---
Progesterone Supplementation for Men
Progesta-Care for Men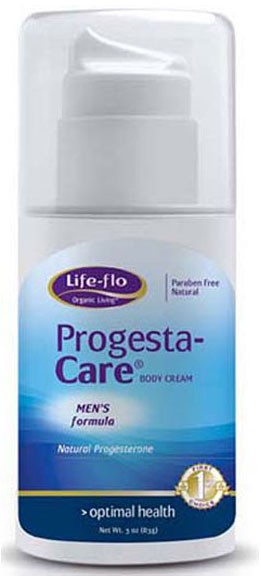 In addition, men too can suffer from estrogen dominance. Estrogens from environmental and food sources (xenoestrogens) can produce hormonal stimuli that can contribute to inappropriate growth of mammary tissue cells, resulting in a problem society is now calling "man boobs". Read more on our Men's Progesterone product page.
Some theorize that estrogen dominance in men is contributing to:
Prostate problems
Breast enlargement
Bone/Muscle Loss
Impotency
Atherosclerosis
Male patterned baldness
Weight gain
Low libido
---
Further Reading
Product Facts - Progesta-Care Cream
Available in a 4 oz airtight clinical hygienic pump - Each ounce contains 480mg of Natural USP Progesterone. Pump container gives a properly measured dose.
Applications per Container: Approximately 96 full pump applications containing 20mg of natural USP Progesterone.
Ingredients: Purified Water, Aloe Barbadensis, Glycerin, Helianthus Annuus (Sunflower) Seed Oil, Butyrospermum Parkii (Shea Butter), Stearic Acid, Glyceryl Stearate, Progesterone USP, Stearyl Alcohol, Caprylic/Capric Triglyceride, Isopropyl Palmitate, Phenoxyethanol and Caprylyl Glycol, Elaeis Guineensis (Palm) Oil (and) Tocotrienols (and) Tocopherol, Oenothera Biennis (Evening Primrose) Oil, Lecithin, Sodium Hyaluronate (HA), MSM (Methylsulfonylmethane), Potassium Sorbate, Allantoin, Arctium Lappa (Burdock) Root Extract, Vitis Vinifera (Grape) Seed Extract, and Sodium Bicarbonate.
Contains no mineral oil, petroleum or animal products, and has not been tested on animals. Free of synthetics and parabens! Packaged in airtight, hygienically sealed container. Non-greasy and formulated for excellent absorption.
Manufactured by Seychelles Organics Inc. for Life-Flo Health Care Products. Made in the USA. No animals were used to test this product.
---
Notice: Progesta-Care cannot be shipped to Canada due to import restrictions
Warning: This product contains progesterone, a chemical known to the State of California to cause cancer. For more information, see the Prop 65 brochure at Additional Information about Prop 65. Life-Flo Health Care Products and Energetic Nutrition recommends the consumer research the difference between natural bio-identical Progesterone USP and the synthetic alternatives. The bottles of Progesta-Care, Progesta-Care PLUS, and Progesta-Care for Men sent to our customers will contain this warning. To learn more about this, please refer to the following links:
Suggested Use - Progesta-Care®
Per Dr. John Lee, MD
Menstruating (ovulating) women in their reproductive years: Apply once or twice a day as needed, starting on the 12th day after the first day of menstrual flow, through the 27th day.
Perimenopausal women (still menstruating but with cycle changes): Apply once or twice a day as needed, starting on the 7th day after the first day of the menstrual flow through the 27th day.
Menopausal and postmenopausal women (no longer menstruating): Apply once or twice a day as needed up to a maximum of 21 consecutive days, depending on the severity of your symptoms. Resume after a seven day break.
CREAM
Pressing the pump firmly once, dispense cream into the palm of your hand and rub onto skin. A rotation schedule is suggested so as to not repeat one location too often. You may wish to tape a noted record to the cap of your bottle.
SPRAY MIST
Dispense three (3) sprays onto your skin. A rotation schedule is suggested so as to not repeat one location too often. You may wish to keep this list handy for a rotation schedule.
Once a day application - apply to area evenly
Twice a day application - suggest right side in AM, left side in PM
Monday - Inner Arms
Tuesday - Inner Thighs
Wednesday - Stomach
Thursday - Lower Legs
Friday - Abdomen
Saturday - Chest
Sunday - Hips
---
Additional Information
Progesta-Care® is absorbed quickly into the skin, then moves into the underlying fat layer, and then into the bloodstream. It reaches its peak in the bloodstream in about 3-4 hours. It will be available for the next 8 hours and then be completely cleared after 12 hours. It is well absorbed on areas of the body mentioned above where there is good capillary blood flow. The face, neck, and palms of the hands and soles of the feet can be useful areas also.
The usual recommended dosage is 20 mg per day. This is equivalent to about the amount present in the blood during the last half of the menstrual cycle. One pump of Progesta-Care Cream, and three sprays of Progesta-Care Mist, each contain 20 mg. Some women choose to add a second daily dose when symptoms are severe, or during the initial months of natural progesterone use, in order to more quickly raise their levels of progesterone.
Please Note: It is not recommended to use any topical progesterone in body locations that alpha hydroxy acids have been used within the last 24 hours. Some data indicate such exfoliating acids may interfere with progesterone absorption.†
Always check with a licences health care practitioner before you use any hormones, even natural, bioidentical hormones. They will help you to find the ideal dosage based on your needs and other factors that vary for each person.
---
Warning: Do not use if you are pregnant, lactating, or intend to become pregnant. For external use only. Avoid contact with eyes. Use intended for adults 18 years of age and older. Keep out of the reach of children. Do not exceed 2 oz. of the cream, or 0.5 oz. of the mist topically per month. Consult with a licensed healthcare practitioner if you experience irritation, redness, or discomfort, any changes in breasts or menstrual irregularities, or before using this product if you have concerns about your health or if you have a medical condition.