Sublingual B-Total
Sublingual B Total contains Vitamin B12 along with folic acid and other B-Complex vitamins. This liquid supplement provides energy-converting B vitamins which are a daily requirement in the body. It is easy to take and contains the same dosage of B12 as you will find in most injections.
Taking B vitamins can help increase energy, offer immune system support, and provide coenzymes for essential body functions.
B vitamins help to maintain overall good health by providing nutrients that assist in the metabolism of carbohydrates, fats and proteins. They also help support healthy brain function and nerve transmission, boost energy, assist in the formation of red blood cells, are involved in DNA and RNA synthesis, and support cardiovascular health.
---
Looking for a Liquid B12 Supplement?

NO artificial sweeteners
NO artificial colors
NO preservatives
One bottle lasts five months!
---
Homocysteine Reduction and B Vitamins
According to Tufts University Human Nutrition Research Center on Aging, "One important risk factor for vascular disease, the largest cause of mortality in elderly individuals, is elevated blood concentration of homocysteine. However, this toxic substance has been shown to be reduced in the body by Vitamin B6, B12, and folic acid..." which are included in the Sublingual B-Total formula.
Vitamin B-12 deficiency is very common and may be underestimated in the general population. Symptoms of a B12 deficiency may include tiredness, impaired immunity, and dementia, just to name a few. Besides the elderly, high risk groups include those with:
Immune deficiencies
Absorption problems
Vegetarian diets
Vegan diets
Alcoholism
Abnormal immune responses
Abnormal neurological function
---
B Vitamins for Stress
Furthermore, the stress of daily living can take a toll on our nerves, glands, and hormones increasing the need for B-vitamins. During times of physical or mental stress, the B vitamins can help the nervous system by reducing anxiety, depression, irritability and nervousness, especially when combined with Vitamin C.†
---
B Vitamins Defined
Vitamin B12 - helps maintain healthy nerve cells and red blood cells. Works in close partnership with folic acid in synthesis of the building blocks for DNA and RNA. Essential for the integrity of the maintenance of the nervous system and for the production of energy producing molecules. Non toxic at 1,000 mcg daily for many years.†
Folic Acid (folate) - a non-toxic nutrient that protects our chromosomes from DNA damage. Also helps to improve mood and occasional sadness. No noticeable side effects.†
Vitamin B2 (riboflavin) - required for cell growth and release of energy, formation of red blood cell, and synthesis of antibodies.†
Vitamin B3 (niacin) - may stabilize cell membranes, support circulation, and maintain skin health. Aids in the function of the nervous system and may help maintain healthy cholesterol levels.†
Vitamin B5 (pantothenic acid) - a non toxic nutrient needed to breakdown fat to convert into energy. An anti-stress vitamin.†
Vitamin B6 (pyridoxine HCI) - needed for the synthesis of neurotransmitters such as serotonin and dopamine. These neurotransmitters are required for normal nerve cell communication.†
---
B Vitamins and Anemia
Anemia is a condition that occurs when there is insufficient hemoglobin in red blood cells to carry oxygen to cells and tissues. Common signs and symptoms of anemia include fatigue and weakness. Anemia can result from a variety of medical problems, including deficiencies of Vitamin B12, Vitamin B6, folic acid and iron. Certain B Vitamins are important for the healthy production of red blood cells. A deficiency in these nutrients can lead to anemic conditions. For example:
Vitamin B12 deficiency - Vitamin B12 Fact Sheet
Megaloblastic anemia - Vitamin B12 deficiency is a cause of megaloblastic anemia. In this type of anemia, red blood cells are larger than normal and the ratio of nucleus size to cell cytoplasm is increased. There are other potential causes of megaloblastic anemia, including folate deficiency.
Pernicious anemia - is a form of megaloblastic anemia that occurs when there is an absence of intrinsic factor, a substance normally present in the stomach. Vitamin B12 binds with intrinsic factor before it is absorbed and used by the body. An absence of intrinsic factor prevents normal absorption of B12 and may result in pernicious anemia.
Vitamin B6 deficiency - Vitamin B6 Fact Sheet
Your body needs vitamin B6 to make hemoglobin, which carries oxygen to the tissues. Vitamin B6 also helps increase the amount of oxygen carried by hemoglobin. A Vitamin B6 deficiency can result in a form of anemia that is similar to iron deficiency anemia.
Folic Acid deficiency - Folic Acid Fact Sheet
Folic acid deficiency anemia happens when your body does not get enough folic acid. Folic acid is one of the B vitamins, and it helps your body make new cells, including new red blood cells. Most people get enough folic acid in the food they eat. But some people either don't get enough in their diet or have trouble absorbing it from the foods they eat.
---
Complimentary Supplements
You may be interested in these supplements that are often used along with B-Vitamins to support healthy blood iron levels.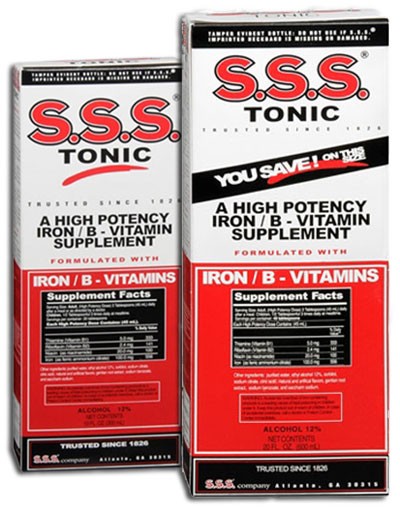 For those who are clinically anemic (confirmed via blood testing), SSS Tonic and Sublingual B-Total can be taken together. If you have not been diagnosed as being anemic, you can still take Sublingual B-Total.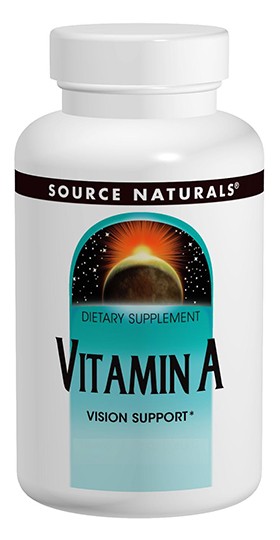 Vitamin A (10,000 IU per day):
Taking Vitamin A and iron together has been reported to help overcome iron deficiency more effectively than iron supplements alone.
Consult with your doctor before taking either of these supplements. Use caution when taking any supplement with iron. Too much iron can be toxic.
Supplement Facts - B Total Liquid Vitamins
Per dropper
Calories: 2 (0.1%DV)
Total Carbohydrates: 6.6 g (0.2% DV)
Sugars: 0
Total Fat: 0
Protein: 0
| | |
| --- | --- |
| Each 1 dropper (1.0 cc) dose contains: | % US RDA* |

Vitamin B-2 (riboflavin 5 phosphate sodium)
1.7 mg
100%
Vitamin B-3 (niacin)
20 mg
Vitamin B-6 (pyridoxine HCI)
2 mg
100%
Vitamin B-12 (cyanocobalamin)
1,000 mcg
100% **16,666%
Pantothenic Acid (dexpanthenol)
30 mg
300%
Folic Acid
400 mcg
100%
Each 1 oz. vial contains 30 1.0cc doses.
The 2 oz. vial contains 60 1.0cc doses
* Percentage of U.S. Recommended Daily Allowance for Adults.
**This is equivalent to the normal injectable B-12 dose. There are no known toxic levels of B-12. Vitamin B-12 (cyanocobalamin) is naturally red in color.
In a base of: Distilled water, glycerin, sorbitol, sodium bicarbonate, citric acid, fruit flavors, sodium benzoate.
Allergen info: Contains no fillers, binders, yeast, wheat, gluten, soy, dairy, artificial colors, ethyl alcohol, or starch.
Manufactured and Distributed by Vita5 Nutrition
Suggested Use - B Total Liquid Vitamins
Shake well before use. As a dietary supplement, in the morning, place one full dropper (1.0cc) under your tongue and hold for 30 seconds then swallow. In addition, The B-Total Solution can be used under periods of stress or prior to physical activity, as needed.
Notice: Because Niacin dilates the surface of capillaries, it may cause flushing, itching or reddening of the skin. This effect is temporary and will disappear.
Keep out of reach of children.