Homme Fatale by Secrets of the Tribe
Our Homme Fatale formula for men supports healthy libido function using a synergistic blend of seeds, fruits, pollen and herbs.
Secrets of the Tribe uses a unique extraction method for its tinctures, a two-fold process using custom-made percolators and ultrasonic waves, together, create unparalleled potency.
All Natural Herbal Supplements
GMO FREE
VEGAN
MADE IN USA
NOT TESTED ON ANIMALS
---
Tongkat Ali
Parts used: Root - Wildcrafted
Country of Origin: Indonesia
Tongkat Ali, or Long Jack, commonly found in Indonesia, Malaysia, Thailand, and Cambodia, contains important phytochemicals which create a therapeutic effect with aphrodisiac properties. Tongkat Ali is best known for its ability to help with erectile dysfunction, to enhance libido function and as a testosterone-booster.
---
Tribulus
Parts used: Fruit - Certified Organic
Country of Origin: India
Tribulus is a staple in natural medicine and has a long history of use, centuries in fact, to enhance sexual desire in both women and men. It is also considered a powerful adaptogen, energy, and endurance enhancer
---
Barrenwort/ Horny Goat Weed:
Parts used: Leaf - Certified Organic
Country of Origin: China
Barrenwort, or Horny Goat Weed, is well-known in Traditional Chinese Medicine for at least a thousand years to treat sexual difficulties. Fun Fact: Barrenwort Horny Goat Weed benefits were found out after a shepherd observed that his flock became quite aroused after feeding on a specific patch of plants in the area.
---
Mucuna
Parts used: Seed - Certified Organic
Country of Origin: India
Mucuna has been used by Indian Folk healers to promote a healthy libido. Additionally, Mucuna may also help regulate moods.
---
Korean Red Ginseng
Parts used: Root - Wildcrafted
Country of Origin: Korea
Asian ginseng's use was first recorded over 5000 years ago and is one of the most commonly used herbs in herbal medicine today. An herb loaded with beneficial properties, it is high in antioxidants, rich in vitamins, minerals, and loaded with beneficial chemical compounds. In Traditional Chinese Medicine, Ginseng is used as an overall tonic, energy booster, and as an Adaptogen to help the body deal with stress.
---
Pine Pollen
Parts used: Pollen - Wildcrafted
Country of Origin: China
Pollen has a long history in traditional medicine as it promotes overall health and wellness. Pine pollen, said to be a superfood, contains a number of beneficial chemical compounds such as magnesium and cadinene, Pine pollen has been used in Traditional Chinese Medicine as an overall health and vitality tonic, to boost energy and libido.
---

---
About Secrets of the Tribe
A Navajo proverb once said "Be still and the earth will speak to you". Secrets Of The Tribe embraces our ancestry and upholds a lifelong commitment to wellness of mind and body. Through quality and innovation we offer products that promote and maintain a healthy lifestyle while embracing its origins.
Our time spent in Navajo Nation taught us to believe in people and their power to change the world around them. We make every bottle with the purpose of serving those who seek within them the path to long-lasting health. Gathering raw materials from all over the globe we blend old-fashioned methods with present-day techniques to deliver herbal supplements that are dependable and Eco-friendly. Our love for the planet helps us understand that nature gives us what we need when we search for and respect her voice. We want to share with you our experiences and love for the world we live in. Let the earth speak to you.
Best Herbs - We only use herbs that are certified organically grown and /or wild-crafted in their natural habitat.


Best Preparation - We carefully hand pick each herb, ensure it is free of unwanted materials, sun-dried and then sent for extraction.


Best Development - We develop our products using old-fashion methods coupled with modern technology. This allows us to achieve the maximum possible ratio of bio-active components.


Best Storage - We store our products in the best environment, perfect temperature and humidity levels are set in order to keep our products always fresh!
Supplement Facts - Homme Fatale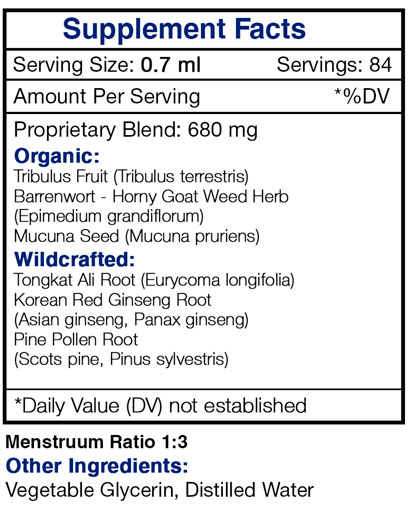 Serving Size: 0.7ml (One full squeeze: 25-30 drops)
Servings Per Container: about 84
ORGANIC / WILDCRAFTED Ingredients: Tongkat Ali, Tribulus, Barrenwort - Horny goat weed, Mucuna, Korean Red Ginseng, Pine Pollen
Menstruum Ratio 1:3
Other Ingredients: Vegetable Glycerin, Distilled Water
All Natural Herbal Supplement. Alcohol Free. Non-GMO. Vegan. Third-party Lab Tested. Not tested on animals.
Storage: Keep tightly closed in a dry place; avoid excessive heat.
Caution: PLEASE KEEP OUT OF REACH OF CHILDREN. CONSULT YOUR PHYSICIAN BEFORE TAKING THIS PRODUCT.
Manufactured by Secrets Of The Tribe, Las Vegas, Nevada. Made in the USA.
Click Supplement Facts box to see larger image.