Vitalzym Digest - Complete Digestive Formula
Vitalzym Digest is a blend of powerful enzymes specifically formulated to assist the body's normal metabolic processes in improving both digestive function and nutrient absorption.
The digestive enzymes in Vitalzym Digest are a naturally-derived, drug-free alternative to harsh prescription medications, and act as catalysts to boost the breakdown of complex of proteins, fats, and carbohydrates. Vitalzym Digest allows for this process and the absorption of nutrients as a healthy source of energy. Vitalzym Digest contains no animal derivatives, artificial flavors or colors, yeast, gluten, or talc and is lactose free.
The body naturally produces sufficient enzymes to maintain optimal health. However, as one ages, the body's production of enzymes decreases which may reduce the efficiency of normal body functions. Vitalzym Digest was designed to support the body in optimizing the availability of these core functions.
---
The Ingredients
Vitalzym Digest incorporates 18 of the most powerful enzymes into one digestive supplement.
Protein Digestion
Protease, Acid Stable Protease, Peptidase - Proteolytic enzymes are essential in protein digestion. Their primary function is to help us digest different kinds of proteins into smaller chains of amino acids. Without proteases, the intestinal lining would not be able to absorb proteins, which could lead to serious health consequences.
Bromelain and Papain - Bromelain and papain are the proteolytic enzymes that assist in breaking down a wide variety of protein molecules in a range of both acidic and alkaline environments. They are used to minimize or prevent bloating, gas, and other digestive symptoms.
Carbohydrate Digestion
Amylase, Malt Diastase, Glucoamylase, Beta-Glucanase - These enzymes help to take the heavy load off of our digestive processes, reducing many common digestive upsets such as heaviness, lethargy, bloating or gas. Glucoamylase is of particular value to those with gluten sensitivity.†
Invertase, Lactase - These enzymes assist with the breakdown of sugars, such as dairy, into glucose, fructose, and galactose. Glucose is directly absorbed into the bloodstream during digestion to supply the body with energy. Lactase is particularly important for those prone to lactose intolerance.
Pectinase, Cellulase, Hemicellulase, Alpha Galactosidase - These refer to a group of enzymes which, acting together, hydrolyze Pectin, cellulose, and hemicellulose. Hemicellulase and cellulose are crucial for the breaking down of carbohydrates in plant cell walls. Alpha Galactosidase is an enzyme that stops bloating, abdominal distention, and flatulence.†
Phytase, Xylanase - Phytase and Xylanase help break down phytic acid and hemicelluloses. They allow more nutrients to be released from vegetables that have higher fiber content. Phytase breaks down indigestible phytic acid, and as a result, prevents gas and digestive discomfort.†
Fat Digestion
Lipase - A Lipase is an enzyme that catalyzes the hydrolysis in which solid fats and oils are taken apart into their components. This means that it can take a triglyceride molecule: the basic fatty unit found in food, and strips off the fatty acids, leaving either none, one or two fatty acids. Undigested lipase increases triglyceride levels and may contribute to high cholesterol.†
---
Why Buy Vitalzym from Energetic Nutrition?
We are an Authorized World Nutrition Retailer, and one of their largest worldwide retailers.
We receive a fresh supply of products every week, which is kept under climate control.
We have been in business since 1996, and a trusted website since 1997.
Order by 12pm PST and we'll ship the same day (exceptions may apply).
Our knowledgeable staff is available to answer your questions by phone, email, or live chat.
We are known for our excellent customer service and educational support.
We truly care about your health, and we really appreciate your business!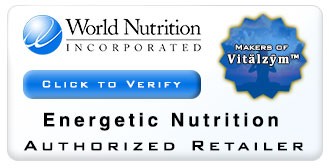 Supplement Facts - Vitalzym Digest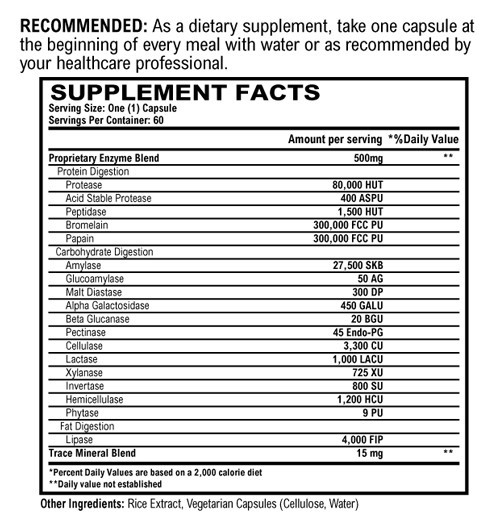 Serving Size: One (1) Capsule
Servings per Container: 60 Capsules
Amount per Serving: Proprietary Enzyme blend - 500 mg.
Click HERE to see full label.
Vitalzym Digest is natural. It contains no animal derivatives, artificial flavors or colors, yeast or gluten. It is also lactose free and contains no harmful talc.
---
Manufactured by World Nutrition, Inc. World Nutrition's products are USP grade (United States Pharmacopeia). USP is a publication established in 1820 that contains legally recognized standards of identity, strength, quality, purity, packaging, and labeling for drug substances, dosage forms, and other therapeutic products, including nutritionals and dietary supplements.