Flexera for Joint Health
Flexera™ is designed for those looking to rebuild the connective tissue in the body with unique and effective ingredients. Flexera combines the best ingredients into a single product that, with minimal dosing, can provide a joint-building supplement with something for everyone.
Flexera Joint Formula May Help:
Rebuild Connective Tissue
Increase Elasticity
Lubricate Joints
Improve Mobility
Increase Range of Motion
This is more than just another Glucosamine-Chondroitin product. Flexera™ combines the best ingredients – the most potent, best absorbed and purest cutting-edge sources – into a single product that, with minimal dosing, can provide joint-building support for everyone from the elite athlete to the everyday individual.
Why choose Flexera over other joint products? For years, World Nutrition has been a trusted name with doctors and healthcare professionals through its renowned Vitalzym line of products. Flexera builds on World Nutrition's reputation as an industry leader in supporting a healthy inflammation response, normal joint function, and promoting active joints.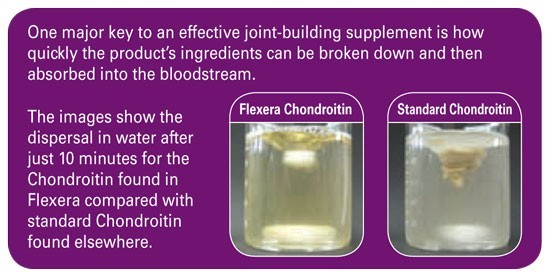 Flexera contains a variety of uniquely potent ingredients, including the remarkable BioCell Collagen II™. This breakthrough, multi-patented nutraceutical contains a naturally-occurring matrix of compounds that are rapidly absorbed into the body to promote active joints and younger looking skin.† The type II format is especially effective at targeting knees, hips, elbows, wrists and fingers.
OptiMSM™
One of the best, most pure and absorbable forms of MSM available. MSM provides sulfur, a vital building block of joints, cartilage, skin, hair and nails, and methyl groups, which support many vital biochemical processes in the body, including energy production.† MSM has been clinically shown to be effective in promoting normal joint function. MSM is 34% sulfur, a naturally occurring nutrient essential to maintaining the integrity of cartilage and connective tissue. Many joint components are made with glucosamine and collagen, both of which are dependent upon sulfur.
Glucosamine Sulfate
Popular use is to support the structure and function of joints. In this formula specifically, glucosamine sulfate was chosen over other common forms because of its drastically higher absorption rate and greater purity through the refinement process.
Chondroitin Sulfate
Studies indicate that chondroitin sulfate may promote healthy bones, which is consistent with the fact that the majority of glycosaminoglycans found in bone consist of chondroitin sulfate. Chondroitin sulfates are the molecules in cartilage that attract and hold water, thereby giving cartilage its elasticity and fluidity. To some degree, chondroitin sulfate is present in all organ systems, including other soft connective tissues - tendons and ligaments - as well as in the skin and blood vessels.†
Chondroitin sulfate chains have negative electrical charges that very effectively capture water molecules, giving cartilage its sponge-like quality. Chondroitin sulfate is essential to cartilage growth and repair. It is produced by cartilage cells called "chondrocytes," but the process declines with age and is also disrupted by stress or injury. Without enough chondroitin sulfate, cartilage integrity seriously declines.†
BioCell Collagen II™
This breakthrough multi-patented joint and skin health nutraceutical contains a naturally occurring matrix of hyaluronic acid, chondroitin sulfate, and hydrolyzed collagen type II that ensures rapid absorption. This type II format has the most specificity to promote normal joint function in the knees, hips, elbows, wrists and fingers.†
Magnesium Citrate
Known for its amazing ability to lubricate joint areas in the body. Magnesium also plays a significant role in the development of bones and teeth, as well as in muscle relaxation and contraction.
Boswellia Serrata
Widely known for its benefits in promoting a healthy inflammation response.†
Hyaluronic Acid
Commonly recommended for helping to cushion joints and increase the quality of synovial fluid to promote joint function. It also helps remove waste from the cells found in cartilage walls as well as the rate that nutrients are absorbed into these cells. In addition to these joint benefits, it is also popular for its contributions to eye and skin health.†
Vitamin B Complex
Helps to control pain and to restore mobility in the elbows, shoulders, knees and other joints after exercise or as a normal part of the aging process.
Turmeric
Turmeric's combination of antioxidant and support of a healthy inflammation response explains why many people use the spice regularly.
---
Why Buy Vitalzym from Energetic Nutrition?
We are an Authorized World Nutrition Retailer, and one of their largest worldwide retailers.
We receive a fresh supply of products every week, which is kept under climate control.
We have been in business since 1996, and a trusted website since 1997.
Order by 12pm PST and we'll ship the same day (exceptions may apply).
Our knowledgeable staff is available to answer your questions by phone, email, or live chat.
We are known for our excellent customer service and educational support.
We truly care about your health, and we really appreciate your business!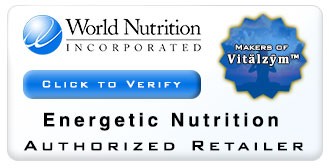 Supplement Facts - Flexera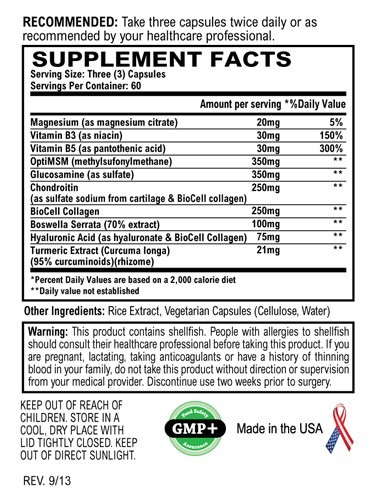 Other ingredients: Rice Extract, Vegetarian Capsules (Cellulose, Water)
Click HERE to see full label.
UPC CODE: 805034681801
WARNING: This product contains shellfish. People with allergies to shellfish should consult their healthcare professional before taking this product.
WARNING: If you are pregnant, lactating, taking anticoagulants or have a history of thinning blood in your family, do not take this product without direction or supervision from your medical provider. Discontinue use two weeks prior to surgery.
Keep out of reach of children. Store in a cool, dry place with lid tightly closed.
---
Manufactured by World Nutrition, Inc. World Nutrition's products are USP grade (United States Pharmacopeia). USP is a publication established in 1820 that contains legally recognized standards of identity, strength, quality, purity, packaging, and labeling for drug substances, dosage forms, and other therapeutic products, including nutritionals and dietary supplements.