Bellabaci Cupping Therapy Massage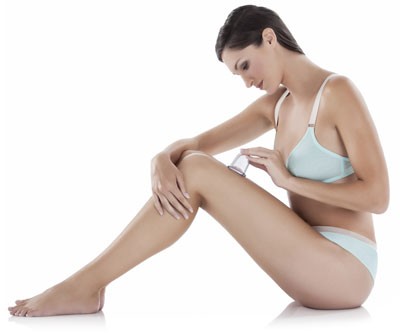 Bellabaci Cupping Therapy Massage techniques and cups can be helpful for women or men suffering from cellulite, stretch marks, spider veins, headaches, tight and sore muscles, digestive disorders, joint pain, and more.
The medical grade silicone cups create a vacuum when squeezed, and can be used in a variety of massage modalities by moving the cups over the body. When used in a massage technique, the cups will not leave the associated "bruising" or "marking" of the traditional cupping therapy methods that had previously been the primary turnoff for most western women.
The effect of the Bellabaci cup procedure results can help to:
Decrease cellulite
Promote the elimination of stagnation
Intensify metabolism and dermal respiration in the massaged segment of the body
Promote elasticity in the skin
Increase the resistance to temperature and mechanical factors
Improve muscle retracting function
It works wonders on the back, stomach and arms – actually almost all areas of the body will respond to this unique product. When used on the back or on tight, sore muscles, it helps to break up lipid pockets (knots), improve blood circulation and eliminate toxins and other waste products from muscles. It tones skin, assists in body contouring, stimulates lymphatic and blood circulation, regulates the autonomic nervous system, and generally relaxes and rejuvenates the body.
For your convenience there are two cups – the softer cup to be used initially or on more sensitive areas such as the arms, stomach and inner thighs, and the harder cup to be used on the back or any other areas which need intensive work. People with smaller arms may find that the face cups work better on their upper arms.
During the first couple of weeks of using the Bellabaci Cup, apply a very light suction for about ten minutes at a time to provide some drainage until your skin becomes elasticised enough. Increase suction gradually to stimulate circulation, remove stagnation, and loosen adhesions.
The Bellabaci cups help maintain well-being and are within reach whenever there is a need to improve your state of health. The cups help the body to detoxify itself, eliminate external pathogens, and improve circulation. It will energize the body, while promoting a state of deep pleasure and profound relaxation.
---
Genie Treatment Oils to Enhance the Benefits of Bellabaci Cups
For best results, use the cups in conjunction with the Bellabaci Genie oils. The Genies combine the benefits of homeopathy, aromatherapy, flower-remedies, and vibrational frequencies. They begin with organic, cold-pressed virgin coconut oil and add extracts from organic, wild-crafted plants. They are blended in the strictest fashion to not compromise any of the benefits each component offers.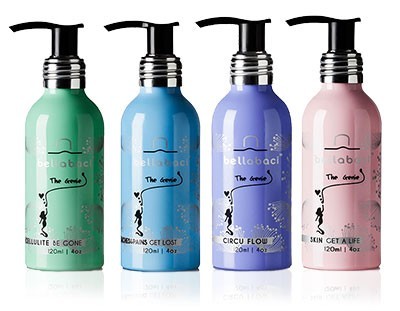 ---
Each Genie is also available in a Combo Kit
Each Genie is also available in a Combo Kit which includes a set of the Bellabaci Body Cups (1 soft and 1 hard), a corresponding Genie treatment oil, and a roomy travel/storage bag. These four Combo Kits are available at a significant discount from buying the items separately.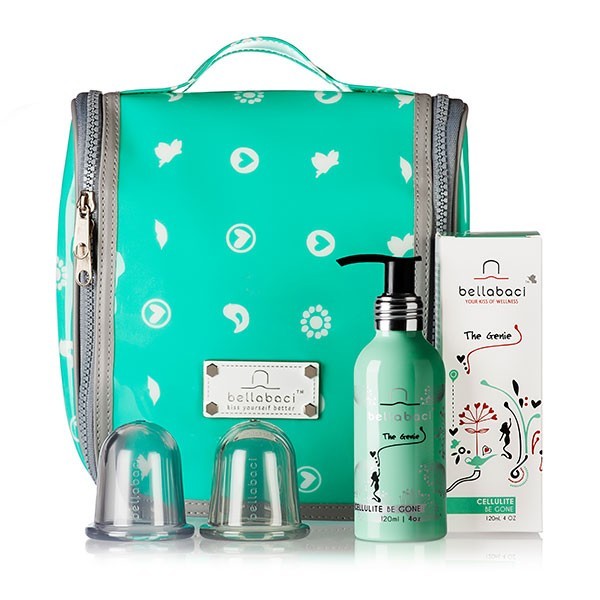 Cellulite Be Gone
Combo Kit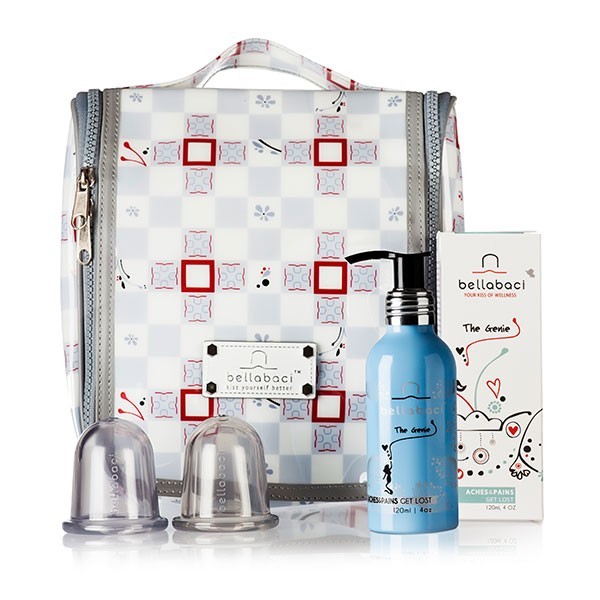 Aches and Pains Get Lost
Combo Kit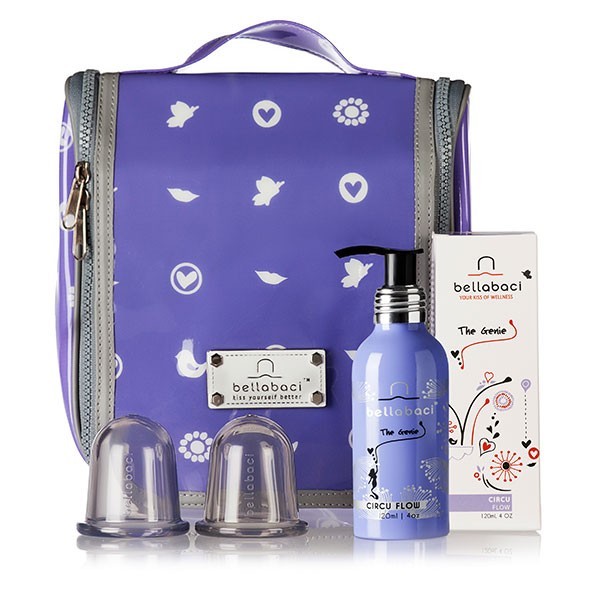 Circuflow
Combo Kit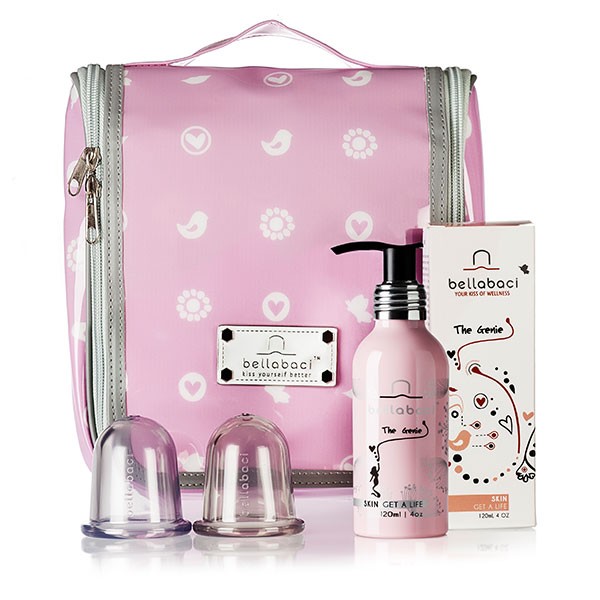 Skin Get A Life
Combo Kit
---
How Does Bellabaci Cupping Therapy Work for Cellulite?
Cupping therapy massage with the Bellabaci Cups can be effective in reducing and eliminating cellulite because it addresses the root cause directly and not just the symptoms. It activates, stimulates and rejuvenates the lymphatic system with a reverse deep tissue massage technique. This cellulite treatment process creates a flow of freshly oxygenated blood that is rich in natural nutrients. This results in the release and clearing of waste and toxins from the fat cells. This subsequently breaks up and removes the orange peel cellulite look and results in smooth and toned skin. Done frequently, the improved circulation removes the "sludge", leaving the fibrous tissue soft, healthy and flexible, and keeping skin looking more youthful.
With the amazing, highly effective and easy to use Bellabaci cups, a daily 8 to 10 minute massage of the affected areas will reduce and eliminate cellulite over time. There is absolutely no reason for expensive treatments and creams. In fact, the absorption, application and effectiveness of cellulite creams are greatly enhanced with Bellabaci cups. In addition, the cups allow for the convenience of individual cellulite removal treatment in the privacy of your own home.
This brief video demonstrates how the Bellabaci Cup is used for cellulite treatment.
Read Directions for Use tab above and watch More Videos about Bellabaci Cups
---
What Causes Cellulite?
Causes of cellulite are varied. The most common combination is related to poor blood circulation, reduced venous flow, impaired lymphatic drainage, and fluid retention which can trigger the transformation of subcutaneous fat cells into cellulite.
The predisposition to cellulite seems to be genetically inherited. Some people simply have more fat cells, weak veins, fragile lymphatic vessels, poor circulation or hormonal sensitivity.
The following also contribute to cellulite in one way or another:
Female Hormones
Pregnancy
Stress
Sedentary Lifestyles
Smoking
Enlarged Lymph Nodes
Obesity
It is important to understand that these factors may not contribute equally in different people. In some people there may be primary and contributing factors that increase the likelihood of cellulite.
Cellulite has 5 stages of development and is considered a solely cosmetic condition. Indeed, until recently, cellulite was not acknowledged in medical literature. Now, research has shown that changes over time in the body's skin structure actually lead to the transformation of fat cells into cellulite.
STAGE 1
Blood microcirculation, venous flow, and/or lymphatic drainage to the subcutaneous layer are impaired. Reduced blood circulation starves and weakens the surrounding tissue, making it more susceptible to cellulite. Reduced venous flow translates to higher fluid retention and pooling of the blood. Reduced lymphatic drainage means that lymph fluids, which normally carry waste away from the cells, become trapped. The septae connective tissue may begin to become more fibrous.
In this stage, all the changes are not visible to the naked eye. There may not be any other symptoms, with the possible exception of cuts and bruises taking longer to heal because of impaired circulation.
STAGE 2
Once circulation is reduced, the capillaries and veins become weakened and leak blood into the surrounding tissue. This increases the pressure in the tissue and restricts circulation and fluid drainage even more. In this stage, you may notice thicker and more tender skin than normal, as well as discoloration or broken veins. The skin may also bruise more easily. However, there is no appearance of lumpy cellulite bumps yet.
STAGE 3
After a few months of lymphatic fluid build up, the fat tissues become swollen and begin to push against the outer skin. This is when the first signs of lumps and the "orange peel" look appear.
STAGE 4
The static lymphatic fluid causes the fibrous septae to congeal into thicker fibers. Cells starved of oxygen and nutrients may also become incorporated into these fibers, thus adding to the thickness of the fibers. These fibers then trap and squeeze the fat cells, which press on the surrounding tissue and reduce circulation even more. Because of reduced circulation, the skin may feel cold to the touch.
STAGE 5
Because of the high pressure, blood circulation is re-routed around the cellulite area. Septae fibers continue to grow to until fat cells are completely trapped. Although fat continues to be stored in these cells, it is not efficiently removed through exercise or diet because of poor circulation.
In this stage, the thick fibers, trapped fat cells, and stagnant fluids form a honeycomb structure called steatoma, this causes the "cheesecake" lumps and bumps that are the hallmark indication of cellulite.
However, YOU can rid yourself of cellulite permanently—in the convenience of your home—by massaging affected areas with Bellabaci cups and oils for just 10 minutes per day.

---
Pain Management
According to traditional Chinese medicine, stagnation is the cause of pain. Once stagnation is removed, one will experience immediate pain relief.
For headaches, massage the neck area to enhance blood flow to the head.
For constipation, massage the stomach area with the cup in a clockwise movement. That will stimulate the peristalsis movement and can provide some relief.
For joint pain, place your cups in a stationary position around the joint.
For muscular pain or for overworked muscles, massage the area with the cup to stimulate blood flow, which will stretch the muscle and remove excess lactic acid.