Paractin MSM - Joint Health Support
Paractin MSM has stronger antioxidant properties than pure MSM. With the addition of Paractin, it has shown in clinical trials to increase mobility in the joints and reduce C-reactive protein. For those who want more flexibility and joint support, along with stronger hair and nails.†
MSM (methylsulfonylmethane) provides all the natural building blocks for healthy, pain-free joints, and is necessary for the formation of connective tissue to maintain joint flexibility and elasticity. MSM is a natural organic source of sulfur, one of the major building blocks of glycosaminoglycans, which are the key structural components in cartilage and play an important role in the maintenance of joint cartilage.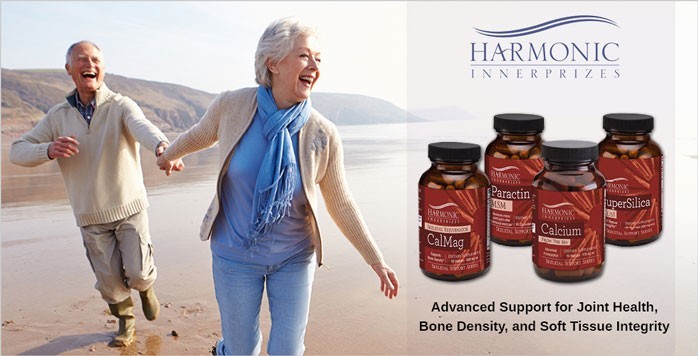 MSM Highlights
Is vital in the formation of keratin, collagen and elastin (disulphide bonds) which give flexibility, tone and strength to muscles, bones, joints, internal membranes, skin, hair and nails.†
Reduces muscle spasms and muscle soreness.†
Paractin MSM contains the world's purest MSM: OptiMSM. Additionally, it has stronger antioxidant and healthy inflammation response properties than MSM alone, because it also contains Paractin. Paractin is a patented extract of Andrographis paniculata, an herb known for its immune stimulating properties.
MSM is often called organic sulfur— as it is 34% sulfur. It's the fourth most abundant element in the body and is a vital component of cartilage and the other soft tissues. Besides providing the body with essential sulfur, MSM has antioxidant and healthy inflammation response properties.
Sulfur helps maintain the structure of connective tissue by forming cross-linkages through disulfide bonds—sulfur strengthens the tissues that make up the joint. The fundamental building blocks of joint cartilage are glycosaminoglycans (GAGS). It is the disulfide bonds that link together the GAG molecular chains. The disulfide bonds reduce conformational flexibility of GAG chains, making cartilage firm and resilient. Cartilage integrity is thus a sulfur-dependent state.
---
Health Benefits of Sulfur
Sulfur is an essential component of various compounds and processes in the body, and is necessary for the synthesis of collagen, immunoglobulin and enzymes. In the body, sulfur gives these benefits as well:
Maintains cell membrane flexibility and permeability, promoting an efficient exchange of nutrients and waste products
Has an immune normalizing effect†
Provides the body with raw materials needed to create new cells and to repair and replace damaged tissues and organs†
Figures into energy production, as a component of insulin and a prerequisite for normal carbohydrate metabolism†
Is essential in maintaining the body's crucial acid/alkaline (pH) balance
Improves the skin, hair and nails
MSM also reduces homocysteine levels in the body, an amino acid produced in the body from the catabolism of methionine. Excessive levels of homocysteine are associated with heightened cardiovascular irregularities†
Supplement Facts - Paractin MSM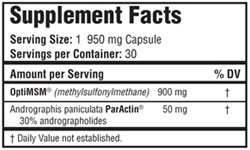 Click to see 30 cap or 90 cap label.
Other Ingredients: Microcrystalline cellulose, L-Leucine, Gelatin capsule.
Hypoallergenic: This product does not contain milk, eggs, soy, fish, Crustacean shellfish, tree nuts, peanuts, wheat, yeast, salt, preservatives, artificial color, flavor, or fragrances.
PROP 65 WARNING: This product may contain one or more chemicals known to the State of California to cause cancer, birth defects, or other reproductive harm.
OptiMSM® is a registered trademark of Bergstrom Nutrition, Vancouver, Washington, USA
ParActin® is a registered trademark of HP Ingredients, Bradenton, Florida, USA
Manufactured by Harmonic Innerprizes, Inc.
Suggested Use - Paractin MSM
Depending on your state of health or nutritional goals, take 1 capsule up to three times daily, preferably with meals, or as recommended by your healthcare provider.
CAUTION: If you are pregnant, may become pregnant, or are breastfeeding, consult your physician before taking this product. Do not use if tamper evident seal is broken or missing. Keep out of the reach of children.
MSM can cause a thinning of the blood, so if you're taking blood thinners, make sure to check with your doctor before beginning this. It is usually safe to take, but you may require a lowering of the dosage of your other medication due to this effect