Estro-Care™ Cream - Natural Phytoestrogens
Notice: Estro-Care cannot be shipped to Canada due to import restrictions.
This cream contains high-quality phytosterols designed to complement healthy active lifestyles of women. Each full pump-press dispenses approximately 25 mg of highly effective natural phytoestrogens
Estro-Care Benefit Highlights
Designed as an optimal balance solution, the Estro-Care formula contains phytoestrogens such as Red Clover Tops Extract, Black Cohosh Extract, and Dong Quai Root Extract in a natural cream that does not contain sythentics, such as parabens.
Additionally, Estro-Care provides the benefits of:
MSM and Hyaluronic Acid to soothe skin and leave it looking younger
An airtight, hygienically sealed container
Easy to dispense, pre-measured pump with ~25mg of natural phytoestrogens per pump
A non-greasy formula that absorbs easily
An all natural cream free of synthetics and PARABEN FREE
---
Hormone Balance
At different times in the life of a women, hormonal imbalance can result in symptoms of PMS, perimenopause, and menopause. For those with low levels of estrogen, phytoestrogens (plant estrogens) are believed to help in the right quantities and from natural sources. Although soy is among the most known source of phytoestrogens, other natural phytoestrogens, such as those in red clover, black cohosh, and Don Quai, may also bring about the same benefits.
Phytoestrogens for Women Age 50+
Many older women experience a sharp decline in estrogens as they approach menopause. In these cases, adding natural estrogen, such as in the form of phytoestrogens - may provide the following benefits (according to DrAxe.com/phytoestrogens):
Improve heart health
Help offset symptoms of hormone imbalance related to menopause (such as hot flashes, mood swings)
Support healthy weight management goals
Self-Care to Support Hormone Balance
Self-care, including exercise and a healthy diet, is an important foundation for hormone balance. Estro-Care is specially formulated to help support a healthy hormone balance in women seeking a source of natural estrogen. It is suggested that you consult a health-care practitioner to determine your current hormone levels before beginning any hormone replacement therapy .
---
Additional Hormone Balance Support
BiEstro Care
BiEstro-Care™ is a combination of two estrogens for optimal balance solutions in an 80/20 ratio.
Combines two estrogens for Optimal Balance Solutions in an 80/20 ratio
Each full press of the pump provides approximately 1 mg of natural Estriol USP and 0.25 mg of natural Estradiol USP
Formulated to contain 24 mg of estriol and 6 mg of estradiol per ounce
Packaged in an airtight hygienically sealed container
Does not contain synthetic preservatives such as parabens.
---
Creams Containing Estrogen and Progesterone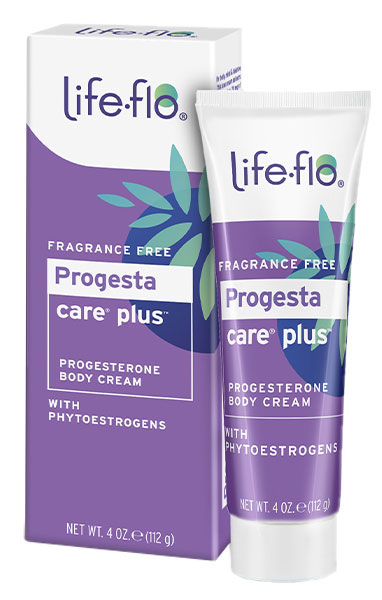 Progesta-Care PLUS
For women who are experiencing menopausal symptoms such as hot flashes and need estrogen supplementation, Progesta-Care PLUS is an excellent cream that contains both natural progesterone and phytoestrogens. Paraben free.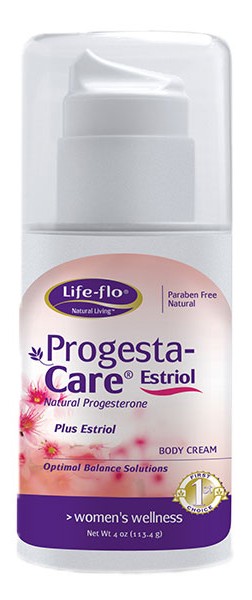 Progesta-Care Estriol
For women looking for both natural progesterone plus estrogen supplementation, Progesta-Care Estriol an optimal balance blend of natural progesterone and estriol. Paraben free.
Progesta-Care PLUS and Estriol are NOT for women with large fibroids, and who DO NOT have their estrogen dominance under control. Choose regular Progesta-Care instead.
Alternatively, those requiring only progesterone, such as those with estrogen dominance, may choose creams containing only progesterone such as Progesta-Care or Progesta-Care Complete may help.
---
Further Reading
Product Facts - Estro-Care Cream
Packaged in a 2 oz airtight clinical hygienic pump - Each ounce contains approximately 600mg natural phystoestrogens.
Applications per Container: Approximately 48 full pump applications containing 25mg natural phytoestrogens.
Ingredients: Purified Water, Glycerin, Aloe Barbadensis, Butyrospermum Parkii (Shea Butter), Stearic Acid, Helianthus Annuus (Sunflower) Seed Oil, Caprylic/Capric Triglyceride, Glyceryl Stearate, Phenoxyethanol and Caprylyl Glycol, Sodium Bicarbonate, Methylsulfonylmethane (MSM), Sodium Hyaluronate (HA), Flavonoid, Oenothera Biennis (Evening Primrose) Oil ,Tocopherol (Vitamin E), Potassium Sorbate, Allantoin, Lecithin, Trifolium Pratense (Clover) Extract, Vitis Vinifera (Grape) Seed Extract, Cimicifuga Racemosa Root (Black Cohosh) Extract, Vitex Trifolia Fruit Extract, Angelica Polymorpha Sinensis (Don Quai) Extract, Serenoa Serrulata Fruit (Saw Palmetto) Extract, and Turnera Diffusa Leaf Extract.
No animals were used to test this product. Free of synthetics and parabens. Non-greasy and formulated for excellent absorption.
Manufactured by Seychelles Organics Inc. for Life-Flo Health Care Products. Made in the USA.
Suggested Use - Estro-Care Cream
Apply once or twice a day or as recommended by your health care practitioner. Dispense cream into the palm of your hand and rub onto the skin of your chest, abdomen, inner arms or thighs – rotating area each time.
---
Please Note: It is not recommended to use any topical estrogen in body locations that alpha hydroxy acids have been used within the last 24 hours. Some data indicate such exfoliating acids may interfere with estrogen absorption.†
Always check with a licensed health care practitioner before you use any hormones, even natural, bioidentical hormones. They will help you to find the ideal dosage based on your needs and other factors that vary for each person.
Caution: For external use only. Avoid contact with eyes. Keep out of reach of children. If irritation, redness or discomfort occurs, discontinue use and consult a licensed health-care practitioner.