Gastro Guardian - Bee Propolis and More for Digestive Comfort
Put the Honeybees' Intuitive Knowledge to Work for Your Digestive Health
NaturaNectar Gastro Guardian†™ features a three-decade-old, original formula from Salomon Propolis® that has helped millions of people in Europe and Scandinavia who are challenged by digestive discomforts. Now here in America, you too can benefit from yet another incredible gift from the beehives.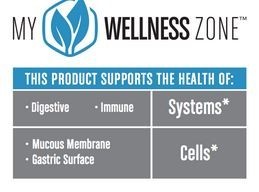 Alleviates occasional acid regurgitation†
Promotes stomach comfort†
Supports digestion†
Reduces incidence of gas†
Excellent travel protection from effects of unknown foods†
---
Exclusive to NaturaNectar Gastro Guardian†™
NaturaNectar Gastro Guardian†™ is the only digestive formula to feature FLAV™ M15 extract, made of pure standardized flavonoids from premium Brazilian propolis (Brown 85%, Green 10% and Red 5%), and combined in a proprietary blend of Licorice DGL and Fenugreek seed extract.
Green Extraction is NaturaNectar's patent protected and exclusive extraction method that assures pure flavonoids from bee propolis while eliminating nearly all the impurities and beeswax. Only water is used for extraction. No chemical solvents are used.
---
Bee Propolis and Digestion Support
Bee Propolis has been scientifically studied to help promote good bacteria in the digestive tract.
In combination with Licorice DGL and Fenugreek seed extract,
NaturaNectar Gastro Guardian may help with the following:

Supplement Facts - Gastro Guardian
Quantity per Container: 60 vegetable capsules
Serving Size: 1 capsule
Servings per Container: 60
Other Ingredients: Cellulose (plant origin), magnesium stearate (plant origin), silicon dioxide.
NaturaNectar Bee Propolis Trio does not contains alcohol, sugar, starch, wheat, gluten, yeast, milk (lactose), egg, shellfish, artificial preservatives, flavors, dyes or colors.
Directions: Take one capsule by mouth three times a day to support digestion or for travel comfort.† May be taken in conjunction with our other unique life solutions daily, or as recommended to help protect and activate your wellness naturally.†
Caution: As with any nutritional supplement, it is advised to consult your physician before taking, especially if pre-existing conditions are present. Do not take if pregnant or breastfeeding. Use with caution if allergic to bee products. Prolonged use of fenugreek may cause a maple syrup odor in your sweat and/or urine.
Store in a cool, dry place. Keep out of reach of children.
Developed and distributed in the USA by Natura Nectar LLC.
† These statements have not been evaluated by the U.S. Food and Drug Administration (FDA) or EnergeticNutrition.com. This product is not intended to diagnose, treat, cure or prevent any disease. The information provided on this site is for informational purposes only and is not intended as a substitute for advice from your physician or other health care professional or any information contained on or in any product label or packaging. You should not use the information on this site for diagnosis or treatment of any health problem or for prescription of any medication or other treatment. You should consult with a health care professional before starting any diet, exercise or supplementation program, before taking any medication, or if you have or suspect you might have a health problem, or are pregnant. When you receive an item, carefully read all labels, warnings, and directions before use. Actual product packaging and materials may contain more and/or different information than shown on this website.