Joint Bursts - Joint Support Soft Chews by NeoCell
MANUFACTURER CURRENTLY OUT OF STOCK. ETA UNKNOWN.
Collagen Type 2, the primary ingredient in Joint Bursts, makes up 50% of cartilage protein. As we age, levels of this type of collagen decrease. As a result, cartilage is weakened or stops regenerating. This often leads to the "creaks and squeaks" experienced in joints.
Without adequate amounts of cartilage and the lubrication of hyaluronic acid, joints will eventually rub together and cause a variety of pain and inflammation issues.
With Joint Bursts Soft Chews, giving your joints support with Collagen 2, turmeric extract, and hyaluronic acid has never been this easy - or delicious!
---
Nourish Your Joints With a Trio of Benefits
Today, Collagen Type 2 supplements can stimulate new and abundant collagen production and improve joint and cartilage health.† The most effective method for taking Collagen Type 2 is in an oral supplement which has been hydrolyzed (broken down into small particles called peptides) for maximum absorption.
The three joint-health nutrients in Joint Bursts work together to support flexibility, mobility and comfort:†
Collagen Type 2
The main structural protein of joint cartilage, Type 2 collagen, derived from chicken sternum, provides strength and cushioning to joints, and supports connective tissue. † It offers support specific to the function and recovery of cartilage after events like sports injuries, a broken nose, or meniscus injury.† Additionally, it helps support back, jaw, knee for overall joint health.† Type 2 Collagen is tolerated by most people, and is gluten-free, dairy-free, and non-gmo.
Hyaluronic Acid
The primary component of synovial fluid which lubricates the joints and provides a cushion that minimizes wear and tear, acts as a shock absorber, and promotes elasticity.† It provides hydration to the skin, and eyes and may protect against the oxidative damage of UVB light.†
Turmeric
Also known as curcumin, turmeric has been used for centuries in Eastern and Indian medicine among other practices. Both tradition and recent research suggest that turmeric promotes a healthy inflammatory response within joints and other areas of the body.†
---
Joint Support Soft Chews Video
---
Collagen Type 2: The Cartilage Protein
Collagen Type 2 makes up 50% of all protein in cartilage and 85-90% of collagen in articular cartilage. The decrease in collagen production during the aging process often results in degradation of joint strength and health. This degradation is thought to be the reason that one out of every three Americans over the age of 60 suffers from Osteoarthritis.†
Collagen Type 2, derived from chicken sternum, provides numerous benefits. It has peptides that serve as building blocks for triggering natural collagen production, and is specific to cartilage tissue function, reproduction and maintenance. Naturally present hyaluronic acid and chondroitin provide all the components to encourage healthy cartilage and joint lubrication.
Type 2 Chicken Sternum Collagen is also tolerated by most people, and is gluten-free, dairy-free, and non-gmo.
Supplementing with Collagen Type 2 May Also:
Help speed recovery after injuries such as those from sports, a broken nose, or meniscus issues†
Support back, jaw, and joint health†
Alleviate symptoms associated with joint-related issues such as arthritis†
---
---
About NeoCell
NeoCell has been developing and manufacturing all natural, premium anti-aging formulas for over 20 years and is the leading collagen brand in the world. Their products are naturally based, not synthetic, and are designed to promote youthful health, beauty and total body wellness. They manufacture their own products using carefully sourced food-grade raw materials and their facility exceeds all GMP standards. They strive to continuously bring the best to their customers – products that they and their own families are proud to use, made with Nutrients You Can Trust®.
Supplement Facts - Joint Burst Chews by NeoCell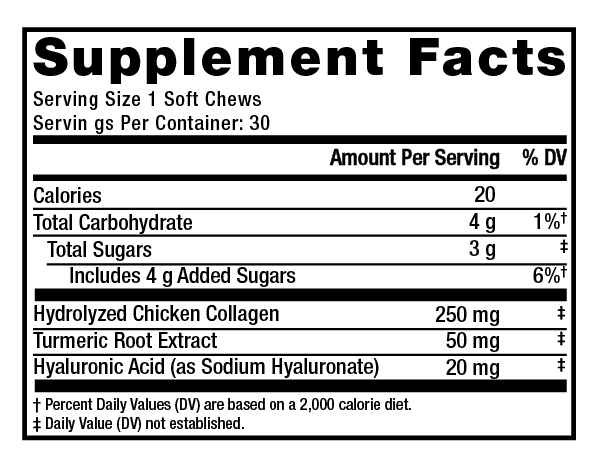 See FULL LABEL
Ingredients:
Sternal Chicken Collagen - 250mg natural chicken collagen Type 2 protein containing: Hyaluronic Acid (HA), Glucasimine, and Chondroitin
50mg Turmeric Root Extract (Curcuma Longa) 82% curcuminoids
20mg Hyaluronic Acid
Other Ingredients: Dried cane syrup, rice syrup, natural flavors, sunflower lecithin, sunflower oil, citric acid, malic acid, glycerin.
Does Not Contain: Soy, wheat, lactose, palm oil, GMOs, or artificial flavors.
GLUTEN FREE
WARNING: KEEP OUT OF REACH OF CHILDREN. If you are pregnant, nursing, or have a medical condition, consult your physician before using this product.
GMP Certified.
Manufactured by NeoCell Corporation.