Horse Chestnut Cream
Horse Chestnut Cream combines a concentrated extract of horse chestnut seed and bark extract (20% aescin) with additional renowned astringent tonifiers and circulatory herbs, such as butcher's broom, witch hazel, white oak and myrrh. An advanced liposomal delivery system is used to support tonification and deep moisturizing.

Support for Healthy Legs
Word is spreading in the United States about the benefits of horse chestnut - a traditional botanical widely used in Europe to support vein integrity, especially in the legs.
Centuries of Use
The botanical properties of Horse Chestnut were first described by Italian medical botanist Mathiole in 1565, and the plant was widely used throughout Europe by the 18th century. In 1896, a French researcher, Artault de Vevey, reported on horse chestnut's benefits for the health of blood vessels.
---
Clinical Studies Document Horse Chestnut's Benefits
Today a growing body of research is confirming horse chestnut's benefits for circulatory health - turning horse chestnut into one of the top ten best-selling herbs in Europe.
Horse chestnut's benefits are associated with a variety of constituents, but especially with a group of saponins collectively known as aescin. Horse chestnut is also a valuable source of bioflavonoids, including the subclass of flavonoids known as proanthocyanidins, renowned for their antioxidant activity. When taken internally, research has shown horse chestnut's constituents to strengthen the capillaries (the minute blood vessels that connect arteries and veins), support normal blood flow, and support the normal exchange of fluids through cell membranes.
Clinically Derived Formulas
Planetary Herbals Horse Chestnut Cream was developed in light of the latest advances in modern pharmacological research and the clinical experience of one of the world's foremost herbal authorities, Michael Tierra, L.AC., AHG. An acupuncturist, herbalist and author, Michael integrates classic Western, Ayurvedic and Chinese herbal formulations with the knowledge gained from modern research and more than 30 years of clinical experience.
This premier horse chestnut compound is unsurpassed for dependability and consumer satisfaction.
Supplement Facts - Horse Chestnut Cream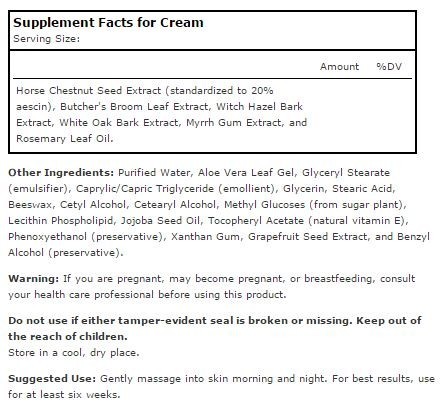 Suggested Use: Gently massage into skin morning and night. For best results, use for at least six weeks.
Manufactured for: Planetary Herbals, LLC. Soquel, CA.
† These statements have not been evaluated by the U.S. Food and Drug Administration (FDA) or EnergeticNutrition.com. This product is not intended to diagnose, treat, cure or prevent any disease. The information provided on this site is for informational purposes only and is not intended as a substitute for advice from your physician or other health care professional or any information contained on or in any product label or packaging. You should not use the information on this site for diagnosis or treatment of any health problem or for prescription of any medication or other treatment. You should consult with a health care professional before starting any diet, exercise or supplementation program, before taking any medication, or if you have or suspect you might have a health problem, or are pregnant. When you receive an item, carefully read all labels, warnings, and directions before use. Actual product packaging and materials may contain more and/or different information than shown on this website.