Ionic-Fizz Super D-K Calcium Plus
Each scoop of Ionic-Fizz™ Super D-K Calcium Plus™ has 250 mg of calcium and 300 mg of magnesium, along with 1000 IU of vitamin D3 and 45 mcg of the MK-7 form of vitamin K2 (the best for building strong, healthy bones and teeth). Magnesium helps bones to retain a supple flexibility so that they can withstand more stress. Along with vitamin D3, it also helps the body absorb calcium and deposit it in the bones. Calcium without magnesium can end up in the kidney, brain, heart, and other soft tissues.†
Several other nutrients are also required for good bone health. These include beta carotene, vitamin C, vitamin B6, folate, vitamin B12, zinc, copper, manganese, potassium, silica, boron, and many other trace elements. Ionic-Fizz™ Super D-K Calcium Plus™ includes them all in a blend that we believe is one of the most supportive bone health supplements ever offered.†
Some 99% of the body's calcium is stored in the bones and teeth. However, bones also contain large levels of phosphate, carbonate, magnesium, and other factors. The reason we need calcium and magnesium in the diet each day is that there is a constant turnover of these minerals in the bones. In other words, the body pulls calcium from bones to maintain a proper acid/alkaline balance in the blood, and also pulls old calcium out to make room for new calcium. It's like repainting the house, where the old paint is chipping off and a new coat is needed to maintain structural integrity. Bones are constantly being "remodeled."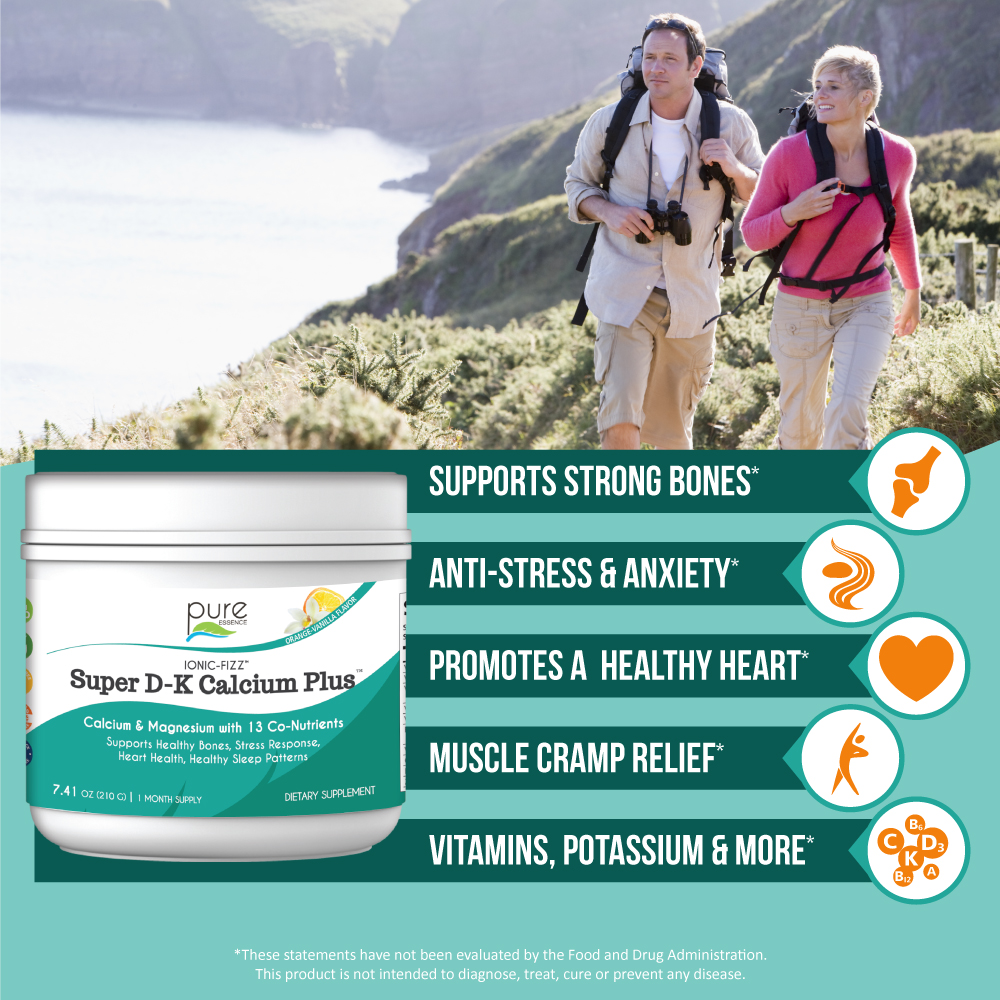 ---
About Pure Essence Labs
Pure Essence Labs was founded to offer high quality, safe and effective dietary supplement formulas to benefit human health, while demonstrating a firm commitment to planetary ecology. Pure Essence Labs strives to promote both holistic health and a holistic lifestyle. They create their formulas using an ideal balance of East-meets-West traditions and practices to work in synergy to support all body systems.
Pure Essence Labs Formula Check List
Hand-selected raw materials
Ingredients backed by sound science to serve a solid purpose in a particular formula
Acceptable to holistic health disciplines such as Ayurvedic and Traditional Chinese Medicine
Each ingredient tested 3x for identity, heavy metals, and toxins to ensure purity and safety
---
Supplement Facts - Ionic-Fizz Super D-K Calcium Plus
Serving Size: 1 Level Scoop (7g)
Servings per Container: 30
This product does not contain artificial colorings or flavorings, GMOs, sugar, yeast, daily, gluten, wheat, peanuts, tree nuts, or shellfish, and is suitable for vegetarians.
Storage: Keep tightly closed at room temperature.
CAUTION: Please keep all supplements out of children's reach.
Distributed by Pure Essence Labs, Inc. P.O. Box 95397, Las Vegas, NV 89193
Raspberry Lemonade Flavor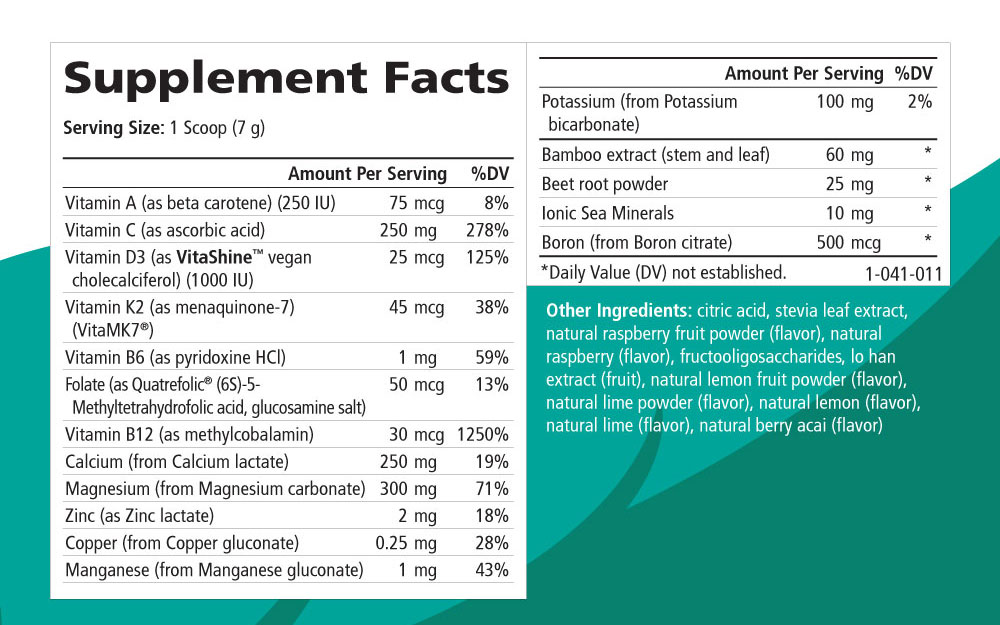 Orange Vanilla Flavor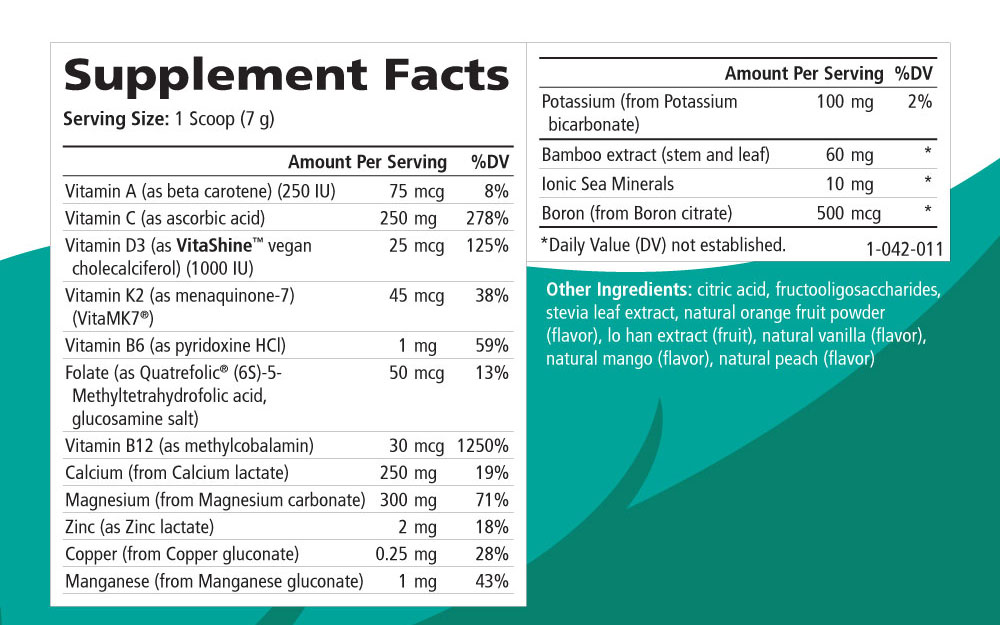 Mixed Berry Flavor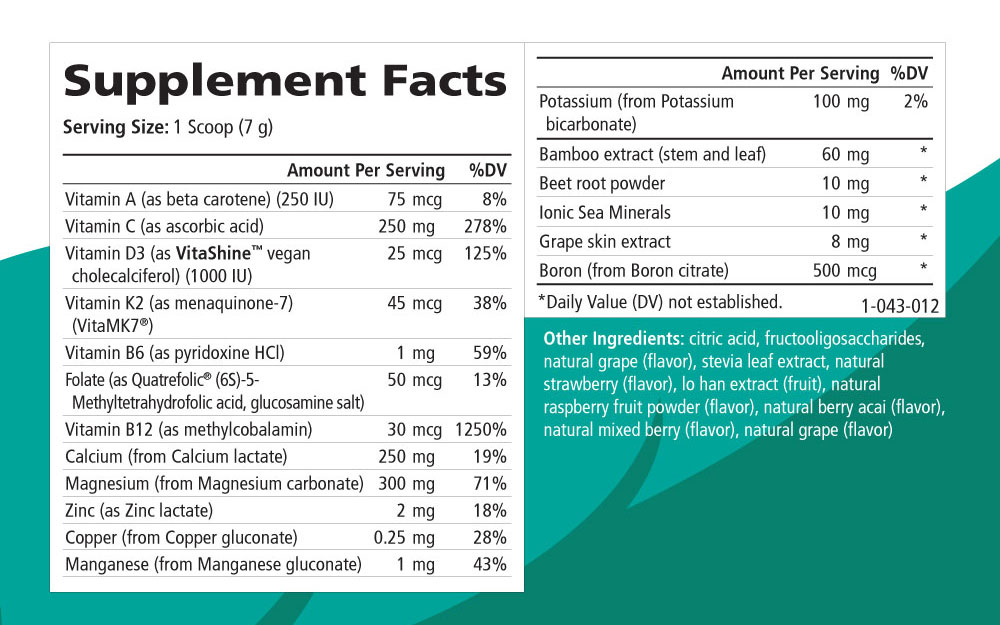 Suggested Use - Ionic-Fizz Super D-K Calcium Plus
One level scoop per day in 6-8 ounces of water.
† These statements have not been evaluated by the U.S. Food and Drug Administration (FDA) or EnergeticNutrition.com. This product is not intended to diagnose, treat, cure or prevent any disease. The information provided on this site is for informational purposes only and is not intended as a substitute for advice from your physician or other health care professional or any information contained on or in any product label or packaging. You should not use the information on this site for diagnosis or treatment of any health problem or for prescription of any medication or other treatment. You should consult with a health care professional before starting any diet, exercise or supplementation program, before taking any medication, or if you have or suspect you might have a health problem, or are pregnant. When you receive an item, carefully read all labels, warnings, and directions before use. Actual product packaging and materials may contain more and/or different information than shown on this website.