One 'n' Only - The Superior Tonic Multiple
One 'n' Only is, quite simply, the most complete, energetic one per day supplement ever offered. Naturally, it provides a perfect balance of every vitamin and mineral (with 78 ionic trace minerals), and all in the forms the body prefers. But, it also provides over 1930 mg of the world's most potent SuperFoods (green foods)—literally flooding cells with the fuel they need to do their work. This is six times more green food value than any other one per day supplement provides.
Most importantly, it provides over 4000 mg of tonic herbal value per day—over 40 times more than any other one per day supplement. Tonic herbs provide thousands of phytonutrients that exist in no other plants on Earth. These nutrients have been shown, in over 4000 years of observation, to improve the efficiency of every type of cell in the body.† This is vital because health is simply the reflection of how efficiently cells can function.
One 'n' Only is designed for those who simply will not take more than one tablet per day, but want the energy and nutritional completion of Life Essence. While it can't provide much calcium or magnesium in a single tablet, it can offer a superb blend of virtually everything else you need.
In addition to its vitamins and minerals, One 'n' Only provides 6,600 mg of the world's most potent SuperFoods and Tonic Herbs. This is more than any three or four tablet formula (except for Life Essence), and over 20 times more than you'll find in any other once daily multiple. These foods and herbs deliver over 1000 different phytonutrients that enhance metabolic efficiency in ways that vitamins and minerals simply cannot do alone.†
We recommend Life Essence to everyone, because we believe virtually everyone needs the levels of nutrition it provides. But, if you simply can't bring yourself to take more than one tablet per day, One 'n' Only is the next best thing.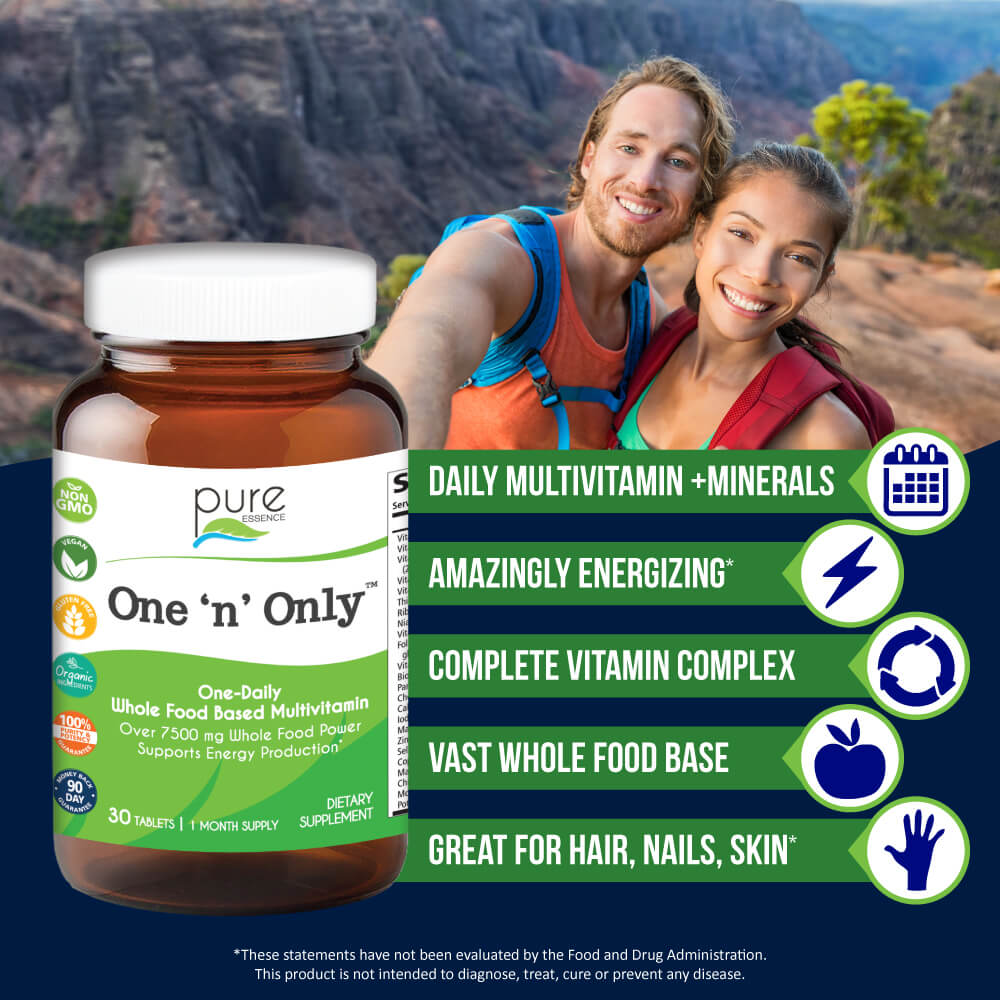 ---
Health Equals Cellular Efficiency
In every moment of every day, cells in the body are busy conducting over one million different types of biochemical reactions. Health is simply the reflection of how efficiently these reactions occur.
Maintaining biochemical efficiency, however, is easier said than done, because, every day, cells are damaged by glycation, calcification, free radicals, etc. Thus, the key to a long and healthy life is to guard against such damage.
Vitamins and minerals help maintain cellular efficiency by activating enzyme systems that are essential to cellular function. Green foods empower cellular efficiency by providing the energy cells require to fuel their metabolic chores. But, phytonutrients are perhaps most important of all, because they can actually prevent and repair the damage done to cells.†
---
Preserving Cellular Integrity with Phytonutrients
"Phyto" is simply a prefix meaning of, from or relating to plants. Thus, phytonutrients are the nutrients found in various forms of plant life. These nutrients are so important that nutritionists recommend at least seven servings of fruits and vegetables per day.
Sadly, less than one in five Americans get even half of this amount. Even those who do may get only fractions of the phytonutrients they need, because the U.S. Department of Agriculture says that it takes seven cups of today's spinach to equal the nutrition that a single cup provided in 1960! This is why phytonutrient supplements have become so vital.
---
What Should Supplements Provide?
The purpose of dietary supplements is to provide the nutrients that are scarce in foods. Sadly, however, few supplements do this. While the modern diet is far more deficient in phytonutrients than vitamins and minerals, most supplements provide vitamins and minerals, and nothing else.
Naturally, these vitamins and minerals are important. But, using them alone is like eating only the Vitamin C from an orange, while throwing the rest of the nutrients away.
We all know, through simple instinct, that a salad made of many vegetables is better than a plateful of lettuce alone, because any group of foods provides a wider variety of nutrients than any one food by itself. Since our foods are deficient in so many nutrients, we should think of supplements in the same way.
In short, our supplements should be as much like foods as possible. Since our foods are so deficient in phytonutrients, we should insist that our multiple vitamin and mineral supplement provide them.
---
Why One 'n' Only™
While no one knows the exact number of different nutrients needed for optimal health, we do know that vitamins and minerals are not enough, and that "phytonutrients" are also required.
One 'n' Only combines its vitamins and minerals with the widest variety of phytonutrients ever offered in a "one per day", and is thus the most supportive "one daily" available anywhere.
One 'n' Only is 100% vegetarian, and hypoallergenic.
So, if you want to take just one tablet daily while enjoying the energy, vitality, and general well being that only truly complete nutrition can bring, step up to One 'n' Only today.
---
What One 'n' Only™ Doesn't Have
The body treats different forms of the same nutrients in entirely different ways. Calcium carbonate, for example, is very poorly absorbed, while calcium citrate is absorbed quite well. Most consumers do not understand these finer nutritional points, because they have not been taught about how the body treats specific nutrient forms. Even astute nutritionists can be fooled by complex labeling laws.
Many micro-nutrients like folic acid, vitamin B-12, selenium, chromium and biotin are used in such small amounts that the only way to disperse them evenly through a large batch of nutrient mix is to first "triturate" them (spray them onto a carrier substance).
Such carriers are almost always dicalcium phosphate, baby laxatives or sugars, which are substances we would not want our own families to use. Legally, when these ingredients are used only as carriers for other nutrients, they can be present in supplements without being listed on labels. Because raw material suppliers do not stock triturated nutrients without the carriers mentioned above, we make our own, so that we can be sure they are sprayed on calcium citrate and other materials that provide legitimate nutritional value. The same care is taken with other ingredients.
Pure Essence labs pays above market price for tonic herbs that are never treated with hexane, benzene, ethylene oxide or other synthetic chemicals. This also insures that they are "full spectrum" extracts, so that you get every nutrient with which Nature blessed them, rather than having certain nutrients stripped out during processing.
---
About Pure Essence Labs
Pure Essence Labs was founded to offer high quality, safe and effective dietary supplement formulas to benefit human health, while demonstrating a firm commitment to planetary ecology. Pure Essence Labs strives to promote both holistic health and a holistic lifestyle. They create their formulas using an ideal balance of East-meets-West traditions and practices to work in synergy to support all body systems.
Pure Essence Labs Formula Check List
Hand-selected raw materials
Ingredients backed by sound science to serve a solid purpose in a particular formula
Acceptable to holistic health disciplines such as Ayurvedic and Traditional Chinese Medicine
Each ingredient tested 3x for identity, heavy metals, and toxins to ensure purity and safety
---
The Ancient Wisdom of the Superior Tonic Herbs
Superior Herbs are the world's oldest dietary supplements. For 4000 years, holistic physicians have used them to help their patients build and maintain health. Every day, Superior Herbs are used by hundreds of millions of people in Asia. They should be the foundation of every nutritional regimen and with One "n" Only formula they are. Superior Tonic Herbs can be used daily to help:
Generate energy
Enhance immunity
Promote mental clarity
Maximize longevity
And more
In Traditional Chinese Medicine, every cell in the body belongs to one of five major organ systems (Heart, Lung, Spleen, Kidney and Liver). When energy is flowing freely between these systems, and when each system is working efficiently, health is abundant. When energy flow is disturbed, however, imbalances occur. If not corrected, these imbalances can have a negative impact on cellular metabolism leading to many different conditions, such as:
To be regarded as Superior, an herb must be safe for daily use, support at least one major organ system, and build either the surface energy that fuels us from day to day or the deep energy reserves that see us through times of major trauma. One 'n' Only formulas are designed to bridge the gap between what we need, and what we get from the modern diet. The benefits from this one daily are superb to other in at least four ways:
They provide ideal potencies, forms and balances of all vitamins and minerals, which activate the enzyme systems required for cellular function.
They provide antioxidant to protect cells against damage and death.
They provide from 12 to 50 times more whole food value than any other on daily. That means more energy, which means greater cellular efficiency.
They provide the equivalent of 4000 mg of raw Superior Herbs each day, which promotes cellular efficiency in every possible way.
---
How the Foods and Tonic Herbs in One 'n' Only™ Help Support Optimal Health.
Organic Spirulina: Provides perfect protein, premade glycogen (for instant energy), beta carotene and phycocyanin, which is being found to provide countless health benefits.†
Chlorella: A remarkable algae that is the world's richest source of chlorophyll.
Organic Oatgrass juice: Rich in SOD, (an antioxidant that may support healthy aging) and enzymes†
Condonopsis: Supports spleen, lungs, blood, immune function†
Schizandra: Builds energy in all organ systems†
Astragalus root: Supports spleen, lungs, blood, immune function, digestion†
Supplement Facts - One 'n' Only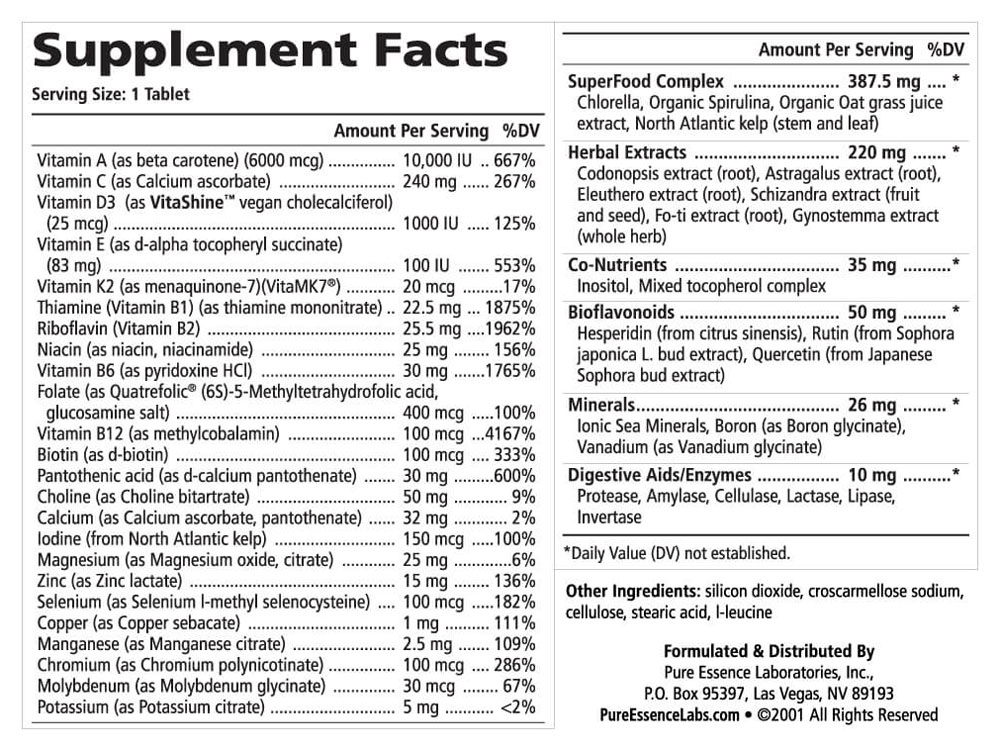 Serving Size: 1 Tablet
Suggested Use: One tablet daily. May be taken with a meal or on an empty stomach.
Ingredients: Astragalus extract,Biotin (as d-biotin), Boron (as Boron glycinate), cellulose, Chlorella, Choline (as Choline bitartrate), Chromium (as Chromium polynicotinate), Codonopsis extract, Copper (as Copper sebacate), croscarmellose sodium, Eleuthero extract, Folate (folic acid), Fo-ti extract, Gynostemma extract, Hesperidin (from citrus sinensis), Inositol, Ionic Sea Minerals, l-leucine, Magnesium (as Magnesium citrate), Magnesium (as Magnesium oxide), Manganese (as Manganese citrate), Mixed tocopherol complex, Molybdenum (as Molybdenum glycinate), Niacin (as niacin), Niacin (as niacinamide), North Atlantic kelp (stem and leaf), Organic Oat grass juice extract, Organic Spirulina, Pantothenic acid, Potassium (as Potassium citrate), Protease, Amylase, Cellulase, Lactase, Lipase, Invertase, Quercetin (from Japanese Sophora bud extract, Riboflavin (Vitamin B2), Rutin extract, Schizandra extract, Selenium (as Selenium l-methyl seleno Cysteine, silicon dioxide, stearic acid,Thiamine (Vitamin B1),Vanadium (as Vanadium glycinate), Vitamin A (as beta carotene), Vitamin B12 (as methylcobalamin), Vitamin B6 (as pyridoxine HCl), Vitamin C (as Calcium ascorbate), Vitamin D3 (as cholecalciferol), Vitamin E (as d-alpha tocopheryl succinate, and gamma, delta, and beta tocopherols), Vitamin K (as phylloquinone), Zinc (as Zinc lactate)
Other Ingredients: silicon dioxide, croscarmellose sodium, cellulose, stearic acid.
Contains: Soy
Storage: Keep tightly closed at room temperature.
Caution: Please keep all supplements out of children's reach.
Distributed by Pure Essence Labs, Las Vegas, NV