Probiotic 10/50 by Vitälzӯm
World Nutrition's proprietary blend of probiotics function powerfully together, Probiotic 10/50 by Vitalzym contains 50 Billion CFUs of probiotics plus 2 prebiotics. The species of living microorganisms benefit the health of the host through regulating the balance of intestinal flora and re-establishing micro-ecological balance colonized in the gut and genital system.†
What Can I Use Probiotic 10/50 by Vitälzӯm For?
Probiotic 10/50 by Vitälzӯm contains five strains of each Lactobacillus and Bifidobacterium — 10 of the most clinically researched probiotic strains in the world. Replenishing these probiotics can positively impact your health and may help:
Boost Immunity†
Lower Cholesterol Levels†
Regulate Diarrhea†
Promote Digestion and Absorption†
Inhibit Growth of Pathogenic Organisms†
Prevent Reproductive Tract Infection†
---
Probiotic 10/50 is Uniquely Formulated
Probiotic 10/50 is uniquely formulated to be a highly powerful combination of the 10 most clinically researched probiotic strains, in a potent concentration of 50 billion CFU (colony forming units). Additionally, Probiotic 10/50 was designed with delayed release in mind, passing through the acidic environment of the stomach to target the key areas of maximum absorption and benefit, as 5 of the 10 strains in Probiotic 10/50 target the upper GI tract, and 5 target the lower GI tract. This specific balance ensures maximum effectiveness.
Further increasing the effectiveness of Probiotic 10/50 is its high potency formulation containing not only 50 billion CFU, but two prebiotics that enhance Probiotic 10/50's shelf life. This product requires no refrigeration.
This is all found in a daily dose of just one capsule. For best results take in conjunction with Vitalzym Digestive Enzymes.
---
Why Buy Vitalzym from Energetic Nutrition?
We are an Authorized World Nutrition Retailer, and one of their largest worldwide retailers.
We receive a fresh supply of products every week, which is kept under climate control.
We have been in business since 1996, and a trusted website since 1997.
Order by 12pm PST and we'll ship the same day (exceptions may apply).
Our knowledgeable staff is available to answer your questions by phone, email, or live chat.
We are known for our excellent customer service and educational support.
We truly care about your health, and we really appreciate your business!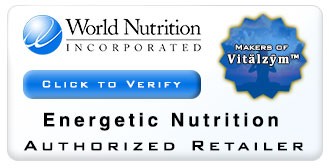 Supplement Facts - Probiotic 10/50 by Vitalzym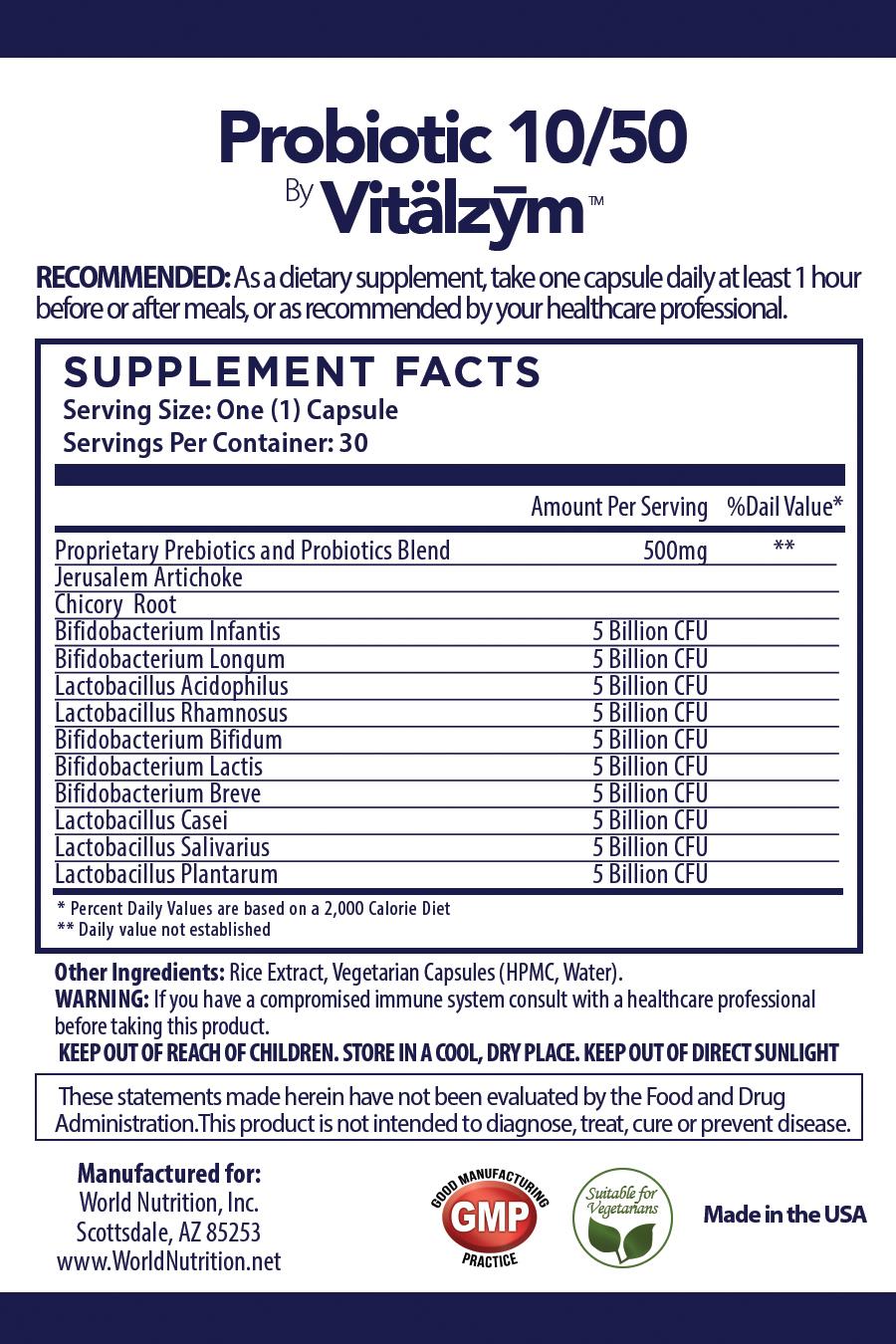 Serving Size: One (1) Capsule
Servings per Container: 30 Capsules
Amount per Serving: Proprietary Prebiotics and Probiotics blend - 500 mg.
Other Ingredients: Rice extract, Vegetarian Capsules (HPMC, Water).
Requires NO refrigeration. Contains NO animal derivatives, artificial favors or colors, yeast, gluten, soy or talc and is lactose free.
---
Manufactured for World Nutrition, Inc. World Nutrition's products are USP grade (United States Pharmacopeia). USP is a publication established in 1820 that contains legally recognized standards of identity, strength, quality, purity, packaging, and labeling for drug substances, dosage forms, and other therapeutic products, including nutritionals and dietary supplements.
Suggested Use - Probiotic 10/50
As a dietary supplement, take one capsule daily at least one hour before or after meals, or as recommended by your healthcare professional.
WARNING: if you are pregnant or lactating, or have a compromised immune system, do not take this product without direction or supervision from your healthcare practitioner.
Keep out of reach of children. Store in a cool, dry place. Keep out of direct sunlight.
† These statements have not been evaluated by the U.S. Food and Drug Administration (FDA) or EnergeticNutrition.com. This product is not intended to diagnose, treat, cure or prevent any disease. The information provided on this site is for informational purposes only and is not intended as a substitute for advice from your physician or other health care professional or any information contained on or in any product label or packaging. You should not use the information on this site for diagnosis or treatment of any health problem or for prescription of any medication or other treatment. You should consult with a health care professional before starting any diet, exercise or supplementation program, before taking any medication, or if you have or suspect you might have a health problem, or are pregnant. When you receive an item, carefully read all labels, warnings, and directions before use. Actual product packaging and materials may contain more and/or different information than shown on this website.