LifeSource Supersprouts
Quite simply, LifeSource SuperSprouts is the most nutritious, best tasting superfood product available anywhere. It is packed solid with nutrient dense ingredients and life enhancing phytochemicals to move you to a higher state of health. It provides 36% greater life force energy than any comparable product.†
LifeSource SuperSprouts was created with one thought in mind—Gather the most pure, nutrient-dense foods on the planet that have phytochemicals proven to help the body resist age-related degenerative disease.
LifeSource SuperSprouts combines the most powerful superfoods with organic sprouts. Sprouts provide the life-force energy that gives birth to the entire plant kingdom. A seed provides the spark that bursts new life to a new plant. These micro-nutrients provide antioxidants and other chemo-protective constituents that help to maintain optimal cellular health.
Harmonic Innerprizes, Inc. has initiated a whole new generation of food science. It is vastly superior to any "green drink" on the market today. LifeSource SuperSprouts is 21st Century food—so nutrient dense that very little is required to achieve significant nutritional benefit.† It's perfect for assisting the body's natural detoxification process, weight management and wherever an extra energy lift is desired.†
---
What is a SuperFood?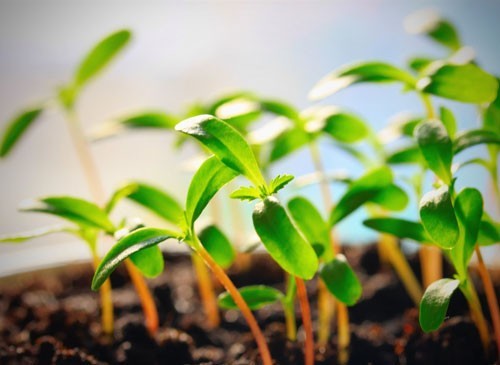 Superfood describes a food that is naturally concentrated to provide all the nutritional elements necessary for optimal health. Many of these foods are found in the first link of the food chain—plankton which is made purely from sunlight and water, and grasses which are made from soil and sunlight. Since they are so nutrient dense, very little is required to achieve significant nutritional benefit.
These SuperFoods also contain phytochemicals that scientists believe protect the body and promotes cellular wellness. The planktons, spirulina and chlorella are rich in pigments that science has identified as having powerful antioxidant properties.† These pigments include chlorophyll, beta-carotene, phycocyanin, and allophycocyanin.
Chlorella has a fascinating ingredient called Chlorella Growth Factor (CGF) which consists primarily of nucleic acids. These nucleic acids appear to enhance the RNA/DNA functions responsible for the production of proteins, enzymes, and energy fuels at the cellular level.† RNA/DNA production diminishes with age. As a result, many anti-aging researchers recommend a diet rich in nucleic acid.
---
Putting SuperFoods to the Test with Kirlian Photography
We have selected the world's purest and most potent superfoods and blended them together in optimal ratios determined through observation of each food's energy field. This process is known as Energy Field Formations.
Kirlian photography allows us for the first time to see the tremendous difference in superfoods. Kirlian photography can capture the subtle energy field that emanates from any substance. It is used to determine the amount and integrity of life force energy of any physical matter. The photos below were taken under identical conditions using identical amounts: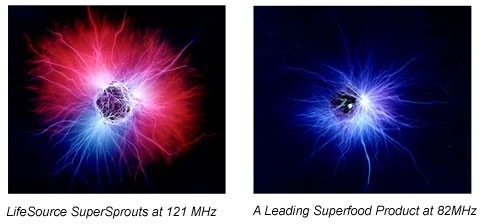 The kirlian picture on the left compares the life force energy of LifeSource SuperSprouts to another high quality, very popular, similar product on the right. You can see that the life force coming from LifeSource SuperSprouts is considerable more powerful than the other leading product. In fact, LifeSource SuperSprouts have more than 30% greater life force energy than any other product of its kind.
High energy foods increase our own subtle energy fields. Over 27 years of research by Dr. Valerie Hunt at UCLA, associates bio-electric energy fields with greater intelligence, mature emotional balance with less stress, increased learning ability, and overall heightened states of health. Research indicates that foods with an override frequency of 72MHz or greater increase the body's bio-electric energy. Foods below 72MHz deplete the body's energy.†
---
Why Choose LifeSource Superfood?
LifeSource uniquely combines scientific technology with food science to create a revolutionary new way to look at food.
Quality Ingredients - The world's finest ingredients are carefully selected and blended with one consideration - to achieve the highest nutritional benefits by maximizing natural life force energy. Our sprouts are freeze dried so that their temperature sensitive constituents are maintained to the highest possible degree. They also provide easily assimilated organic minerals.
Harmonically Balanced - Ordinary superfood formulas are based on chemical profiles of each individual ingredient. Our special formulation is the result of observing harmonic patterns and frequencies produced as we combine nature's most nutritionally complete foods. Each ingredient is monitored until it naturally reaches its highest level of synergy and balance within the formula. Each and every batch of LifeSource is manufactured to meet these high quality specifications.
Great Taste - No other product tastes as great as our naturally energized, highly nutritious superfood complex, LifeSource. It is a delicious, potent blast of nutrition and energy.
LifeSource is for Everyone - LifeSource is designed for all who desire a healthier life; career professionals, athletes, pregnant and nursing women, students, people recovering from illness or surgery. Great for pets too!
---
The Finest Ingredients

Beyond just food, LifeSource is "SuperFood", because it contains the most nutritionally complete foods Mother Nature has to offer - Algae, grasses, and sprouts, the first links in the food chain...these are the "source" of all life.
Chlorella and Spirulina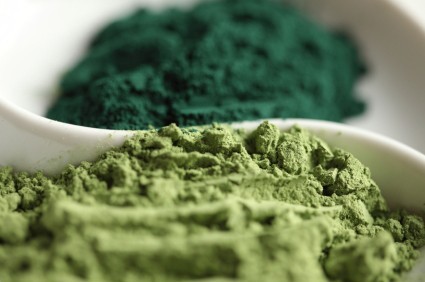 Planktons are the genesis of all life. Life as we know it is only possible through the miracle of photosynthesis, the reaction of sunlight with water. They are considered the first link in the food chain and they provide every nutrient the body needs to live. Nutritionists often claim these microalgae are the perfect food, made from pure water and sunlight.
They are abundant in metabolic pigments such as chlorophyll, phycocyanin, and carotenoids, including both alpha and beta carotene. Chlorophyll cleans the blood, helps the body to remove toxins, thereby improving immune function.
LifeSource SuperSprouts contain a combination of organic spirulina with the purest and most powerful chlorella in the world. The chlorella is grown under laboratory conditions in hermetically sealed tanks and is considered pharmaceutical grade.
This chlorella is pure and powerful, and is the focal of the LifeSource SuperSprouts formulation. It is the soft-cell species regularis, so the heavy metal chelating properties of which chlorella is most renowned for are at its highest potential. Contrary to what many believe, broken cell chlorella will not chelate heavy metals from the body.
Hydrilla
Hydrilla verticillata is wildcrafted from a pollution-free lake in northern Florida. It is considered one of the world's most nutritious seaweeds, particularly rich in calcium, iron, and Vitamin B-12 - three nutrients commonly lacking in vegetarian diets. This nutrient dense plant is rich in the antioxidants chlorophyll, selenium, Vitamin E, and over 6 times the amount of Vitamin C that is contained in an orange.
Kelp
We are particular about our kelp. We choose a relatively rare but much more nutritious species of kelp called phaeophyta. This species has vital trace elements with unusually low sodium content. Kelp is an important nutrient to include in your daily routine, and may offset factors of toxic exposure.†
Organic Barley Grass Juice Concentrate
Barley Grass is also considered a superfood by most nutritionists. It is high in B vitamins, chlorophyll and dietary fiber. It is most known for its ability to alkalinize the blood. Any food that has the ability to move an overly acidic environment to normal blood pH is powerful preventive medicine.† The more alkaline your blood, the more oxygen is carried in red blood cells. The more oxygen in red blood cells, the more energetic we feel.
Stevia
We add just a touch of Stevia rebaudiana, a factor in the great taste of LifeSource SuperSprouts. Algae, seaweed, grasses and sprouts are not usually on everyone's favorite food list when it comes to taste. Just a little bit of the "sweet leaf" stevia offsets any unpleasant tastes that may be inherent in LifeSource's ingredients. Try it! and you'll see what we mean. Stevia has also been shown to support healthy blood sugar levels and promote healthy teeth.†
Organic Seeds and Sprouts
Organic Amaranth Seed Sprouts
Amaranth was the staple food of the Aztec Indians and was called the "golden grain of the Gods." It is high in protein and dietary fiber, and therefore an important dietary ingredient for various health benefits. Amaranth is exceptionally high in phytosterols, which is a phytonutrient found to support cardiovascular health8 and may support respiratory, digestive, and women's health.† 10
Organic Quinoa Seed Sprouts
Quinoa has the most balanced amino acid profile of all grains, and is 18% protein. Most grains lack lysine and therefore cannot biosynthesize into a complete protein. It is another excellent source of dietary fiber and is high in phosphorus, magnesium and iron. Quinoa's high magnesium content perfectly balances the high calcium in Chia Seeds.
Organic Black Chia Seed Sprouts
Chia seeds are the richest non-marine source of Omega 3s and dietary fiber. As a result, they promote cardiovascular health.† Chia seeds have 6 times the amount of calcium than milk, so they also contribute to bones and joint function and health.† Chia seeds also contain powerful phenolic antioxidants.
Chlorogenic is an important biosynthetic intermediate. Chlorogenic acid is an important intermediate in lignin biosynthesis. This compound, long known as an antioxidant, also slows the release of glucose into the bloodstream after a meal.4 Caffeic acid is also important in lignin biosynthesis and outperforms other antioxidants in immunomodulatory and healthy inflammation support. 12
Organic Golden Flax Seed Sprouts
Golden Flaxseed is without question one of the most nutritious seed on the planet. It is loaded with Omega 3s and other essential fatty acids. But what is little known is that flaxseed has a high concentration of enzyme inhibitors that make regular flaxseed poorly absorbed into the body.
But sprouted flaxseed allows all the vital nutrients to be absorbed. In fact, the process of germination fundamentally changes the nutrient composition of the seed. Nutrients such as enzymes, amino acids, and vitamins are then more easily absorbed.†
Vegetarians and other non-fish eaters are typically deficient in eicosapentaenoic acid (EPA) and docosahexaenoic acid (DHA). The amount of clinical studies on EPA is vast. EPA has been shown to provide remarkable cardiovascular support.6, 11
DHA is a major structural component of the mammalian brain and is the most abundant essential fatty acid in the brain 3. It is probably the sole reason that fish acquired its reputation for being brain food. It supports the normal development of the brain, eyes, and nerves. It has been shown to improve learning ability, and can reduce depression and anxiety.* 9
Organic Broccoli Seed Sprouts
Broccoli Sprouts are probably the most researched natural ingredients for its chemopreventive properties. They contain a phytochemical called glucoraphanin, and an enzyme called myrosinase which are precursors to sulforaphane.12,1
The multidimensional ability of sulforaphane to both eliminate and detoxify carcinogens and to kill cells with potential mutations.†2,5
---
The Creation of LifeSource
Patrick Bailey of Harmonic Innerprizes has been a leader in the development of SuperFoods for the health food industry for over 15 years. In fact, Pat's previous creation, Rainbow Light Nutritional Systems, originally coined the term SuperFoods back in 1983. He created LifeSource with these thoughts in mind:
This may be the first formula ever created where cost was not considered at any time during the developmental process. Ingredients were chosen and blended solely to achieve the highest energy levels.


In researching the Etherium Gold phenomena, we learned a lot about electromagnetic frequencies and patterns. We learned which harmonic resonant factors are important in optimizing cellular health. We discovered which frequencies are the most nourishing to the body, which promote metabolism and the production of enzymes, and which frequencies are important in the production of energy. Incorporation of this new science takes LifeSource into a new dimension.


All living organisms pick up electromagnetic interference. The electromagnetic pattern of any material changes to some degree when it comes into contact with the electromagnetic pattern of another material. We are constantly being bombarded with artificial and harmful patterns due to the abundance of overhead wires, televisions, radios, cell phones, computers, microwave ovens, etc., that are common in our modern society. For all living organisms, this interaction has become completely out of balance and out of harmony with nature. We are not the beings (biochemically speaking) we once were, nor is our food as pure or potent as it was years ago. We call this unnatural interference "chaos", and we removed it from LifeSource.


With the freedom to choose the very best ingredients without any cost considerations, and with our newfound methodology, we began to design the ultimate nutritional food. We began to match and measure ingredients, not by studying their nutritional profiles and attempting to balance them through chemical analysis, but by selecting and balancing through observing the natural harmonic patterns and electrical frequencies that are produced from combining them together.


Finally, after all the ingredients are blended together, through state-of-the-art proprietary technology, "chaos" is removed from the product. The result is "pure" food, as it would have existed decades ago, before electromagnetic pollutants came into existence.
References
Angier, Natalie (1992-03-15). Potent Chemical to Fight Cancer Seen in Broccoli; New York Times. 2009-11-16.


Current Cancer Drug Targets, 2006, 6:135-145.


Huppi, PS; "Nutrition for the Brain"; Pediatric Research; 2008 International Pediatric Research Foundation, INc.; Vol 63, No 3, (2008).


Johnston, K.L..; Clifford, M.N.; Morgan, L.M. (October 1, 2003). Coffee acutely modifies gastrointestinal hormone secretion and glucose tolerance in humans: glycemic effects of chlorogenic acid and caffeine. American Journal of Clinical Nutrition) 79 (4): 728-733.


Life Science, 2006; 78(26):3042-3050.
McKenney, James M.; Sica, Domenic (2007). Prescription omega-3 fatty acids for the treatment of hypertriglyceridemia. Am J Health-Sys Pharm 64 (6): 595-605.


Olthof MR, Hollman PC, Katan MB (January 2001). Chlorogenic acid and caffeic acid are absorbed by humans. J Nutr. 131 (1): 66-71. PMID 11208940.


Pollak, OJ (1953). Reduction of blood cholesterol in man. Circulation 7 (5); 702-6.


Su, Kuan-Pin; Huang, Shih-Yi; et. al. (2003). Omega-3 fatty acids in major depressive disorder: A Preliminary double-blind, placebo-controlled trial. Eur Neuropsychopharmacol 13 (4); 267-271.


Woyengo, T.A.; Ramprasath, V.R.; Jones P.J.H. (2009). Anticancer effects of phytosterols. European Journal of Clinical Nutrition 63 (7); 813-20.


Yokoyama, M; Origasa H, Matsuzaki M, Matsuzawa Y, et. al. (March 2007) Effects of eicosapentaenoic acid on major coronary events in hypercholesterolemic patients (JELIS): a randomized open-label, blinded endpoint analysis. Lancet 369 (9567): 1090-1098.


Y Zang, et al. (1992) A major inducer of anticarcinogenic protective enzymes from broccoli: isolation and elucidation of structure, Proc. Natl Acad. Sci., 89:2399-2403.


Supplement Facts - Powder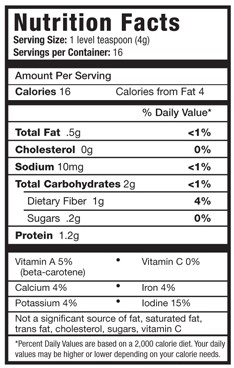 Proprietary Blend Contains: Organic Sprouted Seed Complex (Amaranth, Quinoa, Black Chia, Golden Flax, Broccoli), Chlorella, Organic Spirulina, Organic Barley Juice (33:1 Concentrate), Wildcrafted Hydrilla, Phaeophyta Kelp.
Other ingredients: Silicon Mineral Complex, Stevia.
Click to see 4 oz or 7 oz label.
Hypoallergenic: This product does not contain milk, eggs, soy, fish, Crustacean shellfish, tree nuts, peanuts, wheat, yeast, salt, preservatives, artificial color, flavor or fragrances.
PROP 65 WARNING: This product may contain one or more chemicals known to the State of California to cause cancer, birth defects, or other reproductive harm.
---
Supplement Facts - LifeSource Supersprouts Capsules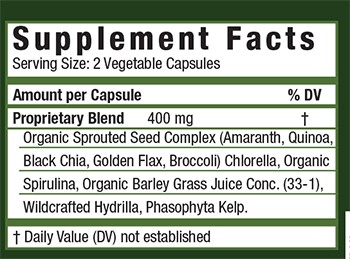 Proprietary Blend Contains: Organic Sprouted Seed Complex (Amaranth, Quinoa, Black Chia, Golden Flax, Broccoli), Chlorella, Organic Spirulina, Organic Barley Juice (33:1 Concentrate), Wildcrafted Hydrilla, Phaeophyta Kelp.
Other ingredients: Silicon Mineral Complex, Stevia, Hydroxymethylcellulose (vegetarian complex), Methylcellulose, Water.
Click to 90 caps or 180 caps label.
Hypoallergenic: This product does not contain milk, eggs, soy, fish, Crustacean shellfish, tree nuts, peanuts, wheat, yeast, salt, preservatives, artificial color, flavor or fragrances.
PROP 65 WARNING: This product may contain one or more chemicals known to the State of California to cause cancer, birth defects, or other reproductive harm.
---
DISCLAIMER: In an attempt to describe the nutrient integrity and features of the ingredients used in LifeSource SuperSprouts, terms like "rich", "concentrated", and "abundant" are used. These terms accurately describe the nutrient density of each ingredient. However, FDA regulations state that these terms imply 20% of the DV is achieved and the product is therefore a meal replacement. LifeSource SuperSprouts is NOT intended to be a meal replacement. Even with the nutrient density of the ingredients provided, a considerable higher consumption beyond the recommended 2 grams per serving of the powder and the recommended 6 capsules (2.4 grams) to meet the FDA's 20% DV requirement.
Manufactured by Harmonic Innerprizes, Inc.