trueEnergy
Optimizes Physical Energy and Stamina†
The foundation of Redd Remedies trueENERGY™ are powerful adaptogenic herbs, Rhodiola rosea and White Panax ginseng. These herbs bring balance to the body, allowing for optimal physical and mental energy.† Together they work to optimize the function of all key systems of the body.
In that way, trueENERGY™ doesn't just give you a short-term boost of energy, it helps strengthen your body's systems to produce sustainable, healthy energy throughout your day.
trueENERGY™ targets 3 key body systems essential to optimal physical and mental energy:
Adrenal function
Thyroid function
Liver function
---
Key Ingredients
Rhodiola Rosea - used for centuries to increase physical endurance, work productivity, longevity, and fight fatigue.†
White Panax Ginseng - has a history of use in China for over 2,000 years. It is prized for its tonic qualities in Traditional Chinese Medicine for increasing strength and promoting life.†
Cordyceps - used to promote healthy liver function, increase strength and build stamina.† Cordyceps was a mushroom so rare in ancient China that it was reserved for use only in the Emperor's palace.
Royal Jelly - a nutrient-dense superfood that supports liver function and provides B vitamins, essential amino acids, and vitamins A, C, D, and E.†
Licorice Root - balances adrenal function, fighting stress induced adrenal burn-out.†
Atlantic Kelp - provides minerals essential to healthy thyroid function.†
Co-enzymated Vitamin B-6 - essential in a wide variety of metabolic functions necessary to convert food to energy and release stored energy from liver and muscle tissue.†
---
---
About Redd Remedies
Redd Remedies carefully chooses herbs, plants, vitamins, and minerals used in Traditional Chinese Medicine, Ayurvedic medicine, and European traditions which are also supported by modern day research and science to deliver natural solutions to health. They use wholesome clean food, targeted high quality supplements, and qualified doctors with expertise in natural medicine to address health from a whole body perspective. Redd Remedies offers:†
Quality, purity, and potency guaranteed through expiration
All-natural ingredients
Superior quality control
Supplement Facts - trueEnergy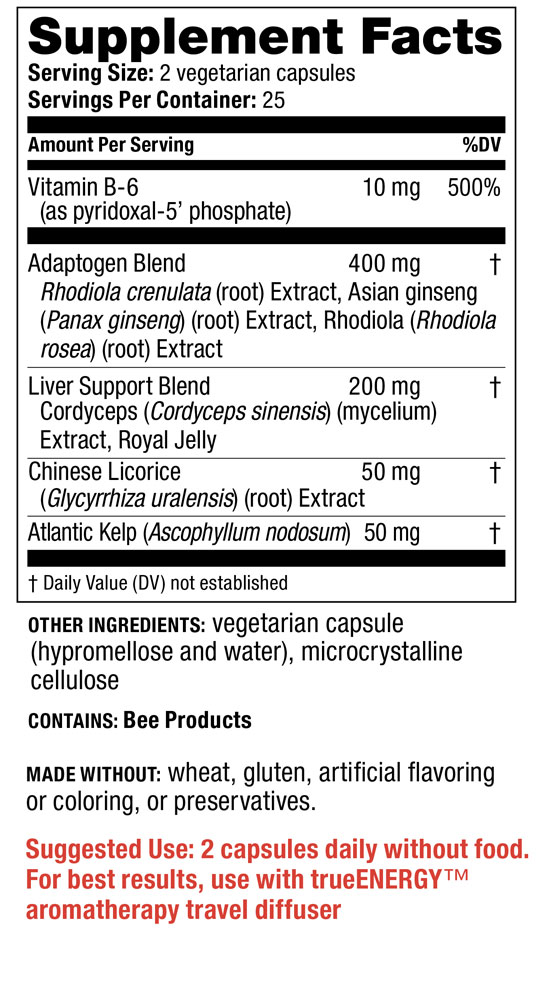 Note: Bee products, including royal jelly, may cause an allergic reaction in some sensitive people.
Contains No: Sugar, sodium, yeast, wheat, gluten, dairy products, artificial flavoring or coloring, preservatives, or soy.
Warning: If you are pregnant, nursing, have a medical condition, or are taking prescription drugs, consult your physician before using this product. KEEP OUT OF REACH OF CHILDREN.
Store in a cool, dry place.
Manufactured by Redd Remedies.
Suggested Use - trueEnergy
Suggested Use: 2 capsules daily - preferably between meals on an empty stomach.
Note: Bee products, including royal jelly, may cause an allergic reaction in some sensitive people.